Improving Direct Mail Campaign Effectiveness

The promotion for the Labor Day sale that arrives on Tuesday.

The pre-Super Bowl campaign that hits people's mailboxes when they already know who won the game.

We've all seen them—mistimed Direct Mail pieces that arrive at people's homes after the big event. The problem is not universal, and in the past it has been nearly impossible to quantify. Some Direct Mail is delivered exactly when you expect, while some outliers are held up for more than a week. But how do you know? And more importantly, what can you do about it? With recent and upcoming changes to the USPS delivery network, increasing the effectiveness of your Direct Mail campaigns through timely delivery will be a reality for those marketers who take advantage of new postal technology and strategies.

Measure Standard Mail delivery through tracking

The USPS implementation of a new barcode standard, called Intelligent Mail® barcodes, gives marketers the ability to include a unique identification code on each mail piece. With this information the postal can individually track each mail piece through the USPS delivery network down to the last mile. Your mail piece is scanned and accounted for at each USPS processing step, with the exception that it is not scanned at the actual mailbox. This capability was initially launched for First-Class Mail®, and it is now available for Standard Mail®. Smart marketers can obtain and use this information to determine what their current Direct Mail delivery timing looks like. There are additional possibilities as well, such as tying delivery information into call centers for better overall campaign execution.

Achieve more effective campaigns with better control over in-home delivery dates

The restructured USPS delivery network contains exciting news for marketers who want to maintain better control over Standard Mail in-home delivery dates. This includes an updated Direct Mail processing strategy that helps to alleviate the "it's still sitting on the dock" syndrome, as well as an improved delivery network that helps provide more consistent distribution within regional areas.

In the past different types of mail were kept separate until the very end of the USPS delivery process. First-Class letters, Standard letters, and catalogues and magazines would arrive at the post office separately, relying on the carriers to merge them together for delivery. This allowed postal managers to hold Direct Mail pieces for a later date if they felt there was too much mail going out on a particular day. Now much of this mail is commingled and sequenced at regional centers, with the mail arriving at the local post office ready for delivery, reducing unplanned delays within the postal system.

The new USPS network structure also provides more consistent delivery throughout their network, but even with this improved delivery the overall average SLA for Direct Mail will improve by only half a day. The map below shows the delivery timeframes for Standard Mail that is initially provided to the USPS in Indianapolis, IN. As you can see the delivery within Indiana is completed in three or four days, while delivery to the northwest can take nine days or more.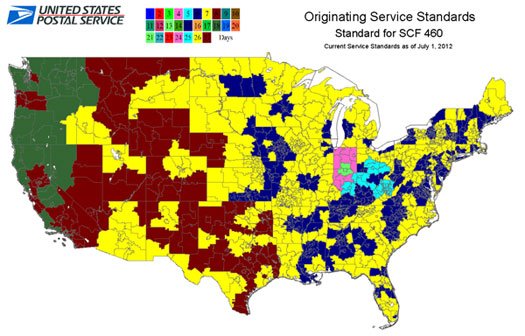 Direct Marketers can take advantage of a smart Multiple Entry Drop Ship strategy in which mail is shipped to regional processing facilities and then given to the USPS in each regional area. With this strategy mailers can benefit from consistent delivery times throughout the entire country. For example, the map below shows how delivery would change in the northeast with a single drop ship to Seattle.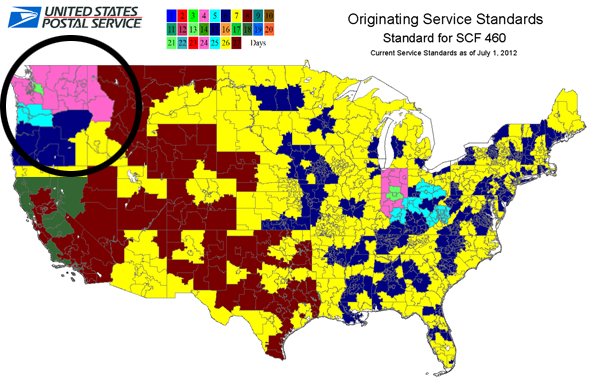 Surprisingly, the overall postage costs are actually much lower when using Multiple Entry Drop Ship due to increased discounts from the USPS, even when you add in the additional cost of shipping the mail to regional facilities.

Don't miss another date!

Creating more effective and timely marketing campaigns is as easy as working with the right Service Bureau, and asking the right questions. See if your Direct Mail service provider is able to implement Full Service Intelligent Mail barcodes to utilize for tracking your next campaign, and see if they have Multiple Entry Drop Ship capabilities that will help you better control your in-home delivery dates. If your provider does not currently have these capabilities, let them know that Pitney Bowes can help with right sized solutions for their business. Alternatively, we can provide names of service providers who offer these capabilities through Pitney Bowes solutions.

Good luck with your next campaign, and we hope that it is timely!

Related Products