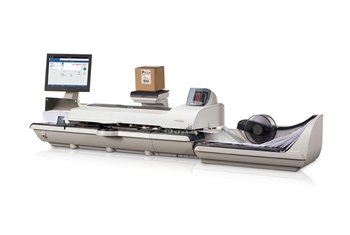 Bringing promotional messages to the people
The Connect+ 2000 is a powerful tool for building customer connections and growing your business using transpromotional messages. With WOW (Weigh-On-The-Way®) capability, the Connect+ 2000 sets a new standard for productivity and agility.
The Connect+ 2000 is a powerhouse of productivity designed for the mid- to high-capacity mailroom. Not only is it simple to learn and operate with its intuitive color touch-screen user interface and application based navigation but it can help you use every transactional mailpiece you send to grow your business. Its standard process color printing can simultaneously print marketing messages and postage indicia. The Connect+ 2000 also enables users to download software updates send reports check postage rates and get support right on the machine.
Revolutionary Printing
1200-dpi HP powered ink-jet printing in process color and postal-compliant red fluorescent
7/8" printing path across full length of the envelope top and bottom front or back
Generate revenue by printing marketing messages on transactional envelopes
Cost effective printing - especially for small print runs
Web Connectivity
Download applications directly to the machine
Direct access to Pitney Bowes services like MyAccount Buy Supplies and Address Verification
Get the most current domestic and international rates
Access to package tracking for all major carriers
Instant access to support
Easy-to-Use
Intuitive color touch-screen interface
Built-in on-screen tutorials
Programmable Job presets
Connect+ 2000 Features
WOW processing including automatic shape-based rating
Three speed options: 70/130 (standard) 95/160 and 115/180 LPM in WOW / Non-WOW modes
Color ink printing
Automatic Commercial-Based Pricing (CBP)
Adhesive tape
Closed-flap sealing
New pump-fed pad sealing system
On-screen keyboard (full QWERTY)
Flexible printing
Peripheral Options
Drop or power stacker options
New platform weighing option - 5-lb. 10-lb. or 15-lb. capacity
Existing platform weighing options - 15-lb. 30-lb. 70-lb. and 149-lb. capacity
Report Laser Printer
Bar code scanning for confirmation services and accounting
Wireless keyboard option
High-Speed LAN Connectivity
25' LAN cable standard
Wireless LAN options
Sprint 3G cellular available (subscription charge applies)
Color Touch-Screen Display
10.2" standard
15" optional
Interfaced Scale Options
5-lb 10-lb 15-lb. small-platform capacity
15-lb. 39-lb. 70-lb. 149-lb. large-platform capacity
Differential weighing optional
Stacking
Drop stacker standard
Power stacker optional
Applications
MyAccount
Package Tracking
Address Correction
Postal Tools
Pitney Bowes Mail Services
Software Options
Confirmation services and electronic Return Receipt
100 department accounting (scalable to 3000 accounts)
Includes surcharge and weight-break capabilities
Energy Star mode
Core Supplies
Postal ink - three cartridge options: standard large and production
Printhead life: 800000 cycles - customer-replaceable supply item
Tape - 5" roll approximately 600 indicia per roll
Rating Capabilities
Classes and extra services are selected and viewed side by side. See total postal amount and individual rates for each class and service making shopping very easy
Change carriers and any rating factor at any time
Manage a list of favorite rates or rate combinations making repeat tasks easy
Pick from the last 10 class or class and extra service combinations
On-screen keyboard for easy input of ZIP Code or other destination information
Standard Rating
USPS® Domestic Rates
USPS® International Rates
USPS® Shipping Services Rates
Meet Connect+
Learn how the Connect+ can enhance your customer communication strategies.
See how Dominick Fuel promotes their services using the Connect+ 1000.
Learn how E.O. Smith High School saves time and money using the Connect+ 2000.
Speed (WOW/non-WOW

70/130, 95/160 or 115/180 LPM
WOW (Weigh-On-The-Way®)
Standard

External Weighing Platform Options

Compact Platform: 5-, 10-, 15-lb Large Platform: 15-, 30-, 70-, 149-lb

Differential Weighing

Optional

Additional Features

Standard: Stylus for touch screen Options: External keyboard
System Dimensions
(Base Solution with Drop Stacker)
64.5"L x 28"D x 24"H
System Dimensions
(Base Solution with Power Stacker)
83.5"L x 27.5"D x 24"H
System Dimensions
(Color Solution with Drop Stacker)
72.5"L x 28"D x 24"H
System Dimensions
(Color Solution with Power Stacker)
91.5";L x 27.5"D x 24"H