Overview

Lodgement

Letter trays

Lodgement in street posting boxes
Preparation of Letters
A Pitney Bowes digital postage meter helps you choose your preferred service level. It also calculates the correct postage and prints the relevant service indicator in the indicia (metering impression).
Your software updates will allow you to automatically print the correct imprint for 'Priority' and 'Regular'. However, you may need to separate 'Priority' from 'Regular' articles when you lodge metered mail.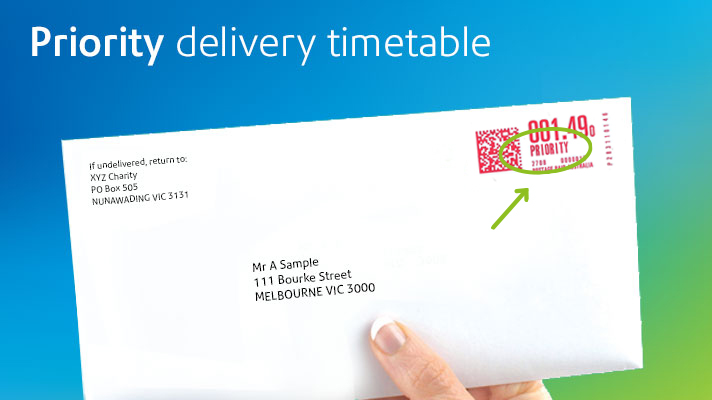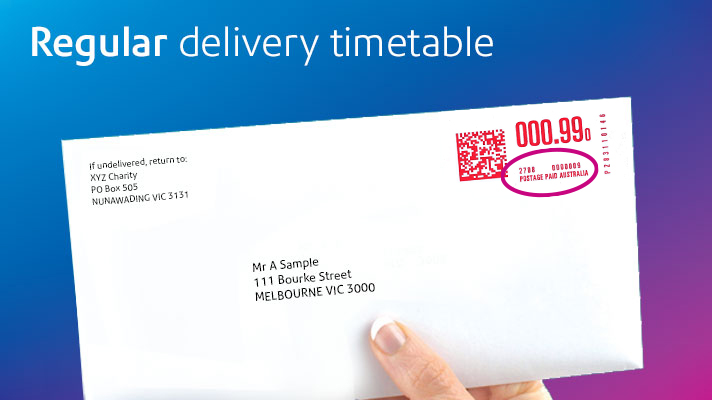 Australia Post is scanning postage meter barcodes on all postal articles to ensure they can provide the highest delivery quality based on the postal services selected. Make sure you have a clear and unobscured postage meter impression on your articles to get your mail and parcels delivered on time.
Letters should be 'faced' so that the address sides are facing the same way and then either bundled or placed in letter trays as follows. Rubber bands and letter trays are provided free of charge by Australia Post outlets.
When accessing Priority and Regular delivery timetables separate tray labels and mailing statements are used. Simply separate your Priority letters from Regular letters and where applicable for products that require tray labels, use the correct label match the service you require. See below for example:
Metered mail can be conveniently lodged up to 6pm on weekdays in the Australia Post street post boxes. This provides easy access to post when you need it the most. This means, up to 300 letters can be lodged each day.
Larger volume of mails are best if lodged in trays at post offices or postal business hubs up to 5pm on weekdays.
<! -- Full Width Banner --> <! -- Half Width Banner -->
Disclaimer
© Pitney Bowes Australia Pty Ltd, 2020. The information contained herein is subject to change at any time without notice. Pitney Bowes only makes the express warranties for its products and services as set forth in the documentation that accompanies such products and services, and in any resulting contracts with us. Nothing herein should be construed as constituting any additional warranties. All rights (including copyrights, trademarks, patents as well as any other intellectual property rights) in relation to all information provided in or via this information (including all text, graphics and logos) remain the property of their respective owners. Whilst due care has been used in producing this information, Pitney Bowes shall not be liable for any technical or editorial errors or omissions contained herein.