Overview

Installation Instructions
As always, Pitney Bowes will make any postal rate change process as simple for you as possible. Once you have completed the download instructions your Pitney Bowes postage meter will include the new postal rates the next time you connect.

Australia Post will typically advise a month or so in advance of any rate change. Pitney Bowes will in turn advise customers accordingly. Alternatively, you can call 13 23 63 to check the status of the rates in your meter.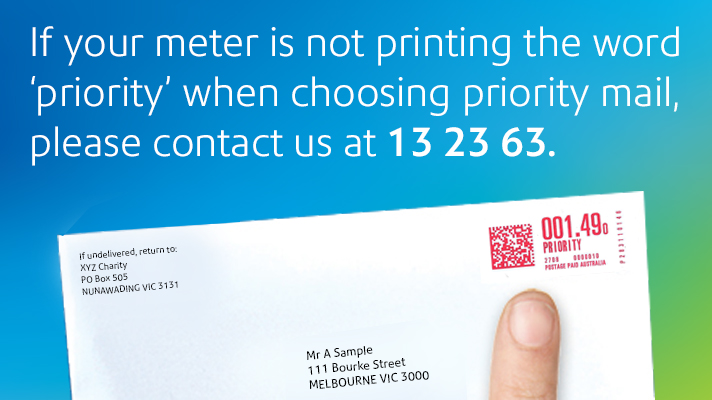 Read about the Installation Instructions in the next section
How to update your SendPro meter:
Select the FUNDS APP on the Home Screen
Press GET BALANCE – once completed select CONTINUE
On Home screen select RATES AND UPDATES APP
IF THERE ARE NO UPDATES, your system is up to date. Select OK, then select DONE to return to the Home Screen to resume operations
IF UPDATES ARE AVAILABLE, the system begins the download and displays the amount of time required to complete it. Once the download is complete you are prompted to INSTALL UPDATES. You can either INSTALL NOW, or AUTO INSTALL at the next sleep or shutdown. (The system may need to restart to complete the installation) FOLLOW THE PROMPTS to complete the update installation and you're done.
How to update your DM300-400 meter:
Press the REFILL key
Press the CHECK PBP BALANCE key
The meter will automatically connect, and after a brief pause, display the PBP Balance
Press continue and the meter will display either DOWNLOAD NOW or SKIP, RETURN HOME
Select DOWNLOAD NOW. On completion, you will be notified to select RETURN HOME to return to the home screen.
How to update your DM100 meter
Press the ADD POSTAGE key.
Press the CHECK PBP Balance key.
The meter will automatically connect, after a brief pause it will display the PBP balance.
Press the red NO key to add postage and an UPDATE AVAILABLE screen will appear.
Select GET UPDATE NOW and a download will start.
On completion, a SOFTWARE DOWNLOAD COMPLETE message will be displayed. Select the CONTINUE button.
If you have any questions regarding the new rates, please contact our Call Centre on 13 23 63 and we will be glad to assist you. 
<! -- Full Width Banner --> <! -- Half Width Banner -->
Disclaimer
© Pitney Bowes Australia Pty Ltd, 2020. The information contained herein is subject to change at any time without notice. Pitney Bowes only makes the express warranties for its products and services as set forth in the documentation that accompanies such products and services, and in any resulting contracts with us. Nothing herein should be construed as constituting any additional warranties. All rights (including copyrights, trademarks, patents as well as any other intellectual property rights) in relation to all information provided in or via this information (including all text, graphics and logos) remain the property of their respective owners. Whilst due care has been used in producing this information, Pitney Bowes shall not be liable for any technical or editorial errors or omissions contained herein.