Current rates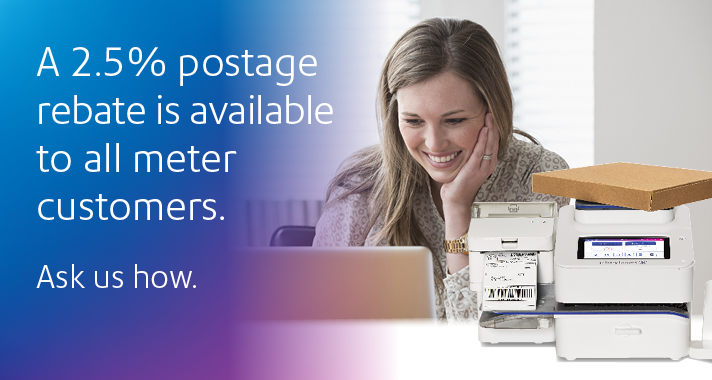 As a postage meter user, you benefit from substantial price advantages over stamped mail.
Overview

Rate comparison

Your benefits

Delivery timetable
A postage meter automatically ensures you pay the correct rates. It conveniently prints postage for mail, parcels, express post and satchels. Also, providing access to international mails and parcels.
Many postage meters also allow you to keep a close eye on your postage costs by tracking and reporting. This means you'll have accurate data for planning budgets or for departmental cost allocation.
As a metering customer you also receive an additional saving with an automatic postal rebate of 2.5% on the postage value of every postage reset, excluding GST.
The cost benefits of using a postage meter include:
Obtain lower rates with a postage meter for savings off your day to day mail, parcels and express.
Save on regular trips to the post office and conveniently pay-as-you-go for express post letters.
Additional 2.5% rebate on all postage resets.
Disclaimer
© Pitney Bowes Australia Pty Ltd, 2020. The information contained herein is subject to change at any time without notice. Pitney Bowes only makes the express warranties for its products and services as set forth in the documentation that accompanies such products and services, and in any resulting contracts with us. Nothing herein should be construed as constituting any additional warranties. All rights (including copyrights, trademarks, patents as well as any other intellectual property rights) in relation to all information provided in or via this information (including all text, graphics and logos) remain the property of their respective owners. Whilst due care has been used in producing this information, Pitney Bowes shall not be liable for any technical or editorial errors or omissions contained herein.