At Pitney Bowes, we define diversity broadly to encompass the visible and invisible differences that shape identity, experience and expression. These include but are not limited to geography and culture, generation, gender orientation and identification, race, ethnicity, disability, veteran status, religion, thought and communication styles.
This rich mix brings a variety of skills and talents to our workforce, from data scientists to field service technicians, sales managers to health-care professionals, web developers to legal assistants, product marketers to truck drivers and software installation specialists to user experience designers.
Our ability to look at things from multiple perspectives drives innovation and success.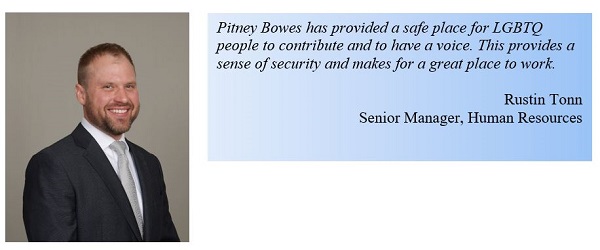 Our history

Who we are

Engaging & Developing Talent

Awards and recognition

Supplier Diversity

Awards
The high value we place on diversity, and our determination to use that diversity to strengthen our business, have been part of the Pitney Bowes culture for generations.
1940s
CEO Walter Wheeler Jr. resigns from a club because of its discrimination practices.
Pitney Bowes pulls a sales conference from hotel that would not allow our African-American sales person to stay there.
Wheeler directs head of personnel to ensure that our workforce mirrors the demographics of the neighbourhoods in which our operations are located, including Italian immigrants and African Americans.
Pitney Bowes participates in Fisk University's first National Dialogue on Race.
1950s
The National Urban League recognises Pitney Bowes for its Equal Employment Practices.
1960s and 1970s
Pitney Bowes provides funding support for NAACP and National Urban League Chapters.
1980s and 1990s
Chairman and CEO George B. Harvey diversifies the Board of Directors and transforms recruiting with a focus on women and minorities.
The Company creates Employee Resource Groups for Women, Minorities and Work/Life issues.
Pitney Bowes funds research on the business value of diversity at the Wharton School of Business at the University of Pennsylvania in honour of George B. Harvey.
George B. Harvey joins the Catalyst Board of Directors. Every Pitney Bowes CEO since then has been on the Catalyst Board of Directors.
1994 winner of Catalyst Award for the Pitney Bowes Strategic Diversity Plan.
2000s
CEO Mike Critelli serves three terms as chairman of the National Urban League.
US employee benefits policy is extended to cover eligible same-sex domestic partners and their eligible children, including adoption benefits.
Pitney Bowes becomes a founding member of Catalyst India.
2010s
CEO Marc L. Lautenbach joins Catalyst Board of Directors; becomes a founding member of Catalyst CEO Champions for Change initiative.
In-office meditation/prayer rooms open in select offices.
Pitney Bowes launches its Pitney Bowes Women's Inclusion Network (PB WIN), offering  webinars to encourage and support career growth and development for women
Pitney Bowes launches its annual Next Gen Conference as a forum for young Pitney Bowes professionals to engage in discussions of company strategies.
We are a high-performance organisation built on a long-standing culture of diversity and inclusion.
We are men and women working across the globe toward one common goal: to create sustainable value for our clients and stakeholders.
At Pitney Bowes, we celebrate the rich mix of countries, cultures, ages, races, ethnicities, gender identities, abilities and perspectives that differentiate us as individuals and enhance our business.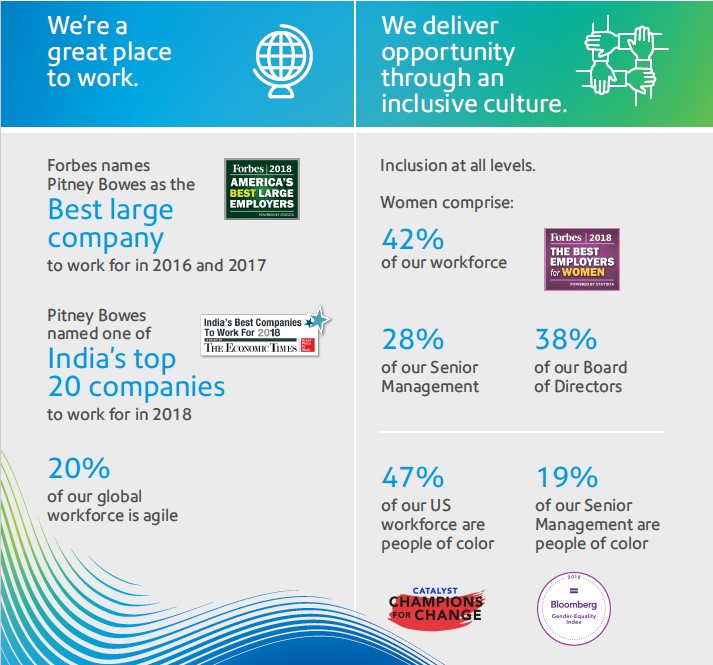 We support our commitment to diversity and inclusion with a range of programmes that provide opportunities for all employees to grow, develop and contribute to our success. We use a combination of professional development initiatives, training, experiential learning and inclusion networks to help employees advance their professional skills. We work to equip employees to understand and address our changing markets, our emerging client needs, our transforming businesses and our evolving communities.
Gender
Throughout the year, we celebrate women and their accomplishments in serving clients, creating value and innovating in our markets.
We've seen the power of women at work in our business. Women leaders have had responsibility for over 25 percent of our annual revenue since the 1990s, and by 2018 that figure was 40 percent.



Pitney Bowes Women's Inclusion Network (PBWIN)
Supports the inclusion and development of women to further the company's business success.
Open to all employees committed to supporting women's growth and using their expertise to deliver more value in our markets.
Offers global webinars and discussions on topics such as leadership development, work-life integration and embracing change.
Additional site-specific offerings tailored to business, function or geographic region.
Catalyst
Catalyst is a global nonprofit organization with a mission to accelerate progress for women through workplace inclusion. Every Pitney Bowes CEO since the 1990s has been a member of the Catalyst Board of Directors. Pitney Bowes CEO Marc Lautenbach joined the Board in 2014. In 2017, he joined Catalyst Women on Board, an initiative that promotes the appointment of women to corporate boards, and Catalyst CEO Champions For Change, which brings together more than 40 high-profile CEOs and industry leaders committed to diversity, inclusion and gender equity in the workplace.
Our gender equity efforts have also repeatedly been recognized by U.S. organizations, including the Women's Business Enterprise National Council's "America's Top Corporations for Women's Business," DiversityInc's "Top 50 Companies for Diversity," The Catalyst Award for innovations for women in the workplace, "Best Companies for Working Women" and "Top 25 Public Companies for Executive Women." We partner with organizations such as Women's Business Enterprise National Council (WBENC) and Grace Hopper Celebration of Women to support the professional development and advancement of women.
Generation
The Pitney Bowes Young Professionals (PB-YP) is a community for early-in-career employees and their advocates. The group meets regularly to learn more about our business, develop professional skills, participate in community service projects and network. In turn, the company leverages their insights and perspectives to fuel innovation, enhance client experience and resolve business issues.

Each summer we welcome a select group of undergraduate and graduate students from universities all over the world to internships at Pitney Bowes locations across the United States and United Kingdom. Our PB-YP network 'friends' our interns to help them gain additional insights and connect with other young professionals through community service and social activities. A key partner in our effort to identify and develop these interns is INROADS Inc., whose mission is to find talented, underserved young people and prepare them for corporate and community leadership. During our more than 30-year partnership with INROADS, many of our interns have gone on to become valued employees across a range of disciplines.
A highlight each summer is the Pitney Bowes Next Generation Conference (NextGen), where interns and young professionals have a chance to interact with our senior leadership team while learning about global commerce, our changing business and their professional development.
Geography
We are a global company of more than 13,000 employees serving clients and markets in over 100 countries. We believe strongly that our ability to understand and respect cultural differences across geographies makes us more responsive to our clients and each other and helps us to achieve our common goals.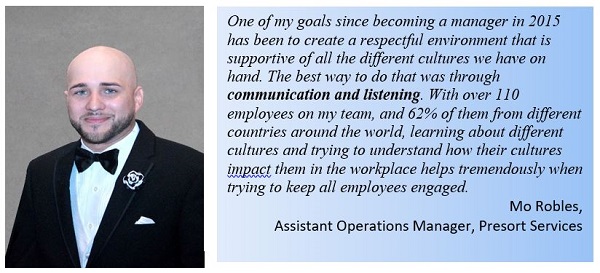 Delivering value to clients and employees around the world requires interacting with them in alignment with local business practices, cultures and language. Our Global User Experience team helps us do this. We host Globalisation Summits in different geographical areas. These events are great opportunities to share best practices and educate internal stakeholders about the importance of building products and communication strategies with a global audience in mind. Our Design System provides design and code guidance to help ensure great experiences for clients, wherever they may be.
People of Color
We believe there is one race – the human race – and multiple ethnicities. We are proud that in the 1940s, our company first voiced and demonstrated its commitment to diversity and inclusion, when CEO Walter Wheeler directed personnel to make sure that our policies did not prevent hiring without regard to race, gender or religion. At the same time, he sought to include more people of colour in our workforce to reflect the demographics of the neighbourhoods in which we operated. By the mid-1940s people of colour had assumed a variety of roles within the company – including our first office worker of colour, an African-American woman hired in 1946. Today, people of colour comprise 47% of our company's US work force and 19% of our senior management. We celebrate ethnicity throughout the year through observances such as Black History Month and Hispanic Heritage Month in the US.

We partner with regional and national organisations such as the National Urban League, NAACP and InRoads to support the diversity of our talent pipeline and the development and advancement of our professionals of colour.
Veterans
Military service requires purpose, commitment and collaboration in We sponsor a number of events recognising veterans and veteran business owners. In addition to showing our support for veterans, these events also serve as a way for us to source talent for our workforce and veteran-owned businesses for our supplier network. Our Careers at PB site offers a military skills translator to help veterans identify opportunities at Pitney Bowes.

We also celebrate veterans internally with a video Hall of Honour and profiles of veterans who have added their talents and skills to the Pitney Bowes team.
People with disabilities
We recognise the value of having employees with different abilities within our workforce and offer numerous supporting programmes. One example is our collaboration with the Virginia Department for Aging and Rehabilitative Services to attract and develop new employees in the Richmond, Virginia area. Another is our partnership with the Independent Living Resource Center (ILRC) in Florida through their Job Shadowing Program. We also celebrate National Disability Employment Awareness Month with feature stories about individuals with disabilities who are an important part of our team.
Pitney Bowes' 80-year record of advocacy and commitment to diversity and inclusion has been externally recognised with numerous awards throughout our history including:
Equal Opportunity Employment from the National Urban League (1950);
Catalyst Award for the Advancement of Women (1994);
Fortune Magazine's Best Companies for Minorities (6 times starting in 1998);
Hispanic Magazine's Top 100 Companies for Hispanics (7 times starting in 1999)
Black Enterprise Magazine's Best Companies for Diversity (7 times in the 2000s)
Diversity Inc's Top Companies for Diversity (5 times starting in 2001, and #1 in 2004)
Some of the ways we've been recognised for leadership in diversity and inclusion more recently:
America's Best Employers for Women (Forbes Magazine 2019, 2018)
America's 500 Best Large Employers (Forbes Magazine 2017, 2016)
Olga Lagunova, Pitney Bowes Chief Data and Analytics officer, named one of 14 'Women Tech Superstars to Watch' by Hackbright Academy
Brava Awards (YWCA of Greenwich, CT, USA)
2017- Lila Snyder
2016 -Sheryl Battles
2015- Abby F. Kohnstamm
2014- Rose M. Velez-Smith
2013- Kathleen Ryan Mufson
Stamford Alumni Chapter Kappa Alpha PSI Fraternity and the Stamford Alumni Diamond Foundation honoured Sheryl Battles, Vice President Communications and Diversity Strategy, as business person of the year in 2018
Virginia Department for Aging and Rehabilitative Services Award, 2017
India
2017 Brandon Hall Group Gold Award for Excellence in Leadership Development, 2017
India's Top 10 IT Companies to Work For (Great Places to Work Institute), 2017
India's Top 10 Companies to Work For (Great Places to Work Institute), 2017
India's Best Companies to Work For (Great Places to Work Institute), recognized eight times, most recently for 2018 and 2016
World HRD Congress/Global HR Excellence Awards, 2016
Greentech Awards,  2016
Association for Talent Development Excellence in Change Management Award, 2016
Our commitment to diversity extends throughout our supply chain. We believe that having a diverse supplier base strengthens our business and provides us with a competitive advantage. The diverse businesses that we partner with provide innovative strategies while meeting or exceeding expectations in the areas of cost, quality and delivery.
We are continually looking to build relationships with the following diverse groups:
Minorities
Women
Veterans, service-disabled veterans
HUBZone
Native American
Lesbian, Gay, Bisexual and Transgender (LGBT)
Economically Small Disadvantaged Businesses (SDB)
Small Businesses
Americans with disabilities
MBNUSA Minority Business News – Corporate 101: Most Admired Companies for Supplier Diversity – 2016 and 2017
WBENC 'America's Top Corporation Award' – 2016 and 2017
WPEO-NY Outstanding Women's Business Advocate for the NY Region – 2017
US Veteran's Magazine – Top Supplier Diversity Program – 2017
NaVOBA Best Corporations for Veteran's Business Enterprises – 2017
NaVOBA America's Top Military Friendly Supplier Diversity Programs – 2016
NaVOBA Corporation Veterans Advocate Champion – 2016
Women's Enterprise USA magazine's WE 100 Corporations of the Year – 2016
MBNUSA Champion of Supplier Diversity Magazine – 2016
DiversityPlus Magazine Ranked Top 30 Champions of Diversity – 2016
National Corporation of the Year (Greater New England Minority Supplier Development Council - GNEMSDC) 2016