Partnering with employee volunteers
Support for Volunteering

Volunteer Events

Drives that make a difference

Doubling our impact
We believe that our support for employee volunteering activities helps our company, our employees and the communities where we operate. This support takes several forms:
Volunteer Grants
Individual Volunteer Grants: In many cases, we recognize individual employees' volunteering activities by providing grants directly to the non-profit organisations where they volunteer. These individual grants, available globally, range from US $125 for 25 hours of service to US $500 for 100 hours.
Team Grants: We also provide grants to cover the costs of materials and supplies for hands-on volunteer projects undertaken by teams of three or more employees or retirees.
Board service for non-profit organisations
One of the most effective ways for employees to serve their communities is by providing leadership and technical skills through service on an organisation's board of directors, and across the company, many of our colleagues contribute their expertise in the support of wide array of organisations. In 2018, 68 employees served as representatives of Pitney Bowes on the boards of local, national or international non-profit organisations.
Career development through volunteering activities
Volunteer service offers employees numerous opportunities to develop their skills. To help them find the right volunteer opportunity, we provide a toolkit that maps volunteer programmes and activities to specific skills and competencies that they may be interested in developing.
Local Community Leadership Teams
Employee volunteers serving on Local Community Leadership Teams around the world help to inspire their colleagues to become active volunteers in their communities. Pitney Bowes Foundation grants support their efforts. The teams' primary focus is literacy and education, but they also regularly lead blood drives and collections of food, clothing, books, back-to-school supplies and holiday toys and gifts for those in need in our communities.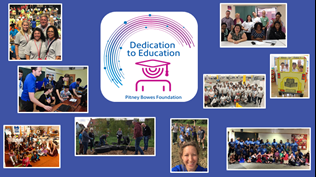 Signature Volunteer Programmes:
Dedication to Education (D2E)
Launched in Connecticut in 2014, our D2E programme has been growing globally ever since. Employee volunteer champions design and implement high-impact team projects, with help from a comprehensive toolkit and grants from the Pitney Bowes Foundation. Projects are conducted in partnership with local United Way chapters, Volunteer Centers and other Foundation grantees. All activities and projects support education, a top issue for our business, our employees and people throughout our communities. In 2018, our D2E celebration spanned 94 projects in 47 locations, drawing more than 1,000 volunteers in Australia, Brazil, Canada, England, India, Israel, New Zealand, Poland and the United States. Between highly engaged employee volunteers, outstanding non-profit partners, and Team Project Grants from the Pitney Bowes Foundation, the programme has become a resounding success. The 2018 kickoff event drew more than 1,200 people to the Discovery Museum and Planetarium in Bridgeport, Connecticut, where our volunteers helped children make kinetic sand, build parachutes, create their own origami kites and choose Reading Is Fundamental books to take home. Partners for other events around the world included United Way Ready to Read and Day of Action programmes, Junior Achievement, Boys and Girls Clubs, local schools, parent-teacher organisations, community centres and educational non-profits.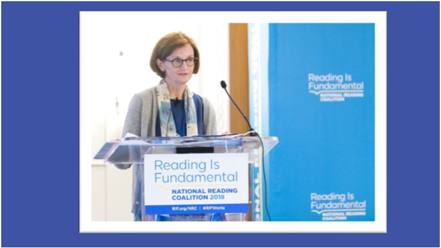 Share the Message: Read!
For many years, we have supported the crucial work of Reading Is Fundamental (RIF), America's largest early literacy nonprofit organisation. A RIF programme that we are particularly proud of is Share the Message: Read!, funded  by the Pitney Bowes Foundation. Year after year, this programme engages our employee volunteers in working directly with elementary school children to help them experience the joy of reading. Our support includes a well-equipped volunteer tote bag containing a story-time book for group reading, related craft activities and an array of age-appropriate books for students to take home. The take-home books cover a variety of subjects geared towards kids' interests; current offerings include books on technology, innovation, coding and communications. The programme has proven to be a powerful motivator to get kids excited about reading and set them on a lifelong path of discovery and enrichment.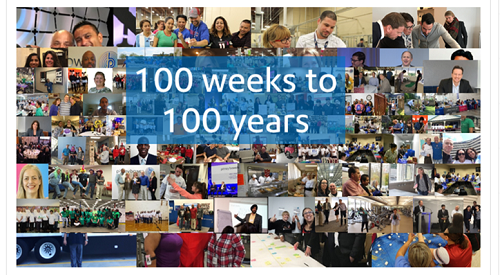 Making Our Mark During Global Kick-Off Meetings
This year's collaboration with Reading is Fundamental started with a series of community kick-off events involving children and families, employee volunteers and local non-profits. The events combined individual and group activities with donations of books to young students. At each kick-off, we displayed RIF books and provided note cards and bookmarks so that employees could write encouraging notes to inspire children with the love of learning and reading. Participating children received a total of 2750 books through the Scottsdale Paradise Valley YMCA in Scottsdale, Arizona; Family Compass in Dallas Texas; the Stamford Public Education Foundation (SPEF) in Stamford, Connecticut; and the Orlando Science Center in Orlando, Florida.
United Way Days of Caring
Each year around June 21, tens of thousands of people in hundreds of communities around the world come together for United Way's Day of Action to address the issues that matter most to them. Last year, employee volunteers from several Pitney Bowes sites joined in enthusiastically. AActivities included stuffing backpacks full of books to encourage reading, and planting community gardens to foster civic pride and promote affordable, healthy eating. Participating teams came from facilities in Danbury, Connecticut; Fridley, Minnesota; and White River Junction, Vermont. The global reach of United Way volunteering activities is amazing: volunteers currently number 2.8 million people a year.
Nursery school literacy kits in Canada
Employee volunteers in Ajax, Ontario assembled drawstring bags containing fun and engaging learning materials for 60 local children under a grant from the Pitney Bowes Foundation in collaboration with United Way of Durham Region. The kits featured 'All By Myself' from the Little Critter book collection, and included Little Critter puppets handmade by our volunteers to help bring the book to life. Each kit also included a set of reading tips for the parents and a personal note of encouragement for the child.
Ireland
Employee volunteers from Dublin embarked on the first-ever volunteer day at PB Ireland. Armed with sun protection and water bottles in the midst of a heat wave, our team of 34 volunteers worked to create a safe place to promote social inclusion among teenagers with learning difficulties. They painted fences, raised garden beds, built a BBQ area, mixed compost into flowerbeds and performed a variety of other tasks for The Meeting Place in Northern County Dublin. The facility's goal is to be a welcoming place for all in the community including teens with spectrum disorders, family members and caretakers. A section of the garden wall will be painted with pictures depicting the four seasons. Our volunteers painted the wall white in preparation for the local artist who will paint the images.   
Supporting students with learning disabilities in the UK
Pitney Bowes employees once again grabbed their shovels and headed to Watling View School in St. Albans to help in clearing and repairing the gardens and grounds of the school. Watling View caters to pupils with a wide range of learning challenges including severe autism, complex medical conditions, physical and mobility difficulties and developmental delays. Over two shifts, 39 Pitney Bowes volunteers cleared and re-planted four separate areas of the school. They also painted, weeded, moved soil, repaired benches, built walls and even dug up and moved trees.
Australia Employees Help Out at Schools and Community Centers
Employee volunteers from the Brisbane office in Australia participated in two job training programmes as part of United Way Australia's Corporate Connect Volunteer Days. The activities supported clients of a nonprofit called 'Belong' that runs classes and workshops for people from Culturally and Linguistically Diverse (CALD) backgrounds, including refugees. Belong helps its clients to improve their job prospects by improving their English language and communication skills. The events took place at Belong's Social Space in Moorooka and their Community Center in Acacia Ridge, where our volunteers helped participants prepare for employment by running through interview prep, conducting mock interviews and assisting with resume writing.
The Pitney Bowes Sydney team has been actively involved in United Way Australia's Macquarie Business Park Partnership (MBPP).The first of its kind in Australia, MBPP is an innovative collaboration between Australian companies that aims to tackle the underlying causes of disadvantage and so to give young people a better chance in life. Recent volunteer activities included:
The Magic of Storytelling, which connects vulnerable families with literacy programmes. Our volunteers read, painted, played with the children and spoke with their family members to inform them about services available in the community.
Business @ School Day, which gives students a glimpse of the real corporate world. Volunteers met the students at school to expand their knowledge of career paths to help them to assess potential courses of study.
Industry Tours, which enabled Marsden High School students to visit our Australia New Zealand head office and see the corporate world firsthand. Interactive information sessions, including a scavenger hunt using Pitney Bowes' Confirm mobile technology, made for a fun learning day.
For the third year in a row, Pitney Bowes employees supported the United Way of West Australia's Paint the Town REaD programme, which highlights the importance of reading and provides opportunities for parents to talk, read, sing, rhyme and play with their children from birth. Our participation was part of Children's Week in Australia, a national campaign to improve school readiness and future literacy success.
Making a Difference in Milwaukee, Wisconsin
A team of Milwaukee volunteers partnered with the United Way and a pair of local schools on several literacy, art and neighbourhood cleanup projects. At H. W. Longfellow Community School, a 'Build Your Own Library' project allowed each child to choose three free books to take home. The team also helped out at the school's annual fundraiser and year-end Parent Appreciation Awards dinner, where they created customised certificates recognising parents' contributions during the school year. For the Earth Day neighbourhood cleanup, they used supplies donated by PB Milwaukee. The team also supported Marvin Pratt Elementary School, staffing 'Donuts for Dads' and 'Muffins for Moms' events that enabled parents to spend quality time with their children while working on art projects. 
Howe Dell Elementary (UK)
Volunteers from our Hatfield office and visiting US colleagues worked together to convert an abandoned, overgrown patch of land into a child-friendly outdoor learning classroom – clearing the space, creating nature trails, building a play area and creating bug hotels and a birdhouse to support wildlife. Each year level adopted a garden plot, where students will plant fruits and vegetables and care for the garden as a community.
Reading Mentors in Troy, New York
Volunteers visited nursery school classrooms at Troy's Carroll Hill Elementary School to interact with students in collaboration with Literacy Volunteers of Rensselaer County. Through their Reading Mentor programme, employee volunteers had one-on-one reading sessions with a local student once a week during their lunch break. In conjunction with a book entitled 'Hi!Fly Guy' by Tedd Arnold, they also helped the students to make their own insect jar, just like the one the character in the book had. A Team Volunteer Grant from the Pitney Bowes Foundation provided necessary items such as backpacks, school supplies and healthy snacks.  
White River Junction, Vermont
Pitney Bowes colleagues in White River Junction, Vermont, have partnered with two organisations that advance youth development and career readiness. Job Shadowing enables young people to observe workplace hosts as they go about their day on the job. Our volunteers help students to see how skills learned in the classroom can be applied beyond school walls to build future careers.
We are longtime supporters of Careers CLiC (Connecting Learning in the Community), which guides students at all levels, from nursery school to second-level education, through the Continuum of Career Development by connecting schools and employers in our communities. For more than 20 years, CLiC programmes have built career awareness for primary school students, provided career exploration activities for middle school students and offered career preparation opportunities for secondary school students.
Every April, nearly 500 Year 9 students from 12 schools shadow workers in the community. Pitney Bowes hosted Oxbow High School Year 9 students and engaged them in a technical team stand-up (a daily brief meeting where the team shares updates on current projects). Students used Google Earth to locate their home and school, participated in programming sessions on Scraping and Engineering, built residential neighbourhood polygons and performed Quality Control activities.
Our team also partners with The Upper Valley Haven, a non-profit organisation that serves people who are struggling with poverty by providing food, shelter, education and service coordination as well as after-school and summer programmes. Fifteen of our volunteers helped The Haven to prepare for their children's eight-week summer programme, packing snack food bins, painting the Haven's financial literacy 'shop', building a pop-up theatre, creating sensory bins, sprucing up the playground and assembling book shelves.
Making a difference in Connecticut

Our Connecticut volunteers have been deeply engaged in our Dedication to Education Global Employee Volunteer Program:
One team worked to support Family and Children's Aid, an innovative mental health non-profit organisation that serves more than 6,000 children and their families each year. At the Boys Group Home and the Child Guidance Center, they installed fitness equipment, painted, constructed a new pavement and worked on landscaping.
Colleagues worked with the United Way for Days of Action to prepare New Pond Farm and the Regional YMCA's Camp Greenknoll for summer learning opportunities for more than 1,000 low-income families. Volunteers spread wood chips on the trails at Camp Greenknoll, and planted and mulched garden beds, weeded walkways and sanded and stained picnic tables at New Pond Farm. 
Team members also supported a partnership between the United Way of Western Connecticut and the Connecticut Food Bank to ensure that young children are well-nourished and ready to learn. A Mobile Food Pantry serves working families who cannot get to traditional pantries during their normal hours of operation. The Pantry is held outdoors like a farmers market, offering an assortment of fresh produce, bread, snack items and dairy. Our volunteers unloaded the truck, prepared the food for distribution and served the clients.
PPitney Bowes volunteers have been CLC Reading Heroes at Children's Learning Centers of Fairfield County since 2016. Each month our volunteers read and play with students at CLC's William Pitt Child Development Center, helping children at nursery school age to build their language, literacy and social skills while having fun. Volunteers lead monthly group sessions that start with 15–20 minutes of reading from books selected by the children, followed by arts, crafts and playtime activities
Junior Achievement
Each year, employee volunteers from Fairfield County, Connecticut, reach out to teach Junior Achievement's 'JA Our Nation' programme to Year 6 students at local elementary schools.Through hands-on classroom activities, the programme provides students with practical information about the nation's free market system and how it serves as an economic engine for businesses and careers. The curriculum also introduces the need for entrepreneurial and innovative thinking to meet the requirements of high-growth, high-demand careers and the concept of globalisation in business.
Tutoring Students in Tel Aviv Children's Home
Over the past few years, our Tel Aviv team members have developed a wonderful partnership with the Achuzat Sara Children's Home. Virtually everyone in our office has volunteered and participated in Children's Home programmes and events.Examples have ranged from providing transitional classes for newly arrived children who have educational gaps to renovating the home's library, creating a computer room for technical education and a stream of smaller projects from landscaping to sporting events. Last year, when the Home offered a programme for girls aged 17–18 on 'How to be an Independent Woman', all of our Tel Aviv women employees took part, serving as mentors and meeting with the girls once a month to discuss topics such as self-perception, dreams and career development, financial education and self-defence. The response was so positive that the Home has made it a continuing programme.
Mentoring Future Software Engineers in Poland
Our software engineers in Bielsko-Biala, Poland have been deeply involved in community service activities. Recently our volunteers mentored 200 primary and high school students on the range of positions available in computer science and information technology while also giving them a glimpse of what Pitney Bowes software engineers do on a daily basis. Colleagues also participated in IT Academic Days, helping more than 500 secondary school and college students participate in a competition to strengthen their programming skills. Our volunteers also partnered with Bielsko-Biala University's Reset YOUng initiative, which introduces area students aged 7–18 to programmes on subjects such as basic programming software, Lego Mindstorms and Arduino programming. 
India Community Engagement
Throughout the year, our colleagues in India seek ways to support their communities and help those in need. Their corporate citizenship commitment includes literacy and education initiatives in science, technology, engineering and maths (STEM), entrepreneurship and skills-based education programmes.
ETASHA Society is an NGO that works towards empowering youth from marginalised communities by training them to develop the skills, attitude and mindset needed for successful careers. We support two major ETASHA initiatives: Employability Skills Development and Placement Project and Computer Lab for Vocational Training and Placement.
Tara Mobile Crèches Pune: Pune's Project Khelghar, which provides learning centres for children, helped 553 underprivileged children last year. The centre works to support children of construction site workers to ensure their right to safety, healthcare, education, recreation and participation. Employee volunteers engaged children in games, arts and crafts, storytelling and skit-performing activities. They also read to the children and helped them to read some of the donated books.
Employees launched the Pune CSR Chapter in 2017 and have been regularly collaborating with the NIIT Foundation to organise educational workshops for children and youth on technical skills and personality development.
United Way Mumbai Let's Read Campaign: Colleagues in both Pune and Noida partnered with United Way Mumbai as part of the Let's Read Campaign, which aims to bring the world of books and reading to underprivileged children. A grant from the Pitney Bowes Foundation funded the donation of 500 books to two non-profit organisations for libraries at community centres that serve hundreds of children.
National Social Society (NSS): NSS works with underprivileged children who are currently unable to attend school. The programme provides access to literacy and basic education services for these children, after which they will be eligible to enrol in government schools. Our volunteers worked with children in storytelling and arts and crafts activities in which the children created beautiful butterflies representing their dreams for the future. We also donated books to the center's library.
Network for Teaching Entrepreneurship (NFTE) Mentors and Judges
Pitney Bowes has had a long history of employee volunteer involvement with NFTE.  Employees have volunteered at numerous NFTE events including innovation days, classroom competitions and key events including the World Series of Innovation recognition event at the United Nations. Recently our volunteers served as judges in a NFTE student innovation competition in New York City.
Back-to-School Supplies for More than 1000 Students
Ten Presort locations and one Global Customer Service location participated in back-to-school supply assembly projects in partnership with United Way Worldwide. These on-site activities help to connect Pitney Bowes sites to local community needs and allow colleagues who can't readily leave the work site to experience the teamwork and camaraderie of volunteer service. Nearly 400 employee volunteers spent more than 500 hours assembling Dedication to Education-branded drawstring bags full of school supplies destined for more than 1,000 students in Brisbane and Rancho Dominguez, California; Des Moines, Iowa; Chicago, Illinois; Whitestown, Indiana; St. Louis, Missouri; Portland, Oregon; Langhorne and Levittown, Pennsylvania; Duncan, South Carolina; Houston, Texas; and Seattle, Washington. Each pack included pencils, notebooks, markers and scissors, as well as encouraging notes written by employee volunteers.
Arts in Education Theater Workshops
Employee volunteers took part in a theatre workshop exploring the themes of E.B. White's children's classic 'Charlotte's Web'. Volunteers would read a passage, then work with the students as they drew a picture of an animal and used their five senses to describe it in writing. At the end of the workshop, each student received a copy of the book, a set of farm animal bookmarks and pencils and an opportunity to attend a live theatre production of 'Charlotte's Web'.
Honoring Dr. Seuss with Read Across America
Colleagues in California participated in the National Education Association's Read Across America programme, an annual event that celebrates reading on March 2, the birthday of beloved children's author Dr Seuss. Across the country, thousands of schools, libraries and community centres participate by bringing together children, teens, books and volunteer readers. The programme helps to ensure that members, parents, caregivers and children keep reading on their calendars 365 days a year.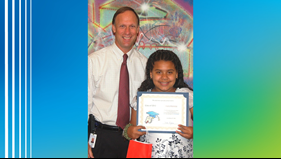 Recognition
Governor's Prevention Partnership Honor Roll
Once again in both 2018 and 2019, the Connecticut Governor's Prevention Partnership placed Pitney Bowes on its Corporate Mentoring Honor Roll. This annual recognition celebrates businesses that support mentoring to help keep Connecticut children safe, successful, drug-free and workforce-ready. Each year, our employee volunteers mentor students in numerous Connecticut communities.
Heart of Gold Award
More than 200 people gathered to recognise Pitney Bowes and CEO Marc Lautenbach with the 25th annual United Way of Western Connecticut Heart of Gold Award. Prior to the event, Marc and a team of employee volunteers participated in a literacy activity at the Boys & Girls Club of Stamford. The award honours business leaders who distinguish themselves through philanthropy and build volunteering activities into their strategic business plans. Pitney Bowes CEO George Harvey was the first recipient in 1995.
Each year, Pitney Bowes colleagues support their communities through on-site drives and collections to help underserved students and their families.In 2018, seasonal drives at 25 Pitney Bowes sites helped to make the world brighter for families in need, as the Global Corporate Citizenship & Philanthropy team partnered with the Wellness Team's Thrive Program to deliver Random Acts of Kindness to promote a happy and healthy festive season. We thank all the champions who led these efforts, and all the colleagues who donated back-to-school clothes and school supplies, food, clothing and festive gifts. Pitney Bowes sites and the charities that they supported include:
Food Drives
Aurora Interfaith Food Pantry, Chicago/Naperville, Illinois
Emergency Family Assistance Association, Boulder, Colorado
Food Bank of Lower Fairfield County, Stamford, Connecticut
HACAP Food Reservoir, Cedar Rapids, Iowa
Kansas City's Harvesters/The Community Food Network, Kansas City, Missouri
Loaves and Fishes, Charlotte, North Carolina
Mary's Cupboard Food Bank of Levittown, Langhorne/Levittown, Pennsylvania
Mid-Ohio Food Bank, Columbus/Grove City, Ohio
Salvation Army, Danbury, Connecticut
Texas Food Bank, Dallas/Fort Worth, Texas
Total Ministries, Duncan, South Carolina
Holiday Toy and Gift Drives
Adopt a Family, Appleton/Neenah, Wisconsin
Emergency Family Assistance Association, Boulder, Colorado
Kids Helping Kids and Domus Kids, Stamford, Connecticut
United Way Toy Drive, New York, New York
Clothing drives
Little Bit Foundation drive for warm winter coats, hats and gloves, St. Louis, Missouri
New York Cares coat drive, New York, New York
United Way clothing drive for victims of the Camp Fire Wildfire, Sacramento, California
Other Not-So-Random Acts of Kindness
For the tenth year in a row, our new colleagues from Newgistics in Austin, Texas, celebrated the festive season by hosting a party for refugees new to the Austin area. In partnership with Interfaith Action of Central Texas, our team provided lunch for 75 guests, sang carols, distributed 30 gifts for the children and arranged a special visit from Santa Claus that was enjoyed as much by the adults as by the children.
Colleagues in Darmstadt, Germany, collectively filled 34 shoe boxes with gifts and surprises for orphaned children and teenagers in Romania. This project represents the culmination of the year-round activities that members of the team undertake to address food security issues for the homeless and other vulnerable members of their community.
Colleagues in Australia and New Zealand also participated in the United Way Shoebox Campaign, filling nearly 80 shoeboxes with school and essential supplies for disadvantaged children and families in local communities.
Doubling Our Impact Around the Globe
Employees also engage in their communities through our employee giving programs. Each year, Pitney Bowes employees in the U.S., U.K., Canada, Australia, India and Japan give generously to charities. Our annual giving campaign, conducted in partnership with United Way Worldwide, allows employees to direct their support to specific initiatives and organizations and have their contributions matched by the Pitney Bowes Foundation. Education, workforce development and health are consistently among their top priorities.
Our latest campaign resulted in more than $1.2 million U.S. in donations to charities around the world, thanks to employee pledges and matching gifts from the Pitney Bowes Foundation. In addition to raising awareness and funds for the United Way, the Pitney Bowes Relief Fund, Red Cross/Red Crescent Societies and many other charities, teams also won Foundation grants for their local United Ways in recognition of superior campaign events that demonstrated the Pitney Bowes values of innovation, passion and collaboration.