We are committed to maintaining a safe and environmentally sound workplace for our employees, contractors and guests. We do this under the guidance of our Global Environment, Health and Safety (EHS) policy and management system. Our EHS management system provides a governance process to ensure oversight and accountability for our performance, and our global EHS department supports this process with expertise in:
Occupational safety and health
Industrial hygiene
Environmental systems
Carbon and energy management
Compliance with global regulations regarding our products and operations
EHS management systems.
Our EHS management system covers the full range of EHS areas and provides comprehensive tools for resolving them. It includes:
Organisation and oversight
Risk assessment
Reporting and incident investigation
Inspections and audits
Management of change
Communication
Training
Compliance Reviews
Under our EHS system, we regularly conduct thorough reviews of our operations, our waste management and recycling partners and our supply base. In 2018, we completed in-person reviews of 24 domestic and international Pitney Bowes locations; in addition, we regularly work with the operations to provide training, address questions and otherwise assist on safety matters beyond the site visits themselves.
Due Diligence Process
In addition to compliance audits, our due diligence process requires thorough environmental and safety assessments of potential acquisitions and divestitures to ensure that historical practices have not impacted the environment and that current workspaces are free from recognised hazards. In 2018 we acquired several new businesses, and as part of that process we conducted wall-to-wall safety assessments, employee training and follow-up compliance assessments to complete the EHS picture of these new businesses and related facilities.
Training and Communications
Our ongoing multimedia training programmes are designed to reach all our employees regardless of where they are located, whether agile or workplace-based. To achieve this we use a combination of daily huddle topics and new employee orientation delivered by our line supervisors, communications via digital screens, posters or newsletters and a learning management system encompassing more than 90 courses available 24/7 in 10 languages.
Across all these media, our message is consistent: we strive to keep our workplaces free from hazards, and our employees play an integral and vital role in actively participating in our safety programmes, with the goal of ensuring that all employees go home to their families at the end of the day safe and sound. Last year, our EHS team delivered monthly webinars to the safety contacts and general managers at each location to ensure consistency in our training and messaging. Each of our facilities has an internal safety board and signage designed to communicate local safety messages and performance.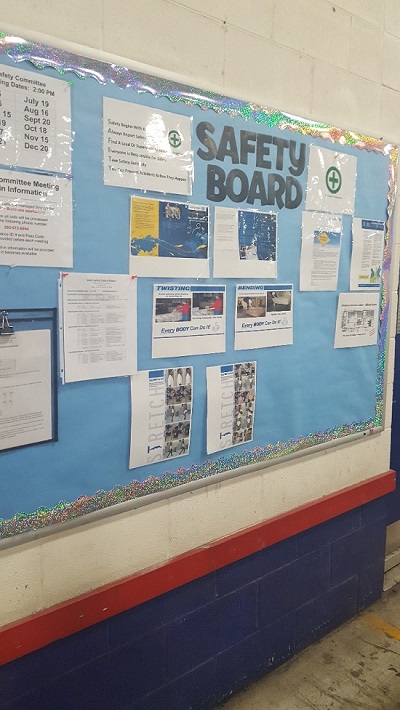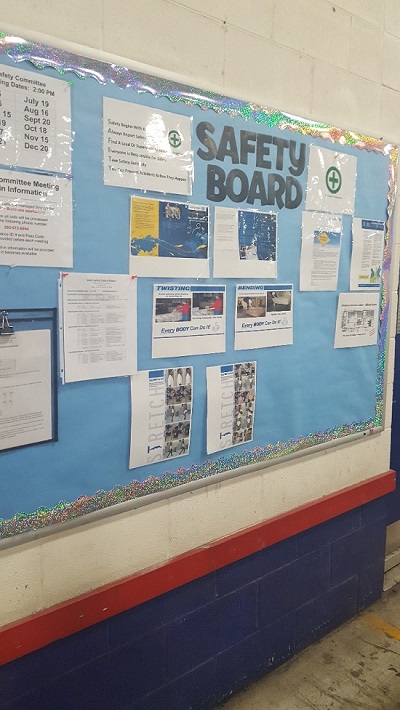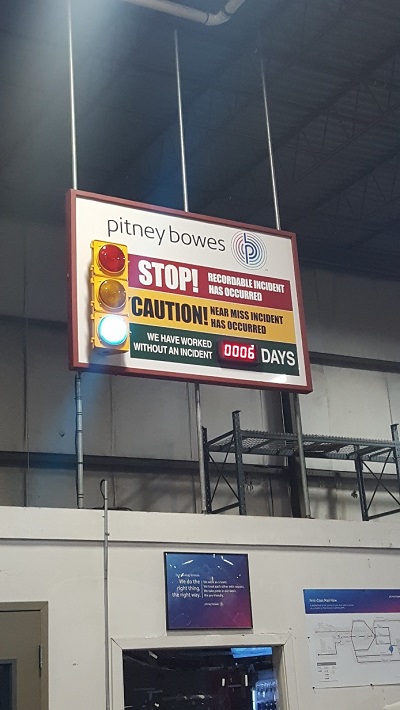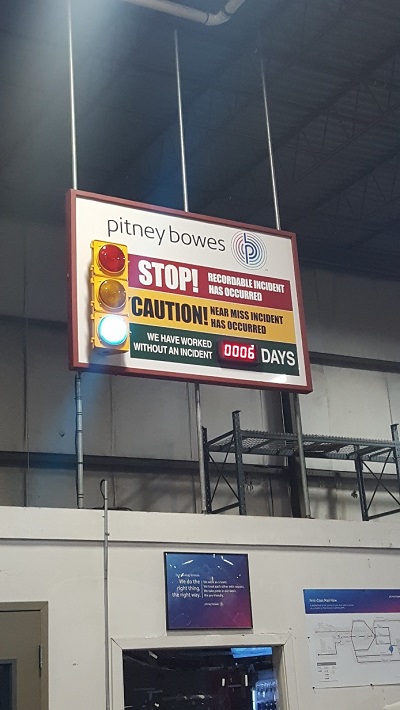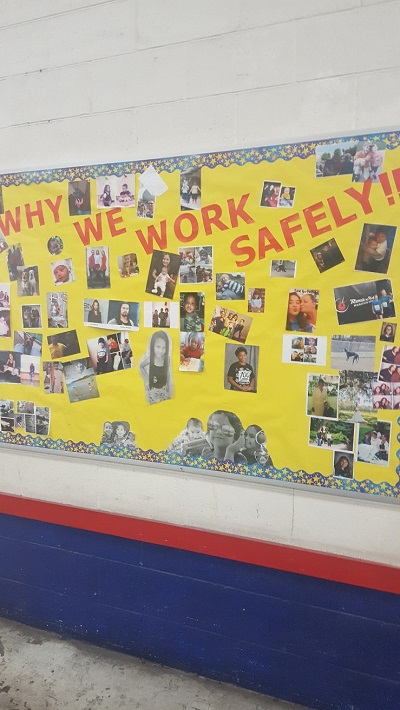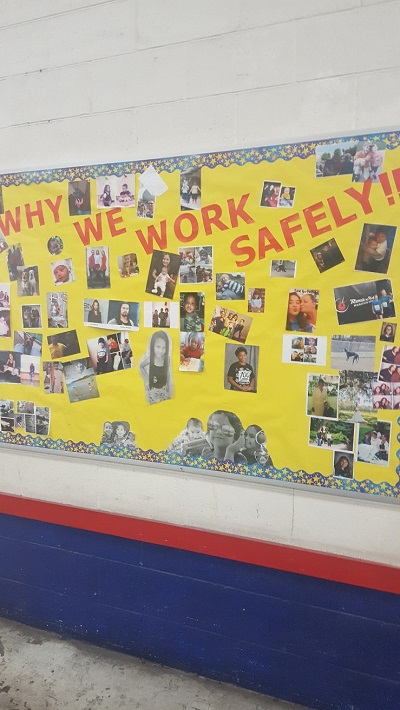 Performance
Leading indicators are an important part of our overall EHS performance assessment. Indicators such as safety committee meetings, employee training and facility inspections are tracked on a monthly basis, and we rate each facility's overall performance. We continue to see improvements in these metrics.
In 2018, our global rate of recordable injuries increased in comparison to the prior year. Major contributors to the increase were manual material handling incidents, specifically sprains and strains.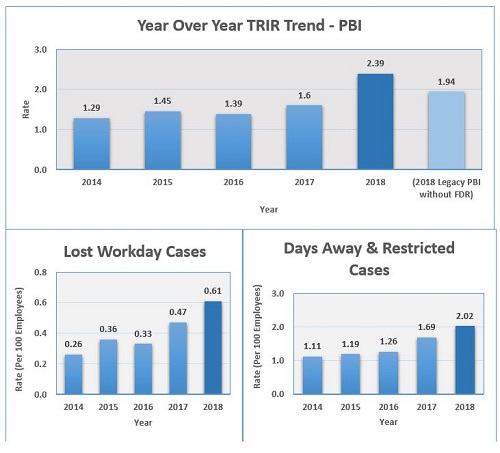 Safety case studies:
Safety awareness Campaign
In addition to our EHS course offerings and in-house programmes, we continue to enhance our training and communication efforts through the creation and distribution of informational materials related to topics of interest to our businesses. Each box includes posters, placards, training topics for supervisory use, employee handouts and more. Topics this year included:
Forklift Safety
New-employee orientation Guidance
General EHS rules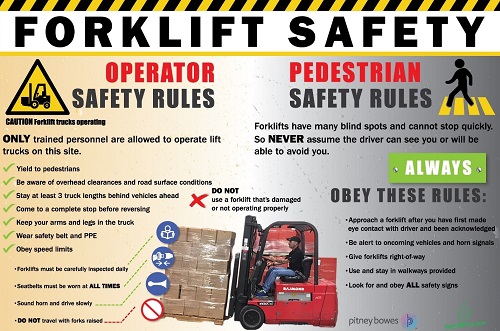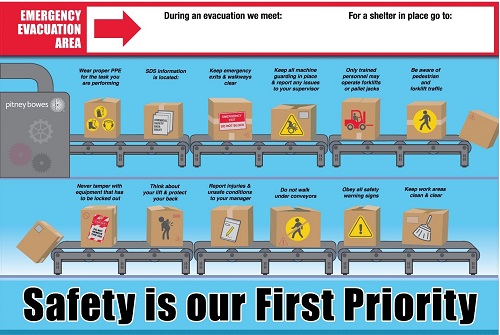 Ergonomics in the Workplace
EHS continues to raise awareness regarding manual material handling injuries within our operational sites through on-site and web-based training. In 2018 we held an open house in each of our Connecticut locations to showcase our EHS, Medical and Wellness programmes. We provided hands-on ergonomic equipment demos as well as guidance and information on our EHS programmes. In addition, we developed an 'ergo guide' for both agile and office-based employees on how to obtain an ergonomic assessment, ensure that workstations are set up properly, and obtain tools to improve comfort and ergonomics.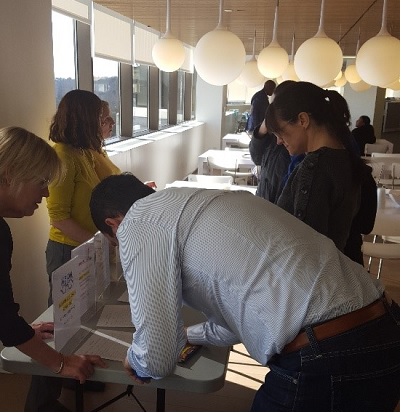 EHS, Wellness Medical Open House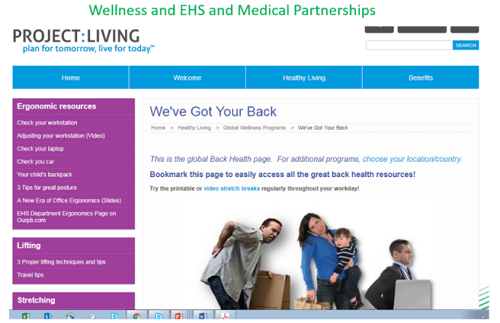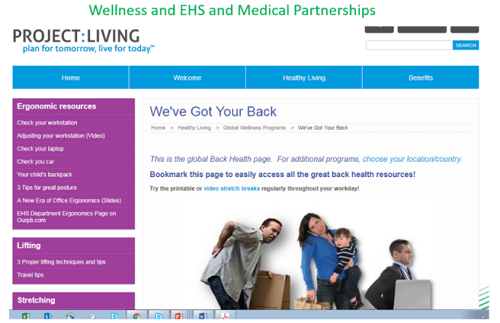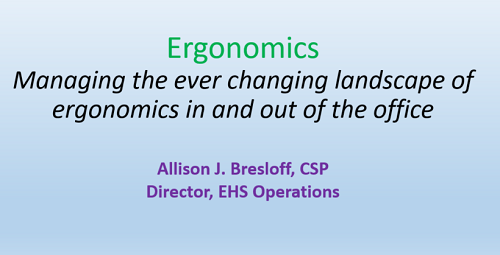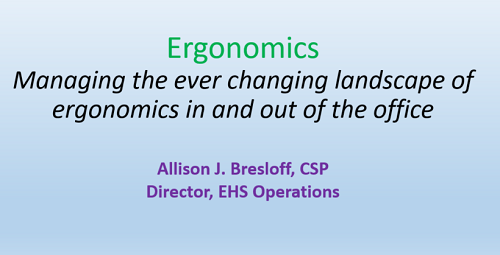 Lunch and Learn meetings/webinars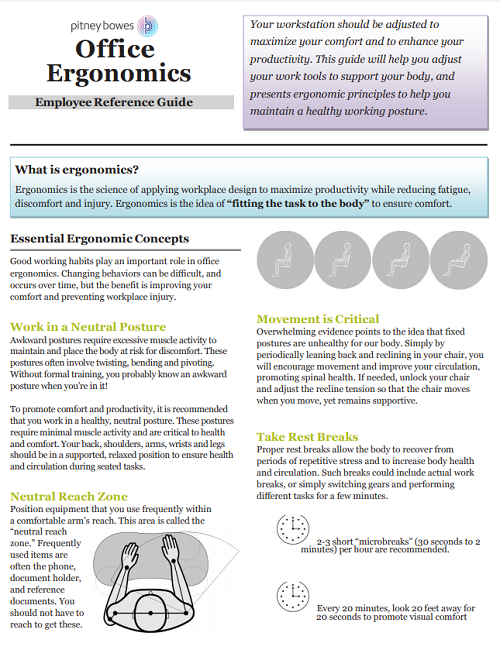 Office Ergonomic Guide
Case study
Focused ergonomic training in Commerce, CA
The acquisition in late 2017 of our Fulfillment Deliver and Returns business brought new ergonomic intervention opportunities. We conducted a full day of ergonomic training and assessment for this location. Employees were trained in proper methods of assessing workstation heights, using pallet lifters, moving material throughout the building and placing tools in the work area, including the height of scales. We also led a review of the overall work flow in order to identify potential improvements. We look forward to implementing improvements in 2019.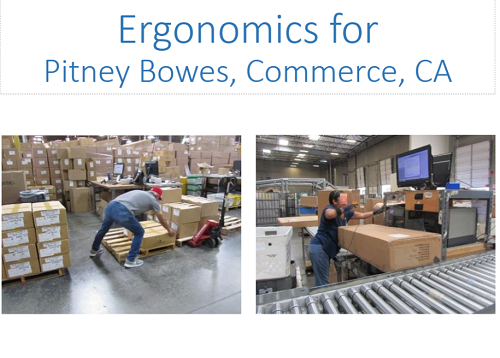 Automated external defibrillator and supporting training:
We have now equipped our largest offices in the UK with Automated External Defibrillators (AED). In addition, an employee who is also a volunteer First Responder in his community, volunteered to train other PB colleagues in AED use. This training complements our normal first-aid training with content specifically tailored to the Pitney Bowes working environment.