UPDATED: 14 June 2015
The printer uses Ink Jet Cartridges for printing.  Install a black only cartridge (DA70S), or a black and a colour cartridge (DA75S), before printing. Follow these steps:
With the printer on, press the ON LINE button until the display reads OFF LINE
Open the back cover of the printer
Press the Cartridge/+ button on the control panel to move the carriage to the middle of the printer Do not attempt to move the carriage by hand. Doing so can result in damage to the carriage assembly.
Remove the cartridge from its shipping container by peeling the top cover off.  Be careful not to touch the gold contacts.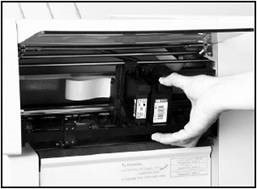 WARNING: The ink in the cartridge may be harmful if swallowed.  Keep new and used cartridges out of reach of children.  Discard empty cartridges immediately.
Gently remove the tape covering the ink nozzles on the print cartridge being careful not to touch the copper nozzles
Gently insert the cartridge (colour to the right, black to the left-DA750 only) into the carriage at approximately a 20 degree angle with copper strip to the bottom and in first. Press down on the cartridge until it is seated.
NOTE: The print cartridge photos in this section are of the DA75S printer. The DA70S has only one cartridge.
Push the cartridge forward (away from you) until it snaps in place
IMPORTANT: When installing cartridges on the DA75S, immediately perform the CMYK Printing Alignment procedure