How to update the address of your product or billing location using your account
UPDATED: 15 May 2016
If a product or equipment is moved to a new location, or to edit the address of all of your Pitney Bowes items to a new company location, you can easily make changes online using your account profile. Follow these steps:
Sign In online with your email address and password
If you are not yet a registered user click the link, Sign Up Now! And follow the directions.
On the main screen, locate the product or software location you would like to edit the address.
To the right of the product name, expand the menu by clicking on the plus sign (+). Then select the link: Edit address

To update the address of different product(s) or services, select: view all. This opens My Products, with a list of all products, equipment and software associated with your account.
Not seeing all your items? Select the link: add account
Scroll through the list to find the item to update the address, and select: Edit address

A pop-in window opens on screen. Modify information as needed.

TIP: There are time-saving options to make simultaneous updates to your account information. Select the checkbox(es), if applicable:
Update all products associated to this account -OR-
Update the billing address with this information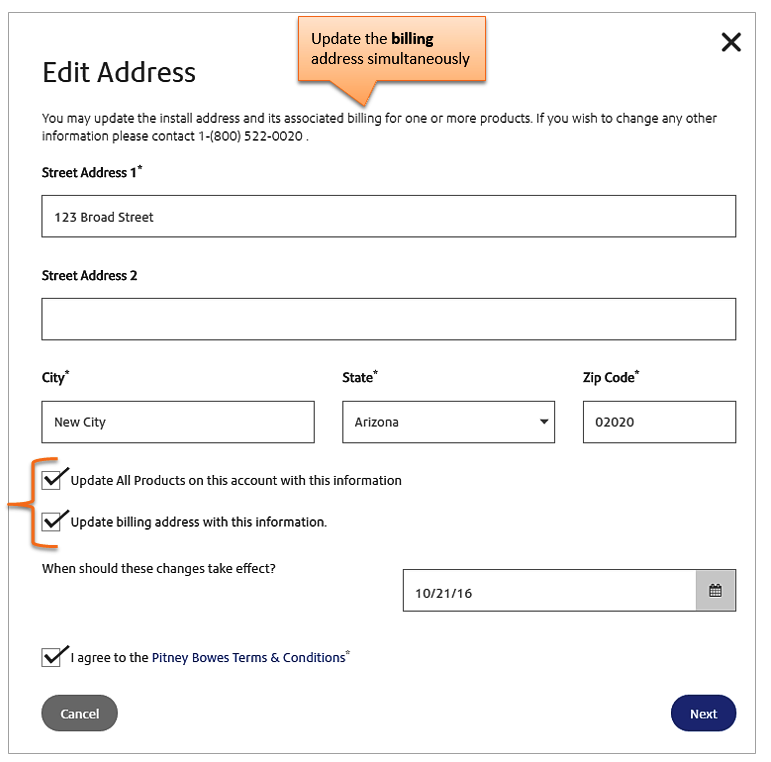 When finished entering your information, select the checkbox, I agree to the Pitney Bowes Terms & Conditions, and select Next.
You receive a prompt that asks you to verify the address.
If the address listed is correct, select Yes. If not, select No and re-enter the equipment location information.
After selecting Yes, you are directed to a page that lists all locations linked to your account. You will receive an email confirming the updates shortly after the changes have been made online.
TIP: It is important to add all items associated with your Pitney Bowes account. This allows for quick access to your information stored online, and helps optimize your profile with helpful tools and timely updates.