UPDATED: 10 May 2016
If you have a registered online account and need help with accessing your profile or web application, you can reset your own password. 
To retrieve or reset your password, visit: en.pitneybowes.ca/signin
On the sign in screen, select the link: Forgot your password? 
A pop-in window opens:
Forgot your password? Enter your email address to get started
Enter the email address used to create the account and to sign in, and select Next
A second pop-in window opens with a request to select an option to reset your password. Select the appropriate radio button, then select Next.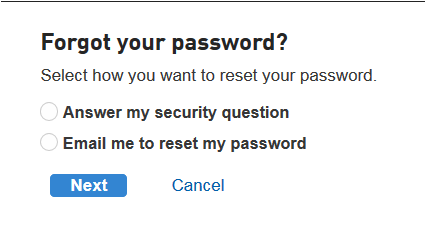 If you select, Answer my security question, you will receive instructions on-screen to reset your password
If you select, Email me to reset my password, you will receive an email with instructions and a reset link in five minutes. If you do not receive the password retrieval email, check your Junk mail or Spam folder. If it has been over 15 minutes, contact us for further assistance.
Use your online account to access web applications, AND add all of your Pitney Bowes accounts. Your information is stored, making online transactions easier by simply signing in online to pay a bill, order supplies, or create a case.