The following has answers to common questions about your Pitney Bowes bills and statements; making payments, accepted credit cards, and other FAQs.
---
Your new account number
You have been assigned a new account number that will streamline access to your account information and make it easier to manage your business with us. When you receive an invoice with your new account number, register on pitneybowes.com/ca/en/ for our enhanced online account experience and become familiar with our new features.
TIP: Refer to your new account number when making payments or registering with our custom online account experience for the first time.
---
Online Billing - View & Pay Bills

When you receive your new account number, follow a few simple steps to get started with online billing:
Register with My Account for our enhanced experience and new features, including view and pay your bills online 
Once you create an online profile, add all of your Pitney Bowes accounts. At the top of the main screen, click the link:  add account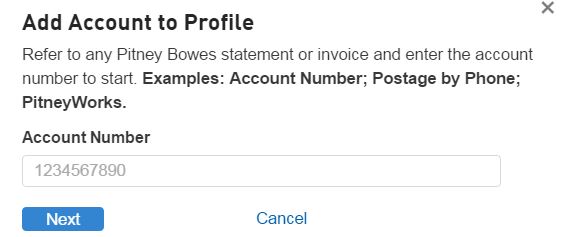 By following a few simple steps after adding your account number(s), you will be able to enjoy all the new efficiencies we have with our online system.
---
Remittance name and payment address changes
The name and address where you submit your payments has changed. Remember to update your records to avoid payment processing delays.  Submit your payments to:
Pitney Bowes Canada
P.O. Box 190
Orangeville, ON L9W 2Z6
To avoid processing delays, include your new account number and payment stub located at the bottom of your invoice when making payments.
---
Credit Cards Accepted for payment
MasterCard, VISA, and AMEX are accepted credit cards for payment of all rentals and for service on rentals, and for service on sold equipment that is billed to Pitney Bowes.
Why does my invoice state: "Upon approval, amount will be applied to credit card"
This means we have your credit card information for this invoice. Provided the card is approved, you can consider the invoice paid, and you do not need to call us. If your card is not approved, an agent will contact you. NOTE:  this pertains to invoices billed by Pitney Bowes Canada only.
---
In 2016, you will see changes:
New account number & a new, simplified invoice. Get a preview of our simplified invoice:  part 1 & part 2
You can order supplies, view your products and take care of all your account management needs - and, you view and pay your bills online.
Bill History
Payment history
Settings - updates your payment methods in your Pay Wallet and notifications, alerts and bill delivery method

UPDATED: 8 February 2022