Design. Integrate. Support.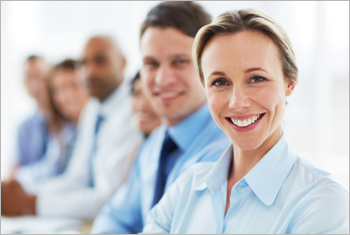 Make Pitney Bowes technology work for our clients.
Partner with us to help clients implement and maintain our powerful software solutions.
Service partners are critical to our clients' success. Firms like yours provide the industry expertise, design experience and manpower to implement and integrate our technology in the most complex and sophisticated environments.
If your company provides services for consulting, integration, implementation, custom application development or managed support, we should talk. Pitney Bowes can engage with you as the general contractor, sub-contractor, co-sell partner or other hybrid engagement models.
Consultants
We need partners with deep application knowledge. Consultants with skills, knowledge and experience in location intelligence, data quality, data governance, document management, predictive analytics and more are needed to help our clients succeed.
System integrators
System Integrators help eliminate the seams between existing platforms and Pitney Bowes solutions. Your design and operational experience helps get business-critical systems installed and operational. Pitney Bowes is seeking both large and small system integrators that understand how to make people, process and technology work.
Solution Providers
Solution Providers bring turnkey solutions to our clients. These solutions often pre-integrate Pitney Bowes software with industry leading technology, from broad-based suppliers to highly focused industry specialists. Solution providers are especially beneficial to medium-sized and smaller clients who don't have the resources or expertise to integrate systems themselves.
Relationship Flexibility
We strive to get working software solutions into the hands of clients as quickly as possible. To do this, we can structure our relationship in the most effective way for all parties. PB can act as the general contractor, a sub-contractor or software provider. Our arrangement can be based on an overall business approach, or on a client-by-client basis.
Training and Enablement
You'll need to learn everything about our technology for you, PB and the client to succeed. Our training programs offer an array of technical, practical and procedural approaches to mastering skills and gaining experience. We offer classroom, online and one-on-one training and mentoring to help you get up to speed quickly with minimal effort.
Technical Support
When you get in a jam, or need to discuss solution alternatives, you need answers quickly. Our support team can help you get the right answer in a timely manner. They're great people to work with as well!