Benefits of Wireless Printing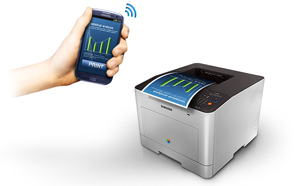 Samsung MobilePrint is a BLI-evaluated solution that broadens the potential of your Samsung Multi-Functional Printer by enabling you to scan and print using tablets or smartphones. Featuring a simple user interface, this highly intuitive app is compatible with several file types, including Microsoft Office documents. It brings further flexibility and convenience by supporting cloud storage and file sharing with the desktop PC, as well as the printing of web content.

Print Content Whenever And Wherever

Samsung MobilePrint features a robust set of print options, bringing users incredible flexibility by enabling them to adjust settings including the number of copies, paper size and orientation. It supports a wide variety of document types, including PDF, TXT and Microsoft Office formats, setting it aside from competing apps. MobilePrint also has the ability to print photos stored on the device or from the device's camera, saving users valuable time.

Scan And Go, Perfect For Mobile Devices

For professionals who need to scan seamlessly on the move, this smart Samsung MobilePrint technology works by simply accessing a wireless connection. Increase office efficiency with fast scanning from network-connected printers, Samsung MFPs and more with Android and iOS mobile devices. For greater convenience, choose from a full range of scanning formats (including JPG, PNG and PDF) for easy viewing on your mobile device. Essential options like multi-page PDFs, colour modes, previews and quality levels mean you can scan exactly to your requirements, offering the results your business needs.