Non-stop Performance: Redefined
Mailstream Productivity Series Mail Inserters
The Mailstream Productivity Series are the next generation of ultra high speed mail inserters. This family of intelligent mail finishing systems redefines non-stop performance, running up to 26,000 finished mailpieces per hour with greater flexibility and integrity.
Family of solutions with a built-in upgrade path
Unlike other high-speed systems, the Mailstream Productivity Series offers a built-in upgrade path that allows mailers to increase speed and capabilities over time with no risk to their initial capital investment. There are three distinct models that all share a common platform and operating system.
mailstream 26 - Optimised for multiple, low page-count applications. Produce DL letters at up to 26,000 mailpieces per hour and C5 mail at up to 22,000 mailpieces per hour
mailstream 22 - High-speed performance on medium page count applications and merging print streams
mailstream 18 - Ideal when transitioning to a higher-speed environment
Driven by the newly designed mailstream engine, interchangeable friction and rotary feeders, high productivity inputs and enhanced envelope sealers, the mailstream system can deliver up to an 18% increase in speed. This combined with a 10% increase in system availability achieved through reduced service times, fewer stoppages and decreased recovery time to deliver up to a 28% boost in achieved throughput.
The Mailstream Productivity Series provides a new level of non-stop performance, allowing high volume mailers to tackle multiple opportunities at higher speeds with a single system. In addition, the mailstream offers:
Increased productivity
Greater capacity
Stronger SLA performance
Reduced labour costs
Unrivalled flexibility B
Breakthrough results
Mailers can upgrade an 18,000 system to a 22,000 configuration or 26,000 configuration and the 22,000 to the 26,000 model. The new platform enables you to add speed and the expanded capabilities as your business needs change.
Video
Communisis, in strategic partnership with Pitney Bowes, celebrates new business growth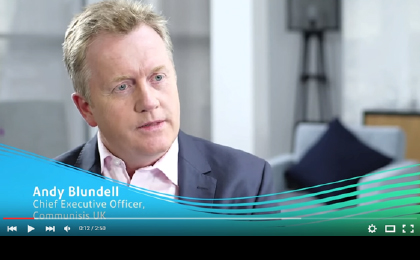 Our UK support team comprises over 190 staff all strategically located to ensure rapid response to customer calls from any destination. Our teams of experienced, highly skilled engineers receive continuous training to keep them abreast of the latest equipment and process developments. Each engineer is fully qualified in installation, training and maintenance, utilising these skills to ensure that customers receive ongoing, optimum performance from Pitney Bowes' equipment.
UK Contact Centre
The team are available between 08:00 and 18:00 Monday to Friday.
Tel: 0870 777 7577*
Fax: 020 8465 4647
Email: enquiries@pbdmt.com
*Please note this number is for Pitney Bowes Document Messaging Technologies the division of Pitney Bowes dedicated to high volume mailing solutions.
Heavy investment in the development of a new Contact Centre has enabled us to further improve the support offered to our customers. Each Contact Centre Advisor is highly trained in processing customer enquiries efficiently and effectively aided by constant communication with our engineer support team.