Ensure proper evidencing so you can be assured that they come from trusted sources.
pbSecure™
Overview

Capabilities

Resources
| | |
| --- | --- |
| | Can you trust the documents or articles you received? |
Organisations deal with large quantities of external information on a daily basis. Unless verified, such information can pass through your organisation without your knowledge. Fake information can also leave you open to consequences that affect your organisation's reputation.
Manual verification is often time consuming, costly and potentially unreliable. pbSecure™ works as an evidencing solution to address these concerns. It provides proof that important documents are genuinely issued, thus reducing time and effort required for verification.
Solution Benefits
Secure documents at the point of origin with a pbSecure™ code using proven Pitney Bowes' cryptography/encryption technology
Instantly verify information offline or online with a cloud database
Lower costs by eliminating manual verification, special paper, watermarks, or printers
Improve process controls and risk management by monitoring document/information creation
Avoid legal consequences stemming from fraudulent sources
Authenticate and Verify Information in 2 Steps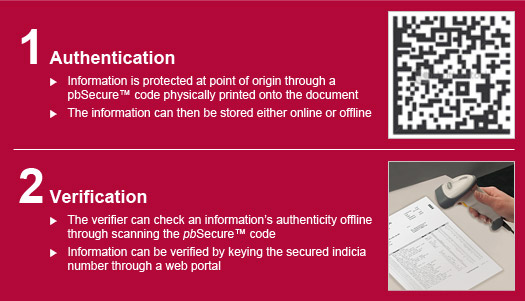 By having secured evidencing at point of origin, organisations can save on time and cost required for verification.
pbSecure™ is ideal for:
Government bodies - to help manage revenue collection, unique voting rights, origin data upon filing and metering processes
Educational institutions - to verify and track qualifications and educational records with student details
Finance departments - to streamline micro transactions and e-payments
Human Resource companies - to verify credentials or resumes of potential employees
Hospital and health institutions - to verify prescription authenticity for better monitoring of medical supplies and inventories
Verification
Imagine a document so intelligent, it remembers its original content, on every copy...

Do you produce important documents? How do you ensure that those documents are not being tampered with?
pbSecure™ technology offers the most advanced methodology available today to secure the information on any important document.
pbSecure™ also offers an online and offline platform to later verify the authenticity of any document produced with pbSecure.
Verification Process
pbSecure™ provides the platform where any document that was captured with pbSecure can later be verified.
Using document evidencing (or securing) as an example in practice;
Issuer:
The original data content is compiled via pbSecure™ software connected to a pbSecure™ VAULT. The VAULT produces the encrypted QR Code that is merged with the data and any document template into a printing format (i.e PDF) for commercial or desktop printing.
The document can be printed on any paper, the security lies within the pbSecure™ bar code printed on the document, thus the document can also be copied as many times as desired as the pbsecure™ code is transferred to each photocopy.
Verifier:
The original document, or a copy of the document can be verified in any of the following ways:

Off-line (No Internet needed):

Via a standard 2D barcode scanner, connected to any computer that has a pbSecure verifying unit or pbSecure™ verifying software configuration loaded.
Via a mobile phone running the pbSecure™ smart phone application.
Online Web-service:

Via a pbSecure™ verification web service. The QR code is issued with a numeric code that can be entered into the verification web portal. The web portal contains a centralised repository of the QR codes and a pbSecure™ verifying VAULT. A result will be returned to any electronic device or computer system with internet access. For accessing the online web services for verification, please visit www.pbsecure.co.in