<font style="font-size: 42px;">Experience the easy way to boost your school's security with LobbyTrac™.</font>
Exclusive offer:
Join the many schools already benefiting from the LobbyTrac. Be one of the first 50 schools to order the LobbyTrac and receive a $250 gift card towards stationary from our supplies webstore. *Terms & conditions apply.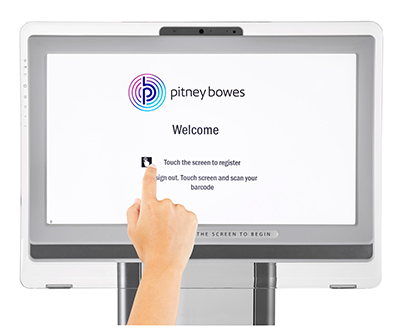 LobbyTrac
Watch how you can seamlessly and securely manage your visitors.
Your new, all-in-one, self service security solution
LobbyTrac provides a seamless solution for managing visitors, contractors, and casual employees on any school grounds.  Its intuitive step-by-step instructions simplifies the sign-in/sign-out process by capturing and storing all the pertinent information to a secure database. This enables real-time reporting and greatly enhances existing processes.
Small footprint
With a sleek and modern design, LobbyTrac takes minimal space for installation. Set it up as an automatic, self-service office reception in school.
Electronic notifications
The notification feature alerts employees about visitor's arrival via email or SMS. Plus, barcoded check-in information can be emailed to visitors ahead of time, making the scheduling of groups and special events hassle-free.

Real-time reports
In the case of emergency situations, a real-time report can be remotely produced from the cloud-hosted model to inform you of who is on the school grounds and how to contact them.
*Terms and Conditions:
This offer is exclusively available to Private and Public, primary and/or secondary schools in Australia and New Zealand. To be eligible, you must place a LobbyTrac order with a Pitney Bowes representative before 30 June 2019, and you must be within the first 50 schools to place an order. The offer is limited to one $250 gift card per order, per school and is subject to stock availability. The gift card will be subject to the terms and conditions as found on the card. Pitney Bowes reserve the right to withdraw this offer at any time or deny the offer to a prospective customer for any reason. These terms and conditions are subject to change without notice. Contact Pitney Bowes for additional information.