The all-in-one, self-service security solution
LobbyTrac™
LobbyTrac™ provides a seamless solution for managing visitor and employee traffic for any building. Its intuitive, step-by-step instructions simplifies the sign-in/sign-out process by capturing and storing all the pertinent information to a secure database. This enables real-time reporting and greatly enhances existing security processes.
See how the all-in-one solution can help you comply with the Health and Safety at Work Regulations 2016.
Overview

Key Features

Specifications

Resources
Simple and intuitive.
With a user-friendly touchscreen monitor and image scanner, LobbyTrac captures vital visitor information. Plus, the address book feature provides a predictive-like key stroke experience that allows visitors to check in without staff involvement.
The device comes with everything you need for superior visitor management including:
Integrated webcam
19.5" LCD touchscreen
Integrated badge printer
1D barcode scanner
Internal badge disposal chute
Heavy duty pedestal unit
Customise your user-experience.
Enhance your corporate image by customising the welcome screen of your LobbyTrac™ with graphics, messaging and more. Plus, provide a superior user experience as you'll be able to create branded labels for added security.
Manage facility entry points with or without dedicated personnel.
Like a virtual assistant the self-serve interactive terminal can ensure better utilisation of time and resources by allowing visitors to officially notify their arrival.
LobbyTrac securely eases visitor and employee management, making it ideal for organisations like:
Schools
Colleges and tertiary institutions
Government agencies
Correctional facilities
Corporations

Hospitals and clinics
Real estate management
Event management
Facility management
Small footprint
With a sleek and modern design, LobbyTrac takes minimal space for installation. Set it up as an automatic, self-service office reception in your facility or to assist your lobby personnel.
Electronic notifications
The notification feature alerts employees about visitor's arrival via email or SMS. Plus, barcoded check-in information can be emailed to visitors ahead of time, making the scheduling of groups and special events a hassle-free and smooth process.
Real-time reports
In the case of emergency situations a real-time report can be remotely produced from the cloud hosted model to inform facility managers of who is on site and how to contact them.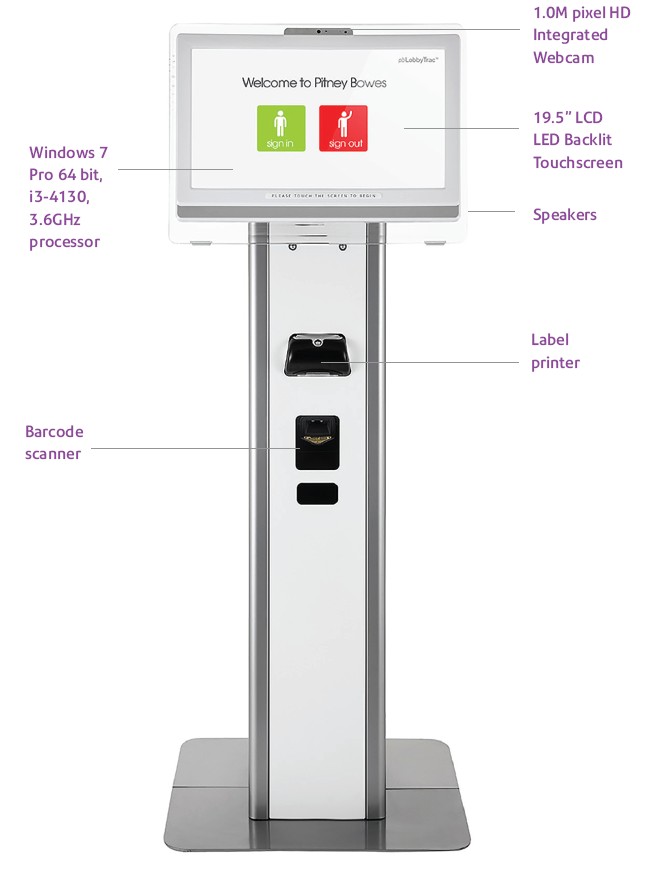 Optional multiple terminals
Manage Terminals: Turn on/off (cam & sig)
Terminal Name and Label Count
Email Entry Notifications
Event Setup and Pre-booking
Screen config/input fields
Help/Support (Email Admin)
* Carrier charges may apply. Client to provide SMS account.