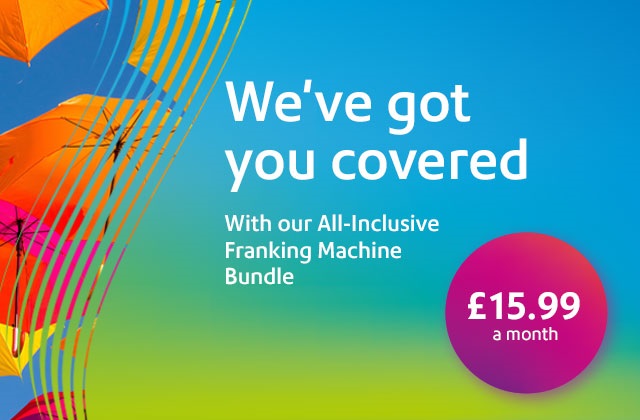 Mailing shouldn't be difficult, confusing or expensive.
This is why we have introduced an all-inclusive franking machine bundle – an exclusive offer designed to make your mailing cost effective and hassle-free.
The solution gives you everything you need to simplify, control and save on your postage – we even take care of the ink for you!
What's included?
The latest DM60 franking machine meter
Meter ink supplied as standard
Online account access to monthly invoices
Technical assistance through our expert web support
All products repaired or replaced at no extra cost
Access to our best current and future MailMark rates
SendPro online shipping application
Up to 75% saving with Parcelforce
Benefits of the bundle
One solution
Simplify and control all requirements of your outbound mailing by having it all covered under one contract. All the elements come together to offer everything you need in one simple solution with no hidden fees or charges.
Online access
Ease of mailing management is provided with online billing and support included. Everything is managed from 'Your Account' — no more mailing headaches.
Cost savings
The all-inclusive bundle offers great value for money compared to other solutions in the market. Budget an exact amount with no nasty surprises, including ink replacement as part of the monthly price. Plus, using a franking meter over traditional postage can save you up to 32%* on stamp costs.
Are you ready to simplify, control and save on your mailing?
Simply complete the form below, or call 08083018840 to discuss a quote with one of our dedicated sales representatives.