Digital transformation is driving unprecedented change across all industries today. By attending the Pitney Bowes Software EMEA Partner Conference you will benefit from the inside track on the latest developments and innovations we are bringing to market to accelerate your ability respond proactively to the rapid changes customers are experiencing.
Welcome

Venue & Registration

Agenda

One to One Meetings

FAQs
Join us as we discuss how Pitney Bowes is helping organisations to build connections about people, places and things through applying the Knowledge Fabric. Learn about innovations in: Location Intelligence, Customer Information Management, Data and Customer Engagement Solutions.
This event provides partners with a unique opportunity to gain hands-on technical and sales expertise, connect with other like minded partners and Pitney Bowes executives. We will provide a packed agenda including market insights, roadmap visibility, customer presentations and interactive product sessions. You will also have the opportunity to contribute to discussions about the future of our channel partner program.
The full conference includes
Keynotes from Pitney Bowes Executive team
Panel discussions with customers and partners
Instructor-led training and enablement sessions
Solutions Showcase featuring our latest software and data innovations
I look forward to welcoming you to Rome.
James Buckley
Vice President Channels & Alliances EMEA
Rome, the eternal city, has been selected as the venue for the 2018 EMEA Partner Conference.
Rome, Italy's capital, is a sprawling, cosmopolitan city with nearly 3,000 years of globally influential art, architecture and culture on display. Ancient ruins such as the Forum and the Colosseum evoke the power of the former Roman Empire. Vatican City, headquarters of the Roman Catholic Church, has St. Peter's Basilica and the Vatican Museums, which house masterpieces such as Michelangelo's Sistine Chapel frescoes.
Just 10 minutes from the heart of historical Rome and 30 minutes from either of Rome's two international airports, the Crowne Plaza St Peter's is in an ideal location to stay and explore all that Rome has to offer. Offering 310 deluxe bedrooms as well as two restaurants and an extensive array of recreational facilities including a large outdoor swimming pool, spa and running concierge!
Relive some of last year's conference highlights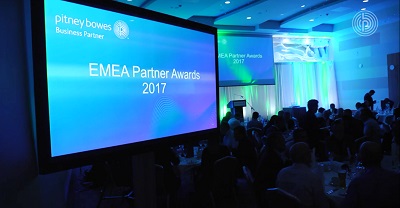 Highlights from EMEA Partner Conference 2017
Please ensure you do not miss out.
As always the EMEA Partner conference will be a blend of plenary sessions, breakouts and 1-2-1 meetings delivering the latest innovations in Location Intelligence, Customer Information Management, Data and Customer Engagement Solutions.
Monday 8th October
- Welcome Lunch
- Opening Plenary, including Partner Award
- Solutions Showcase & Welcome Drinks Reception, followed by coach transfer to dinner at Ristorante Da Meo Pattacca

Tuesday 9th October
- Morning plenary followed by track breakouts throughout the morning
- The Solutions Showcase will be open during lunch and morning and afternoon coffee breaks
- Breakouts will continue throughout the afternoon
- Transfer by coach and dinner at Ristorante La Carovana

Wednesday 10th October
- Morning Track Breakouts
- Closing Plenary
This year again we are pleased to be offering a One to One Meetings program at the EMEA Partner Conference offering you the opportunity to pre-reserve meetings with Pitney Bowes experts and executives.
More information on whom will be available and how to book will be available shortly, please check back later for an update!
Travel Documents
All travel documents, passports, visas and public health documents for entry to the EMEA Partner Conference in Rome are the individual's responsibility. Please check passport requirements for your country.

How do I book a hotel room?
You can reserve your hotel room directly with the hotel. The hotel URL is on the conference registration page.

If you need to change or cancel your reservation, please work directly with the hotel. Attendees are responsible for booking and paying their own accommodation and travel expenses.
A room block has been arranged at a preferred rate of €150 per room, per night for Single use and €160 per room per night for Double use. The rate is inclusive of an American buffet breakfast, VAT at 10 and service. City tax of €6 per person per night is excluded. Rome residents are exempt from payment. The group rate will be honored three days pre and post the event based on availability.

What are the conference onsite Registration & Helpdesk hours?
· Monday, 8 October – Noon – 17.30
· Tuesday, 9 October – 0800 – 18.00
· Wednesday, 10 October – 0830 – 12.30

What is the weather like in October?
Daytime temperatures in October average 23°C and the lows average 12°C. Click here for more on Rome's weather.

What is the attire of the meeting?
Business Casual. It is best to dress in layers and remember to pack a sweater or jacket as the meeting rooms are often on the cooler side.

What are the top attractions in Rome?
If you arrive early or stay after the conference, you may want to have a conversation with the hotel concierge for recommendations, call +39 06 66420 or visit the hotel's website: https://www.ihg.com/crowneplaza/hotels/gb/en/rome/romsp/hoteldetail.
Trip Advisor is another resource for ideas on activities.
Check it out at: https://www.tripadvisor.com/Attractions-g187791-Activities-Rome_Lazio.html