Global Ecommerce
Pitney Bowes ranked #1 international ecommerce and fulfillment technology provider
Pitney Bowes Commerce Complete™ for Retail is the industry's most proven, capable and scalable end-to-end global ecommerce solution.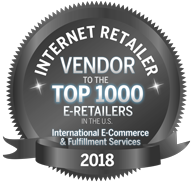 STAMFORD, CT, October 10, 2017 – Pitney Bowes (NYSE:PBI), a global technology company that provides innovative products and solutions to power commerce has earned the number one ranking for international ecommerce and fulfillment technology in the 2018 IR1000 Vendor Report published by Internet Retailer. The ranking comes as a result of a survey of the top 1000 e-retailers in the U.S., whereby more retailers cited Pitney Bowes as their provider of choice for international ecommerce and fulfillment than any other company.
"This recognition not only speaks to the incredible growth of the Pitney Bowes Global Ecommerce business, but also to the strength of our relationships with retail clients," said Lila Snyder, Executive Vice President and President, Global Ecommerce and Presort Services at Pitney Bowes.
"We work hard to be a true partner to our clients, helping them grow their businesses around the world and execute every step of the ecommerce customer journey from demand generation, through to ordering, delivery, returns and ongoing customer care. We're thrilled that so many of our clients took the time to choose Pitney Bowes as their provider of choice," said Snyder.
Through its Commerce Complete for Retail platform, Pitney Bowes offers the industry's most proven, capable and scalable end-to-end Global Ecommerce solution that helps retailers manage all facets of cross-border expansion, including: marketing and demand generation; website localization; fully landed cost and compliance; easy payments and managed risk; logistics; returns and customer care. Nearly 300 retailers, brands and online marketplaces rely on Pitney Bowes to sell their goods to consumers in more than 220 countries and territories around the world.
Click here to view the IR1000 top 10 list for International Ecommerce and Fulfillment, as well as a feature article about Pitney Bowes.