At Pitney Bowes, we are committed to your success. Our focus on new technology and innovation, delivered with accuracy and precision, brings meaningful impact for your business.
Join us at Post-Expo and discover solutions that will give you a competitive advantage:
Increase productivity through automated mail sorting solutions
Ensure accuracy with data capture and analysis solutions
Keep pace with Ecommerce growth with automated parcel sorting solutions
Simplify your processes with integrated print and mail solutions
Schedule a consultation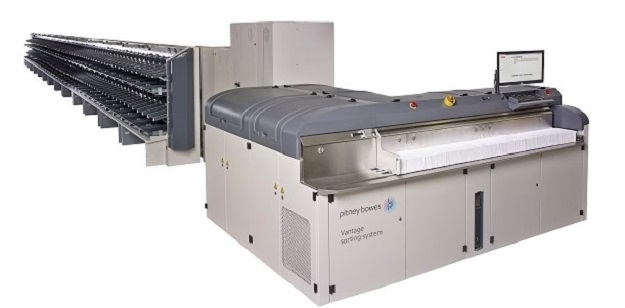 Solutions featured at Post-Expo:
Vantage Mail Sorting Solution
The Vantage sorting solution with "In-Line Metering" is the result of Pitney Bowes continuous evolution in sortation technology. The Vantage has always provided the highest read rates, throughput and durability, a solution that is unmatched globally. Now Pitney Bowes has taken it a step beyond by developing the first high-output sorter with In-Line Metering. Production workflow is simplified by eliminating the need to meter mail at different rates or managing pre-printed envelopes, thus ensuring more efficient mail processing.
TrueSort™ automated parcel solutions
The TrueSort automated parcel solution is a demonstration of Pitney Bowes state-of-the-art automation. This ultra-flexible solution for parcel sorting not only provides outstanding throughput rates; it also gives you the choice of multiple sorting technologies such as Tilt Tray, Bomb Bay or Pusher Tray. Whatever the parcel volume or characteristics, the TrueSort is the right fit for the application.
OneSort™ Pro dimensioning and data capture
The OneSort Pro is the Pitney Bowes solution to complete parcel management. This simple parcel induction unit provides the rapid processing of parcels and flats with revolutionary data-capture. The OneSort Pro is not only a cost-effect way of rapid processing of parcels and flats but it also provides the versatility needed for outbound and inbound applications. The OneSort Pro is truly the ideal first step in automating manual processes and providing accurate data gathering efficiently and accurately.
Business Logic Processing Software
Pitney Bowes Business Logic Processing software or "BLP" as it is referred to, is the foundation for all Pitney Bowes Sorting Solutions. BLP is not only the backbone for intelligent sorting automation, but it also provides the critical interface needed to satisfy clients' operational processing needs. This Pitney Bowes architecture has optimum flexibility to accommodate future needs while providing the dynamic decision-making needed today.
Relay 8000 inserter system
For higher volume mailers, the Relay 8000 enhanced chassis gives you 67% more monthly throughput than the Relay 7000 – up to 200,000 pieces per month. This inserting system can process Letter and Large Letter with speeds up to 5,400 envelopes an hour for Letter and Large Letter. You get the peace of mind knowing your mail is completed accurately on a reliable system.
RISO printer
Put your high-volume print and mail production process on the fast track with dependable high-speed inkjet printing.
SendSuite® Tracking Online
SendSuite Tracking Online is a package receiving and tracking cloud-based solution designed to provide accurate status and chain of custody of your inbound packages. With our innovative package tracking software, time-wasting searches are eliminated. Plus, you'll increase customer satisfaction.
SendPro® P-Series
The SendPro P-Series mailing systems simplify processes by integrating mailing and receiving into a single system. With these versatile integrations, the P-Series provides a simpler, more streamlined way to send letter mail and large envelopes. With the receiving application, you can accurately log all of your incoming packages and important documents so that you have an accurate history of every item delivered to your office.