Shipping & Mailing
Big data and the Internet of Things for postal optimisation
By combining automated processes and the technology of the Internet of Things, posts can utilise business data to drive down costs, improve efficiency and create flexible sorting solutions.
As businesses contemplate the Internet of Things (IoT) and its potential, they are beginning to realise that it isn't just about connectivity, but about identifying ways to unlock maximum value from the data they have access to and the data they generate. As a report by consultancy PricewaterhouseCoopers (PwC) cites, "While all current IoT implementations focus on the data delivery architecture, a robust operations architecture is also needed in order to maximise customer engagement."
We generate incredible, unprecedented amounts of data every moment of every day. Big data has become huge data.
To succeed, businesses need to be responsive, swift and agile. This flexibility is a feature of today's service-led organisations, structured to respond quickly to changing market conditions and customer demand. It's a culture that integrates perfectly with the benefits generated by the industrial internet.
The IoT and postal organisations
Digitisation and IoT are transforming the way postal operations consider new technology solutions, as they recognise that legacy processes and proprietary systems are the foundation of an unsustainable business model. One such opportunity to create an enhanced postal application utilising IoT and big data to address a critical business issue was recently presented to Pitney Bowes.
Logistic Mail Factory (LMF) is a German private postal service provider in the region of Bavarian Swabia, with 2,000 postal delivery workers delivering an annual volume in excess of 50 million mailpieces.
As Germany introduced a new minimum wage standard in January 2015, the running costs for LMF increased overnight and were creating problems for the company's aggressive growth strategy.
Rather than attempting to circumvent this legislation or inflate its prices, LMF looked instead to its mail sorting process.
LMF is currently utilising Pitney Bowes' sorting systems, which feature a highly flexible German private post software application. Mailpieces are sorted by district with postal workers receiving mail that they sort manually according to their knowledge of the streets within their district.
Although this is standard practice in the industry, this process was consuming 150-200 LMF employee working hours a day. As volumes increased, it became clear that the company needed a solution that not only added capacity, but also increased efficiency and relieved pressure on individuals working to a tight schedule.
LMF asked its long-standing partner to help find a solution. In addition to tackling the increase in labour cost, this solution should also support the company's growth strategy with added capacity and greater efficiency, offer a scalable solution to react to business needs, mitigate against risks of compliance on customer service level agreements, provide the required security on their investment, and reduce the stress and workload of its postal workers to ensure an improved employee experience.
The issues facing LMF presented the perfect opportunity to combine a number of Pitney Bowes' technologies to create a postal solution leveraging big data and IoT to address critical business needs. At the core of this solution was the bringing together of Pitney Bowes' Spectrum Geo-location Enterprise Routing software and the Vantage mail sorting system – fusing intelligent software solutions with innovative hardware, integrating digital and physical technologies.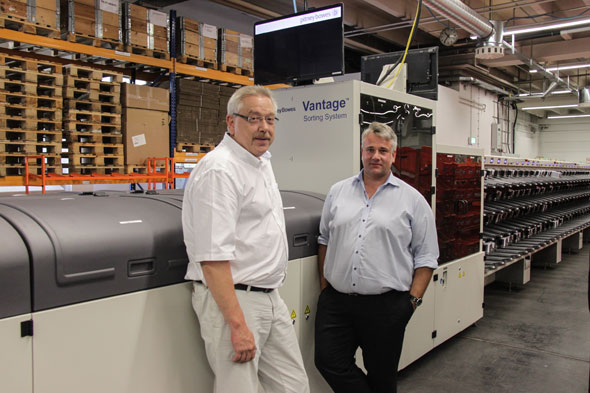 The Vantage mail sorting system uses state-of-the-art optical character and handwriting recognition technology to read and print all the relevant information on the envelope.
Left to right: Mirco Wieck, Logistic Mail Factory, and Thomas Rohs, Pitney Bowes
Process automation
At the heart of Pitney Bowes' Spectrum technology are its data management and spatial functions. They offer a seamless, fully automated backoffice process of integrating data from different business processes, matching data to a postal address reference database, creating geocodes, calculating optimal routes and enriching the delivery address data for optimized mail sorting. By generating a fully optimised delivery route, Spectrum can tag each delivery address with a unique sequencing number according to the destination of each individual mailpiece. The level of intelligence of the Spectrum system means it can even sort mail to apartment levels within multiple floors and buildings.
The Spectrum Enterprise Routing Module combines point-to-point calculations with distance or time functionality to calculate routes, determine points within a boundary and move goods from one point to another at the lowest possible cost.
This method of sequencing not only allows Spectrum to map the most effective route, it also enables the sorter to place mailpieces in the order in which they will be dispatched. This is the key deliverable derived from the solution.
Flexibility
Spectrum creates an optimised carrier route with the flexibility to make adjustments. With approximately 2,000 districts to cover, LMF postal workers have an intimate knowledge of their postal districts; routes can be modified based on this on-the-ground knowledge.
Furthermore, a sequence can also be re-optimised if a new house is built or a road closed off. Additional flexibility means the system can react to last-minute changes such as priority mailpieces or an absent carrier (responding to this particular problem by dynamically dispersing mail to adjacent carrier routes).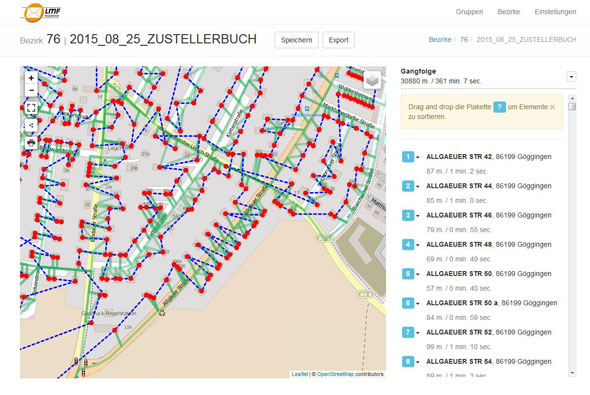 Pitney Bowes' Spectrum software enables operators to easily alter optimised carrier routes via drag and drop functions
The Vantage solution
Since 2011, the Vantage sorting solution with Flexline pockets has achieved widespread acceptance within national posts, private posts and enterprise commercial applications across the globe, helping operators to improve efficiency and customer service while enabling them to meet their own company's and strict national post submission requirements. The Vantage mail sorting system allows LMF to sort mailpieces in unprecedented volumes.
It features a state-of-the-art optical character and handwriting recognition application which is also deployed in the rest of the Pitney Bowes sorting systems currently on-site. Pitney Bowes has designed each system as a modular, flexible and scalable solution, to accommodate changing activity profiles, average to peak capacity, and future growth.
"Thanks to the new system, we are now able to manage our document output more accurately and more securely" Mirco Wieck
Managing Director
LMF
The BLP advantage
The ability to fully integrate all the detailed routing data supplied by the Spectrum software can be attributed to the Pitney Bowes Business Logic Processing (BLP) software foundation. Powering all Pitney Bowes sorting technologies globally, its layered design allows Pitney Bowes to deliver high performance solutions that can react, on the fly, to changing business requirements by facilitating data exchange and communication with upstream and downstream processes. The BLP platform collects mailpiece data, interacts with LMF business rules, applies the Spectrum routing data, and provides the information needed to dynamically adapt and optimise postal operations throughout the day.
"I am incredibly proud of the sequence sorting project," said Mirco Wieck, managing director, LMF. "We took a certain risk by installing the latest technology as a pioneer. This required great personal commitment on all sides over a very long project duration. Together with Pitney Bowes, our team made a great effort to successfully implement this project. This required a deep understanding of our needs. Thanks to the new system, we are now able to manage our document output more accurately and more securely. We are able to assert our position as an innovative postal service provider in Germany."
Christian Stach, project manager and pre-sales consultant at Pitney Bowes, said, "Overall it was a journey together with the customer. We had team members working on this from both sides of the pond. We scheduled workshops, organised meetings and instilled a sense of trust throughout that we would deliver a solution fitting of all LMF's strategic requirements."
The ability to marry two Pitney Bowes technologies leveraging big data and IoT to create an intelligent and efficient postal solution allows LMF to fully address a critical business need, optimise its operations, and reduce costs while increasing customer service. This solution typifies the type of innovative, client centric technology that Pitney Bowes is developing in response to a market in transition.
Automating parcel sortation can help you save time and money while improving efficiency and accurate parcel shipping. Learn more about why you should automate your parcel sortation operations.