Mail & Ship
Royal Mail SmartStamp is being discontinued. Know your options.
On December 31 2015, Royal Mail will be discontinuing its SmartStamp service. SmartStamp has, for a decade, offered businesses the ability to fuse digital and physical capabilities, printing postage onto labels for multiple mailings directly from their PCs. For businesses sending less than 90 items a week, it was ideal, but the industry and climate have changed dramatically. If you're one of the businesses affected, you still have some fantastic options to manage your post.
To help you make your decision, please take a look at or download the table we've created. Take into consideration the different features, advantages and disadvantages for your unique needs. For ease of comparison, we've kept SmartStamp in the table so you can better understand how it compares to your new options.
If you're a former SmartStamp user, we encourage you to consider a franking machine. With a franking machine, your business will benefit from:
Substantial discounts compared to stamped post
Enhanced convenience and speed
A professional look and feel for your mailings
Accurate management of postal costs. 
To find out how franking can help your business grow, call us at 0844 4 992 992 or email: ukenquiries@pb.com.
See the chart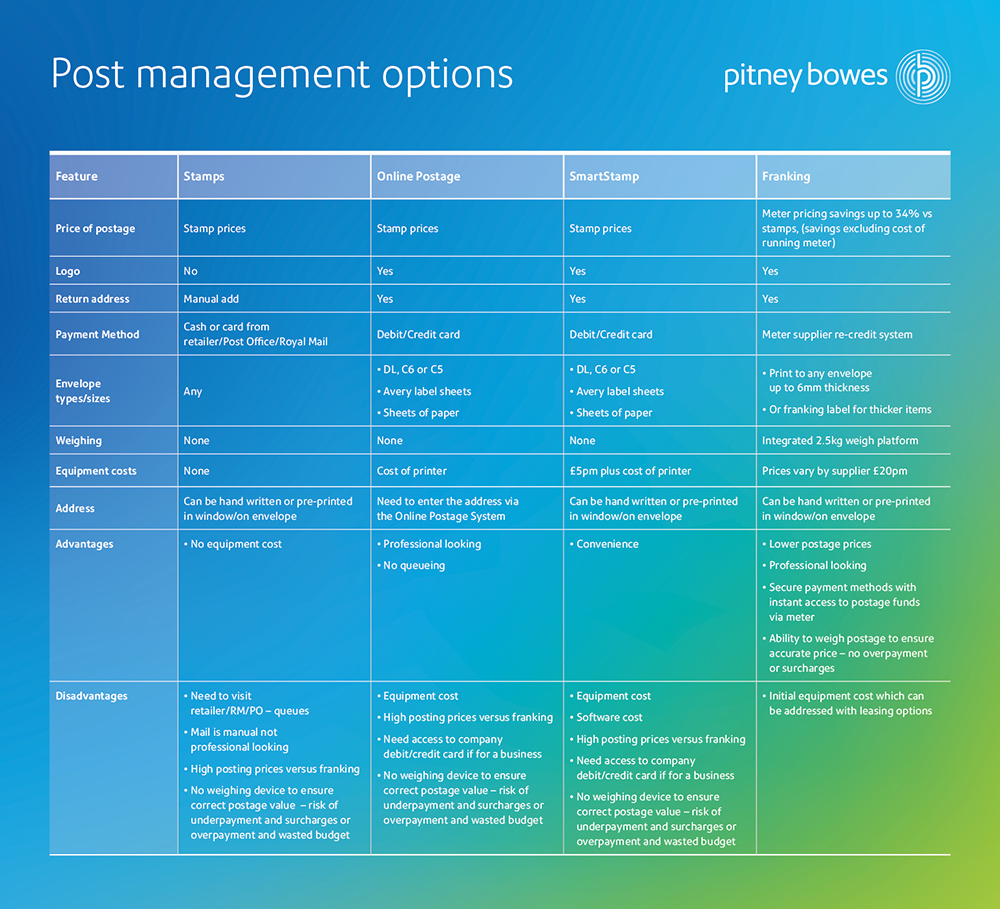 You may also like
As a small business owner, the mountain of work you need to accomplish in a single day can be staggering. So it's easy to get caught up in the day-to-day battles and lose sight of marketing your business. The fact of the matter is robust marketing builds your business like few other activities.
Learn more