What is paperless billing?
Paperless billing allows you to view your invoice and statement online instead of receiving a paper copy.

Each time your new invoice or statement is available, you will receive an email alert to view, download, save or print your invoice online.

Your online account is a secure protected environment. When viewing your paperless invoices and statements online a password will be required.
How do I sign up for paperless billing?
Log in to your online account to manage your paperless billing settings.

Sign In
If you do not have an online account, learn how to create your profile or register for an online account.

Register Now

If you have forgotten your password , you can reset it by answering your security questions or click through the "forgot password' email link.


How do I turn on paperless billing?
To turn on paperless billing, go to Billing Preferences in Your Account: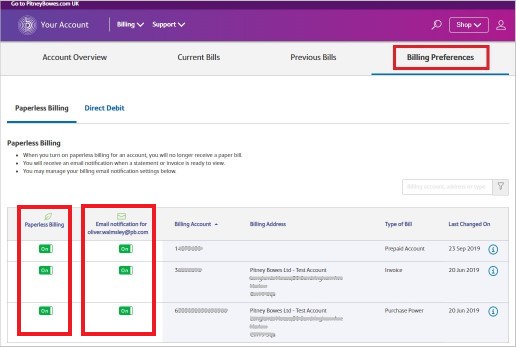 Select Paperless Billing under Billing Preferences of the left side navigation bar.
Use the Paperless Billing toggle to turn paperless billing On or Off for each account.
Already registered? Turn on paperless billing now

Turn on Paperless Billing


How do I download or print my invoice or statement?


Is there a fee to receive my invoice or statement electronically?
Accessing your invoices or statement online is free of charge.

From the 15 October 2018, a £5/€5 (exl. VAT) charge per paper invoice or statement posted will be added to future invoices and statements.


Who does the fee apply to?
The paper invoice fee will not apply if your contract with us is regulated by the Consumer Credit Act 1974. Your contract will normally be regulated if you are a sole trader, partnership with fewer than 4 partners or an unincorporated association.

However, we do recommend to opt-in for paperless to access your invoice online and take advantage of all the online services.


What shall I do if my invoice or statement won't print properly?
We recommend you set up your print page setting to A4 to have the best result when printing the PDF


What should I do if I did not receive an email notification of my invoice or statement?
If you haven't received notification emails, we recommend to check that you have selected to be notified by email in the email notification, under the Profile section.


Will I continue to receive a paper invoice or statement in the post?
No. Once you sign up to paperless billing you will only be able to view, download or print your invoice from your online account.