Trust in mail during times of uncertainty
During unsettling times, we turn to the familiar to keep us grounded – to give us certainty and security. It's not unintentional that supermarkets are placing stacks of chocolate cookies in prominent positions: society is looking for comfort and reassurance.
Humans act differently when under threat. These past few months have shown us the best of humanity within our own communities and across the globe: handwritten notes posted through doors offering help, local restaurants delivering free of charge to vulnerable members of the community, supermarket owners adapting their hours to suit older people. People looking out for one another. And the health service working relentlessly.
Having been in the mail industry for decades, I've noted a similar sentiment of reassurance generated by printed mail. It's important to say that the WHO and the CDC have advised that there is minimal risk of transmission of the virus from the handling of mail and packages. In challenging times, it's hard to know who or what to trust. But when things are uncertain, mail seems to hold more value than ever.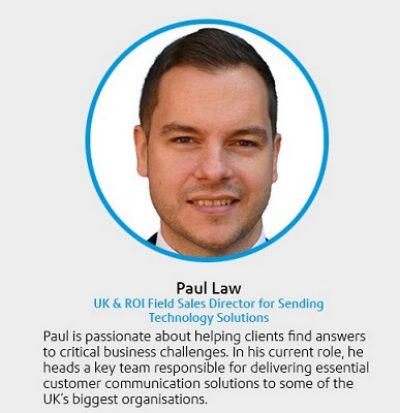 To begin with, there's something calm and stoic about the method of delivery – the Royal Mail postal workers who deliver our mail come rain or shine. For those in self-isolation at this time or at any other, knowing a postal worker will be coming to your door on a daily basis is a guaranteed connection with the outside world – even at arm's length and through glass. This story about a postal worker who discovered a newborn baby, kept him in his van to keep him warm and called for emergency services demonstrates how seriously our postal workers take their role in our communities. In another story, two postal workers in the South West of England have been praised for checking on local residents during the pandemic.
Mail is believable in this era of 'fake news'
When printed mail lands on the doormat, it generates a real authenticity and trust. As much as the immediacy of our digital world is incredible, for many people the constant pull of digital connection is overwhelming. At this time in particular, spending too much time on social media platforms isn't helpful for some of us.  Conversely, printed mail is tangible and unobtrusive: it doesn't interrupt your train of thought, you can hang onto it until you're ready to focus on it. We trust the source - there's no concern of fake news or hearsay. 87% of people consider mail believable, finds a Royal Mail MarketReach report entitled 'The value of mail in uncertain times'.

Mail is also a great channel for sending and receiving certain types of information that we don't necessarily want in an email. 51% of people prefer to receive sensitive or confidential information by post, compared with 35% by email, finds MarketReach, which may be one reason why businesses are increasingly turning to printed mail to connect with their customers.  99% of business mail - bills, reminders and administrative information – is interacted with, according to Royal Mail MarketReach.  Printed mail drives action and on average, 37% of business mail generates a commercial action: perhaps a charity donation, an ecommerce transaction or a store visit.
Getting best value for your mail
With Royal Mail Mailmark businesses can save up to 25% - Mailmark is Royal Mail's latest mail preparation product, in which the old style frank mark is replaced with a 2D barcode. Your franking machine might already be Mailmark-enabled – check with your provider. Postage meters enable substantial price advantages over stamped mail: next-generation sending technologies use APIs, the Cloud and the IOT to make sending easy, cost-efficient and remove complexity for businesses.
Challenging times require us all to think differently: to focus, collaborate and communicate. They require strong, decisive leadership and highly committed teams. I'm proud to be part of such a team at Pitney Bowes. We will continue to monitor the impact of Covid 19 at a global and local level for all business units and the safety of our employees, clients and suppliers is our top priority. Please know that we are following the guidelines of the World Health Organization (WHO), the Centers for Disease Control (CDC) and state and local authorities. As ever, we are committed to seamlessly providing the service and support our clients depend on from us.