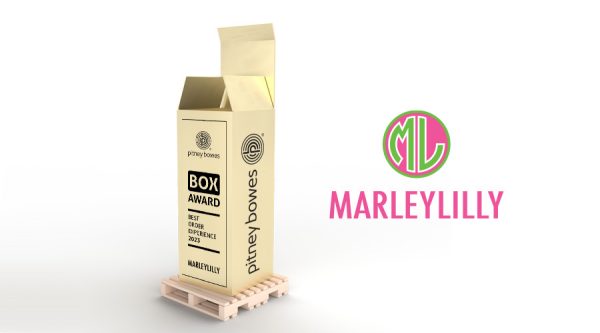 Marleylilly offers award-winning tracking to deliver an experience as personalized as its products
Marleylilly is a digitally native boutique specializing in monogrammed gifts. Established in 2010 and based in Greenville, South Carolina, Marleylilly has been named our 2023 Best Order eXperience (BOX) award winner for their differentiated order tracking experience—and for fully leveraging the features of Pitney Bowes Consumer Connect.
While any brand can send a shipment confirmation email with a tracking number, doing tracking well is a much higher bar. A brand's tracking page is often an under-leveraged opportunity to build excitement and maintain connection after the customer hits the buy button.
After all, consumers reported checking order tracking an average of 2.8 times per order in 2023, with GenZ and Millennials checking even more often (4.1 times and 3.2 times, respectively), according to nine months of BOXpoll survey data.
At the same time, the number one tracking challenge online brands face  is difficulty differentiating their customer tracking experience, according to our BOXpoll survey of almost 400 retailers. 



Given these facts, we polled consumers on the tracking features they would like to see more often and selected the 2023 BOX Award winner based on the results.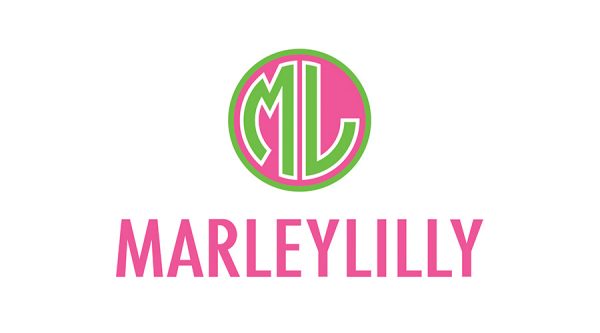 The top three features online shoppers most want to see from a tracking experience are visibility, simplicity, and interactivity. Put simply, shoppers want to know when to expect their package, where their package is (without having to enter any log-in information), and the option to get order updates.
Marleylilly's branded tracking experience, which uses Pitney Bowes Consumer Connect to its full potential, demonstrates a deep understanding of what its customers—and online shoppers at large—want. The online gift boutique offers its customers:
Precise Estimated Delivery Date (EDD) information​
Detailed tracking updates that don't require a log-in
Branded SMS/text and email notification options that automatically update the customer if an order's EDD changes
Post-purchase engagement using promotional modules

Marleylilly also leverages its tracking page to drive engagement and sales with relevant product recommendations and social channel amplification, creating a post-purchase experience that's as unique as the gifts its customers love.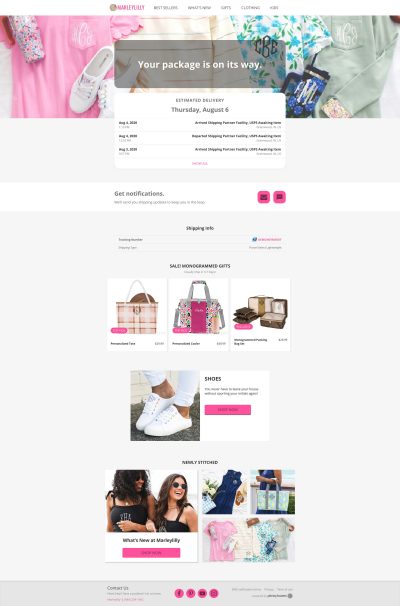 Pitney Bowes annual BOX Awards recognize brands who create excellent customer experiences using indelible and differentiated features throughout the ecommerce order experience.

Congratulations to Marleylilly on winning the 2023 BOX Award for creating a standout tracking experience that gives its customers what all online shoppers want: visibility, simplicity, and interactivity.
Find out if Pitney Bowes Consumer Connect or other ecommerce logistics services can help your business.