We are committed to maintaining a safe and environmentally sound workplace for our employees, contractors and guests. We do this under the guidance of our Global Environment, Health and Safety (EHS) policy and management system. Our EHS management system provides a governance process to ensure oversight and accountability for our performance, and our global EHS department supports this process with expertise in:
Occupational safety
Industrial hygiene
Environmental systems
Carbon and energy management
Compliance with global regulations regarding our products and operations
EHS management systems.
Our EHS management system covers the full range of EHS concerns and provides comprehensive tools for resolving them. It includes:
Organization and oversight
Risk assessment
Robust reporting and incident investigation
Inspections and audits
Management of change
Communication
Training
Compliance Reviews
Under our EHS system, we regularly conduct thorough reviews of our operations, our waste management and recycling partners and our supply base. In 2017 we completed reviews of 29 domestic and international Pitney Bowes locations.
Robust Due Diligence Process
In addition to compliance audits, our due diligence process requires thorough environmental and safety assessments of potential acquisitions and divestitures to ensure that historical practices have not impacted the environment and that current work spaces are free from recognized hazards. The 2017 acquisition of Newgistics resulted in nine additional environmental property reviews, wall-to-wall safety assessments, and follow-up compliance assessments to complete the EHS picture of this new business.
Training
Our ongoing multimedia training programs are designed to reach all our employees regardless of where they are located, whether agile or workplace-based. To achieve this we use a combination of daily huddle topics and new employee orientation delivered by our line supervisors, communications via digital screens, posters or newsletters, and a learning management system encompassing more than 90 courses available 24/7 in 10 languages. Across all these media, our message is consistent: we strive to keep our workplaces free from hazards, and our employees play an integral and vital role in actively participating in our safety programs, with the goal of ensuring that all employees go home to their families at the end of the day safe and sound. In 2017, more than 1600 employees completed EHS-related courses via our learning management system. In addition, Pitney Bowes offered a Driver Safety Awareness course for employees who spend a significant portion of their time on the road or who occasionally drive on company business. More than 2250 North America and UK employees participated in safety trainings in 2017.
Performance
In 2017, our global rate of recordable injuries increased over the prior year's performance. Major contributors to our injury experience include manual material handling activities and injuries resulting from slips, trip and falls.
| | | | | | | |
| --- | --- | --- | --- | --- | --- | --- |
| | 2012 | 2013 | 2014 | 2015 | 2016 | 2017 |
| Total recordable cases/100 employees/year | 1.68 | 1.38 | 1.29 | 1.45 | 1.44 | 1.60 |
| Days away and restricted cases/100 employees/ year | 1.35 | 1.18 | 1.11 | 1.19 | 1.26 | 1.36 |
| Lost workday cases/100 employees/year | 0.52 | 0.36 | 0.26 | 0.36 | 0.33 | 0.34 |
| Ergonomics injury cases/100 employees/year (US only) | 1.38 | 1.64 | 1.88 | 1.93 | 1.83 | 1.93 |
| Work related fatalities/year | 0 | 0 | 0 | *1 | 0 | 0 |
* Motor vehicle related fatality
Safety case studies:
Find It Fix It Kits
In addition to our EHS course offerings and in-house programs, we continued to enhance our training and communication efforts through the creation and distribution of informational kits touching on topics of interest to our businesses. Each Kit included posters, placards, muster topics for supervisory use, employee handouts and more. Topics included:
Recycling and Waste Management
Ergonomics
Winter Safety, and
Machine Guarding
Cover page to Find It / Fix It Huddle on Machine Guarding
Ergonomics in the Workplace
Approximately 48-50% of Pitney Bowes injuries are a direct result of manual material handling, and EHS continues to raise awareness within our operational sites through on-site and web-based training. Live training classes were held for employees who participate in our safety committees as well as those who manage our facilities. Approximately 100 employees attended these classes in 2017.
Slide taken from Ergonomics Training
Ergonomic Improvements Made at PB Presort Services Location
Case Study
Ergonomic Improvement in Brisbane, CA Presort
Our Brisbane, CA Presort location completed a project that re-engineered the height of the site's mail transfer conveyors and tray shelving. They recognized the risk of having to continuously lift trays of mail to a height of 63 inches and created and implemented a plan to address the issue. This is a great example of the team's ingenuity and is a beneficial ergonomic improvement for everyone on site.
Before – The Problem
An earlier EHS publication, backed by employee feedback, alerted the team that the design and layout of the site's conveyors presented a potential ergonomic risk.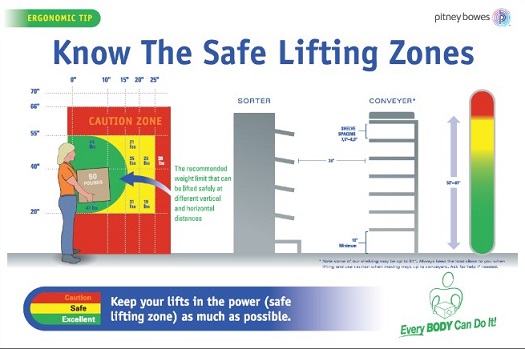 After – The Solution
The team lowered the main shelving and conveyors from 63" to 58". Those 5 inches do not sound like a lot, but they make a huge difference in body mechanics, helping employees to stay in the Safe Lifting Zone. The change was well received. In addition to lowering the shelving conveyors, the team lowered the main conveyors to dispatch by 10 inches, making them easier to work on and access in case of jams.
Great work, Brisbane Team, for identifying a solution to an ergonomic risk and driving safety improvements from the ground up!
Emergency preparedness – UK
In 2017, the UK was struck by several tragic events, mainly in London and Manchester. Although no Pitney Bowes sites were directly impacted, our geographically widespread workforce meant that we needed to ensure that none of our employees had been affected. Using our global procedures for Business Continuity Planning and Emergency Response Plan, we conducted company-wide roll calls to account for all our colleagues—confirming that employees and their families were safe, and also ensuring our ability to provide continuity of service to our clients.
To achieve such results, we continuously maintain and improve our safety programs. For example, once our first aiders have been trained by an official training provider, they receive additional internal training on subjects such as the use of defibrillators. For on-site employees with restricted mobility, we create Personal Emergency Evacuation Plans and train volunteers to help them exit the building safely. And we provide training for volunteer fire marshals who take part in regular fire evacuation exercises.
Example of training slides:
Computer use ergonomic training
UK employees undergo training in the ergonomics of computer use as part of their induction process. Users can set individual profiles in line with their personal working habits and situations, including factors such as pregnancy or agile work. On completing the training, they conduct a self-assessment to help identify potential issues such as musculoskeletal disorders, which can drive personalized recommendations to improve posture and work practices in accordance with company EHS policies. For issues that cannot be improved with self-help or by the line manager, the EHS team conducts in-person assessments and, if necessary, provides referrals to occupational health specialists.