Breaking down the 2021 FedEx®
shipping rate and surcharge increases
Although FedEx's peak season surcharges end just after the beginning of the new year, shippers should also be aware of the upcoming 2021 carrier rate changes.

While these increases are consistent with years past, they can add up quickly. That's why it's so important that companies invest time into learning about these changes and how to make the most out of discounts.
What is a FedEx fuel surcharge?
A fuel surcharge is an additional fee added to base charges by a carrier to compensate for fluctuating fuel costs. Fuel surcharges fluctuate weekly and are designed to help carriers offset sudden fuel price increases.
Most major carriers, such as FedEx, impose fuel surcharges on top of their basic shipping rates.
2021 FedEx rate change overview
Beginning on January 4, 2021, FedEx shippers will see the same general rate increase as they did in 2020. FedEx will also implement an average increase of 4.9% for Express, Ground, and Home Delivery services, along with an average increase of 5.9% for Freight rates.
To illustrate these rate increases, below you will see what shipping a 2-pound box to Zone 2 currently looks like, and what it will look like after the rate increase goes into effect.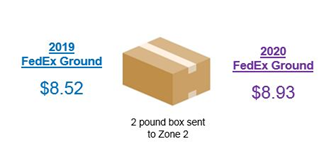 It is important to note these general FedEx rate increases are averages, and will vary based upon package dimensions, weight and their respective shipping zones.
Similar to the increases seen in 2020, longer distance zones will see higher increases for express services. For example, FedEx Ground Packages in the 1-5 lb. range will increase an average of 6.6%. There are a few new surcharges to be aware of beyond the general rate increases. These changes will go into effect on January 4, 2021.
Below are some of the key surcharge changes you should keep an eye out for:
What to expect from the 2021 changes in
FedEx rates and fuel surcharges

Additional FedEx handling surcharges
Effective January 18, 2021, a surcharge will apply to any Express and Ground package that measures greater than 105 inches in length (L) and girth (G), which is calculated using the below formula:
Length + (Height x 2) + (Width x 2)
FedEx minimum package charge increase
The minimum package charge for FedEx Ground shipments will increase 6% to $8.76.
Late fees for FedEx rates
A 6% late fee will be assessed on Express and Ground customers who fail to pay their invoice within agreed upon terms. To compare, UPS® implemented a 6% late fee back in 2009.
Common FedEx surcharges (effective 1/04/21)

Service
Surcharge
FedEx Express Shipments

· Additional Handling Surcharge

· Additional Handling Surcharge – Non-stackable

· FedEx® Delivery Signature Options

· FedEx® Collect on Delivery

· Peak – Additional Handling Surcharge

FedEx Ground Shipments

· Additional Handling Surcharge

· FedEx Delivery Signature Options

· FedEx Ground® C.O.D.

· FedEx Ground® Electronic C.O.D.

· FedEx Home Delivery® Convenient Delivery Options

· Peak – Additional Handling Surcharge
Shipping rate and surcharge increases are inevitable and continue to be increasingly complex. If you can anticipate how the rate increases will impact your company's shipping, you'll be able to take a proactive approach to saving money for your organization.
 
For more information on ever-changing rates, services, and other 2021 carrier updates visit Rate Change Central.
How can I avoid FedEx shipping surcharges?
The best strategy for avoiding FedEx fuel surcharges and oversize charges is to accurately weigh and measure your packages. This needs to be done before purchasing and printing the shipping label.

Pitney Bowes offers a range of postage meters and sending solutions to help your business save on shipping costs. From accessing special FedEx discount rates to providing your business with the tools to weigh and measure parcels with precision, there's a postage solution designed with your specific shipping needs in mind.

Find your shipping solution, no matter if you run a home-based business or a Fortune 500 company, and save on shipping costs.