A high integrity, high speed inserting solution.
Mailstream Productivity Series
Transform your print and mail operation with a high integrity, high speed inserting solution that drives increased operational performance, productivity and cost savings.
Overview

Features

Value-Add

Resources
The Mailstream Productivity Series delivers an unparalleled combination of productivity, integrity and flexibility allowing high volume mailers to benefit from greater operational performance, increased mail effectiveness and reduced costs. This industry proven solution incorporates advanced technology and extraordinary innovation to reliably process a broad range of mail applications at high speed with increased efficiency. With the Mailstream Productivity Series system, your business will be positioned to deliver bottom line results and grow revenue.
Gain the Advantage
Maximize SLA performance with complex mail processing at speeds up to 26,000 pieces per hour
Reliably produce secure, accurate client communications with no degradation in productivity
Get more value in a single flexible platform to easily manage a broad range of jobs and drive growth in your business
Implement a White Paper Factory™ environment to lower costs and enhance client experience
Achieve greater processing uptime with flexible world-class service support options
Non-Stop High Productivity Results
Dependable SLA attainment for letter mail processing with two speed options to meet your specific business requirements – 22K or 26K mailpieces/hour
Eliminate productivity degradations processing variable page, complex applications
Boost workcell efficiencies with compact, ergonomic, high efficiency design
Manage and optimize your mail operation with robust, data rich reporting capabilities
Secure, Accurate Processing
Maintain regulatory compliance and deliver high integrity results with real-time, integrated end to end tracking capabilities
Achieve dependable results, higher yield and maximize system utilization with precision performance motion control platform
Ensure the right document sets go into the right envelope
Mailpiece and job reconciliation reporting , traceability, automated reprints
Business Building Flexibility
Complex, high speed mail processing to include multi-stream and matching applications
Easily accept and process more jobs on a single system while eliminating print orientation challenges.
Improve mail effectiveness and increase client engagement with 100% variable, relevant messaging
Manage the broadest range of enclosure materials at speed with flexible feeder technology
Protect your investment with the ability to upgrade and add new features as your business requirements change
Expert Service You can Count On
Maximize uptime with flexible service and support options
World class service expertise
24/7 support
High Productivity Inputs
The High Productivity Inputs (HPI) combines flexible document processing capabilities and precision high speed control to eliminate speed degradations and achieve the maximum yield for variable, high page count applications. Integrated with Direct Connect control platform for high integrity processing, the High Productivity inputs Increase uptime and reduce work stoppages to drive increased operational efficiencies.

Print+ Inkjet Solutions
Print+ Messenger Color and Monochrome Inkjet Module
Increase mailpiece effectiveness by printing high quality, variable, full color text and images on envelopes inline within your mail inserter. Improve operational efficiency by eliminating preprinted envelopes, reducing storage needs, streamlining application changeover, and commingling mail.
Print+ Response Inkjet Module
Achieve the significant benefits of a White Paper Factory implementation with the Print+ Response™ Inkjet Module and print 100% variable documents at speed, eliminating the need for inventories of pre-printed remittance envelopes or inserts.

Mailstream Wrapper Productivity Series
Engineered to be retrofitted to existing Pitney Bowes Mailstream Productivity Series systems, the Mailstream Wrapper Productivity system combines Pitney Bowes's expertise in high-speed inserters, software and service with an innovative wrap solution to help mailers achieve significant cost savings and operational improvements.

How Pitney Bowes Helps B-Source Outline Grow Business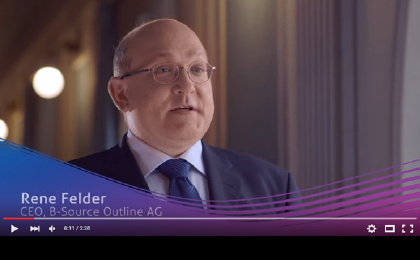 Communisis, in strategic partnership with Pitney Bowes, celebrates new business growth