Relay® Hub
Easily enhance your physical and digital documents to strengthen customer relationships.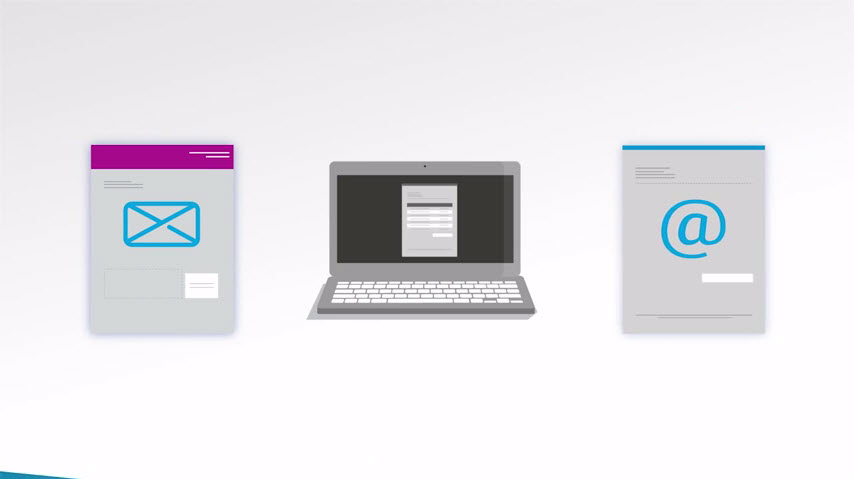 Sending the ideal customer communications just got a lot easier

Improve engagement
Modernize your legacy documents with color and updated branding for more impactful communications that are easier to understand and respond to.

Decrease costs
Add accuracy and efficiency to your mailing process by cleansing address data, reducing undeliverable mail and centralizing production to right-size printing and mailing hardware.

Increase paperless adoption
Easily shift printed documents to digital sending like email, while keeping document design intact for a seamless customer experience across channels.

Mitigate risk
Ensure private customer information is kept secure in the mailing process with the control and reporting to prove it.
Create
Modernize your documents without changes to your core platforms. Eliminate pre-printed stationary, replace black & white outdated forms with color and ensure consistent branding for clearer customer messaging.
Manage
Get your systems, people, and communications on the same page. Capture and centralize desktop print streams, so every document across your organization is delivered with consistent professional quality.
Validate
Verfiy and correct and your customer data, so your important communications get delivered. Reduce wasted mailing costs, speed your cash flow and improve customer satisfaction.
Produce
Mitigate risk and decrease operational costs. Stay compliant by easily adding accuracy to the mailing process, while helping you transition paper documents to electronic communications with ease.
Send
Give your customers a seamless experience with physical and electronic mail. It's simple to move paper to digital sending and improve your paperless adoption rates.

How does Relay Hub work?

The Relay Hub enhances your existing documents for improved customer engagement and sends them digitally or physically to the correct addresses.
Relay Hub Features
Relay Hub modules make it easy for you to choose the apps that you need now, with the flexibility to easily adapt as change happens later.
Document Enhancement
Create more impactful customer communications without changing your current systems.
Increase customer engagement by easily adding relevant messaging to existing white space on your documents.
Simplify the way information is presented in your documents to reduce payment delays and customer questions.
Improve customer satisfaction by simplifying the way information is presented in your documents.
Centralize production
Capture, centralize and control your communications from across your organization.
Improve staff productivity by moving desktop-produced communications to your centralized mail room.
Capitalize on economy of scale by eliminating and right sizing printers in departments and offices.
Maximize your existing customer communication management infrastructure.
Increase mail quality and integrity.
Optimize postal savings and reduce mail piece unit costs.
Document Integrity
Protect the private customer information in your mail.
Sort customer documents with varying pages while increasing mail security by adding mail piece integrity barcodes to your documents.
Create reference file and barcoding for file-based processing.
Digital Sending
Improve your paperless adoption rates.
Easily transition physical mail to paperless communication or send both (based on customer preference).
Send documents as an attached PDF or email a link to view a document on your website.
Includes reporting for delivery, hard bounces and soft bounces.
Address Quality
Reduce mailing costs and delays by eliminating bad address data.
Decrease undeliverable costs by validating delivery addresses and adding ZIP+4 using USPS CASS.
Improve delivery time-frames and customer satisfaction by proactively updating moves using USPS Full Service NCOALink.
Reduce mailing costs by grouping various documents sent to the same recipient or going to the same household.