UPDATED: 15 March 2016
The following includes answers to frequently asked questions about the service update package you received from Pitney Bowes:
Why did I receive this package?
Based on our records we will need to perform a required postal meter update on your Pitney Bowes meter to ensure USPS® compliance and continued operation. This package contains the components for Pitney Bowes representative to perform the necessary update on your meter. Note: The package should not be opened or discarded as it contains serialized components specifically registered to your account.
Example image of the service update package, which displays a bright label on the outside of the box: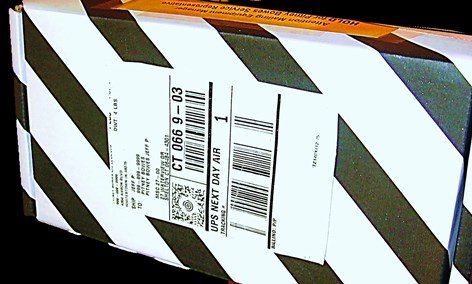 When is this service update scheduled?
A Pitney Bowes representative will contact you to schedule the meter update at your convenience.
The majority of the updates will be performed within 10 to 15 business days of receipt of the service update package. Note: in some cases it may take up to 30 business days.
Why wasn't I previously informed?
A letter was sent to your company's email address on record to notify you of the update for USPS compliance. You might not have received the notification as our records may not have your latest email address, or the message failed getting to you during its transmission.
What was said in the letter?
View a sample letter that was emailed to you from Pitney Bowes.
Who should get this package?
The package should be given to the mailroom manager or person who is responsible for the mailing system.
What does the person responsible for mail do with the package?
 The package should be safely held for the Pitney Bowes Client Care Specialist who will perform the service update. Do not discard or open the package as it contains serialized components specifically registered to your account.
Why is this important and what are the benefits?
This service update is to ensure USPS postal compliance, and continued security and operation of your meter. The battery on your meter cannot be replaced like an ordinary household battery. It is part of the meter security device that protects your postage funds and it requires technical service to replace.
Additional benefits with this service include our most technologically advanced software version for your current model - without additional equipment costs. Your meter will also receive preventative maintenance as part of the update.
Will I be charged for this service update?
No; this service will be performed without cost for you.
Does this impact any terms and conditions of my maintenance agreement?
This service update will not impact any terms and conditions of your maintenance agreement.
What type of meter receives this service package?
This package contains a specific component for your Pitney Bowes meter. The mailing systems related to this update are:
DM100i®
DM200L™
DM300C™
DM400C™
DM475™
Who do I contact for additional information?
If you have any questions about the service update process, call 844-256-6444. Be sure to reference the "Pitney Bowes Proactive Meter Update Kit" when speaking with us.