Shipping & Mailing
Office Shipping and Postage Meters
Pitney Bowes® offers end-to-end solutions that simplify your everyday office sending. From integrated office shipping solutions that streamline shipping through Canada Post to postage meters. Now, you can eliminate the guesswork from postal and shipping payments and minimize trips to the post office.
What is an Office Shipping solution?
Pitney Bowes SendPro™ office shipping solution is a scalable, all-in-one office solution that enables you to ship parcels with Canada Post. You can view shipping rates, compare shipping services, import contacts from an address book, qualify and connect to Canada Post's shipping discounts, track shipping information and lots more.
What is a postage meter?
A postage meter weighs and prints indicia accurately on your outgoing business mail (essentially replacing a stamp). Postage is downloaded to your meter through your computer or digital telephone line which allows you to pay for your postage without making trips to the post office, or keeping piles of stamps in the office. You also gain access to Canada Post postage meter discounts.
If you send 1000 items or less per month, select Low Volume. Select Mid Volume if you send no more than 5000 items per month. If you send more than 5000 items per month, select High Volume. Pitney Bowes offers many postage meters and office shipping solutions to meet the needs of your small to medium sized business.
Save up to 20% on postage versus stamps. Plus get up to $200 in FREE postage credits.
Send everyday mail and packages without leaving your office with the mailstation2 postage meter. It's an easy-to-use digital mailing system designed for small businesses and home offices.
Online offer includes:
First 2 months FREE

Up to $200 in free postage credits*
Up to 20% off postage versus stamps
Canada Post Letter Rates, covered by Soft-Guard® protection plan**
Free starter kit (one ink cartridge plus shipping labels)
Free envelope messaging capabilities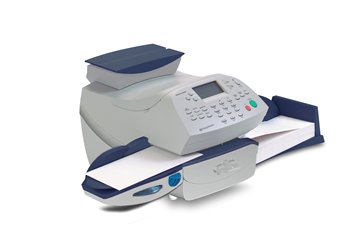 The DM125™ Postage Meter supports all your mailing
The DM125 Postage Meter supports all your mailing needs. With a semi-automatic letter feed, built-in scale, and fast print speed, it's flexible enough for large volume mailings, yet perfect for the smaller ones. And you can track postage expenses for different accounts!

An easier way to manage your CPC shipping from one, online destination.
SendPro integrated shipping solution is an easy way to take control over all your shipping processes. Our "all-in-one" software simplifies each phase of shipping. Now, you can select services, weigh packages and print professional-looking labels all from one place. Track every item online, and automatically send updates in real-time and best of all, receive Canada Post shipping discounts. SendPro online shipping solution also ensures that you are compliant with the latest CPC requirements.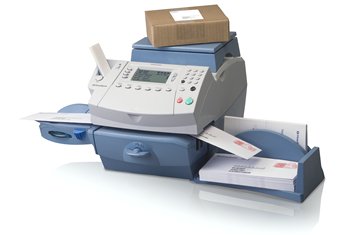 Big system capability in a small footprint
With the convenience and productivity of a larger mailing system, the DM300C makes your mail processing easier.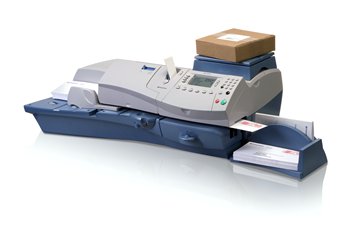 Bring efficiency to your office
Processing mail at speeds of up to 88 pieces per minute, the DM400C™ combines streamlined performance, solid design and easy operation, making it the perfect choice for multi-user environments.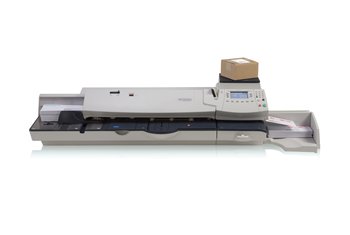 Unrivaled Efficiency.
Getting your mail assembled and out the door shouldn't be a chore. With its ability to process up to 120 letters per minute - the DM475™ meter makes mailing easy!
Mail, ship and receive all in one place
The SendPro P Series mailing and shipping systems simplify processes by integrating mailing, shipping and receiving into a single system. With these versatile integrations, the P Series provides a simpler, more streamlined way to send letter mail as well as ship packages through Canada Post. With the receiving application, you can accurately log all of your incoming packages' information so that you have a history of every package that has been delivered to your office. Making all of your sending processes more accurate and efficient.
With the SendPro P Series mailing and shipping systems, mid-to high volume mailers and shippers can find a system to fit their business needs.

Save by going green
Pitney Bowes offers a wide selection of green products that help you control costs.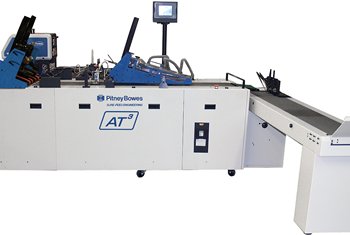 Adding More Value to the Mailstream
The Product Attaching System is available in two models; the AT2 and AT3. Attach products such as embossed cards, business cards, magnets and more at speeds up to 25,000 mail pieces per hour with precision within 1/8" of tolerance area. Quick to set up & run and easy to operate.