Simple and efficient visitor and contractor management for a new era
How digital solutions can help your organisation create a welcoming experience while minimising health risks, increasing security and ensuring compliance.
Discover a customisable, compliance-led solution to manage people on your sites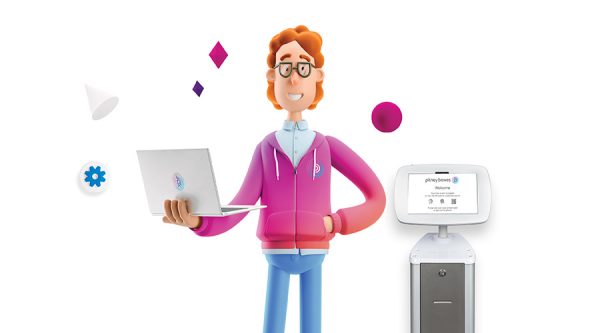 Workplace health and safety legislation and the need to minimise health risks and increase security in the (post) pandemic era means that organisations can no longer rely on having a manual visitor log-book. Businesses must collect accurate information that can be accessed at any time from anywhere. Pitney Bowes can help.
Pitney Bowes Smart Access Management™ (SAM), is a compliance-led, cloud-based solution to manage your staff, visitors and contractors easily and efficiently. Our contactless-enabled, self-service system provides total visibility and data-driven access management. It is fast, secure and simple to use. The system can be configured fully according to your specific needs and requirements.
SAM is designed for both attended and unattended reception areas. The automated system provides a warm welcome, alerting you through our secure online portal when visitors have arrived or when couriers are waiting to deliver a package.
More than just staff and guest sign-in
Premium Kiosks & Devices
Robust kiosks & desktop devices to accelerate check-in with or without staff at reception
Visitor Management System
Manage multiple sites from a centralised online portal for residents, staff and visitors
Health & Safety Compliance
Capture important health information like COVID-19 & flu vaccination certificates with cloud storage
Monitoring & Reporting
Access critical information with emergency printouts or remotely via online dashboard
Customisable Content
Large screen with customisable graphics for brand consistency & bespoke registration fields
How do I get SAM?
To discuss how SAM can become your digital concierge, complete the form below and we'll call you back.
Or please call us on 13 23 63