Discover an easier, digital way to manage visitors with Pitney Bowes LobbyTrac™
Manage visitors with greater speed and security.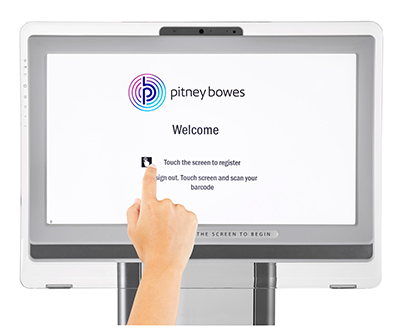 Watch our video to see how a digital visitor management system like LobbyTrac can help increase safety and security at your aged care facility.
Our self-service digital visitor management system will help keep residents and staff safe, while giving families peace of mind that their loved ones are protected.

Easily maintain compliance with government requirements such as COVID-19 visitor restrictions and flu or coronavirus vaccination. LobbyTrac includes PB TempCheck*, an integrated Bluetooth Infrared Temperature scanning feature, so you can quickly check a visitor's temperature before they enter your premises.*
LobbyTrac can assist with:
Automate the COVID vaccination certificates process so you can keep a record of who's been vaccinated.
Checking a visitor's temperature through PB TempCheck.
Automating the flu and COVID-19 vaccination certificates process.
Increasing traceability of recent visitors to help with contact tracing if needed.
Customising and automating health / COVID-19 screening question.
Contactless check-in with barcode.
Personalisation according to your facility needs.
Improving safety and security.

Get peace of mind with a digital visitor management system for your aged care facility.

*The PB TempCheck feature included in LobbyTrac is listed on the Australian Register of Therapeutic Goods.