Get peace of mind with a digital visitor and contractor management system
Increase traceability, safety and security with LobbyTrac™.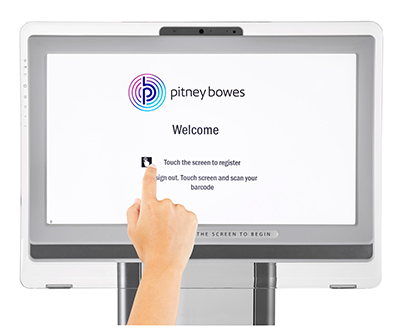 Watch how you can keep your facility safe.
The coronavirus pandemic continues to disrupt businesses and our communities. With ongoing restrictions and lockdowns in some parts of the country, manufacturing companies are under a lot of pressure. COVID-19 has emphasised the importance of being able to securely manage employees, contractors and visitors at your facilities, particularly given new, extremely infectious strains such as the Delta variant.
Pitney Bowes LobbyTrac is a contactless, self-service digital system to manage employees, contractors and visitors. It includes
PB TempCheck*, an integrated Bluetooth infrared temperature scanning feature, so you can quickly check a person's temperature before they are allowed to enter your premises.
LobbyTrac can assist with the following:
Automating the COVID vaccination certificates process so you can keep a record of who's been vaccinated.
Customising and automating health and COVID-19 screening questions.
Checking a person's temperature through PB TempCheck.
Managing contractors on site with real-time reporting to enable contact tracing and maintain compliance with workplace safety rules.
Integrating with internal contractor induction workflows.
Generating reports on contractor access to inform relevant managers of upcoming expiry dates and manage authorised access.
Contactless check-in.
Managing and maintaining assets such as access cards or site keys.
The PB TempCheck device included in LobbyTrac is listed on the Australian Register of Therapeutic Goods.