Shipping & Mailing
Office Shipping and Postage Meters
Pitney Bowes offers end-to-end solutions that simplify your everyday office sending. From integrated office shipping solutions that streamline shipping through USPS®, FedEx® and UPS® to postage meters. Now, you can eliminate the guesswork from postal payments and minimize trips to the post office.
What is an office shipping solution?
Pitney Bowes office shipping solutions are designed to help you simplify each phase of shipping through USPS®, FedEx® and UPS®. For example, SendPro™ is our scalable, all-in-one office solution that helps you streamline an increasingly complex shipping process. You can compare options, weigh packages, print shipping labels, track shipments and manage carrier expenses from your desktop or existing mailing system.
What is a postage meter?
A postage meter weighs and prints indicia accurately on your outgoing business mail (essentially replacing a stamp). Postage is downloaded to your meter through your computer or digital telephone line. Now, you can pay for your postage without making trips to the post office or keeping piles of stamps in the office. You also gain access to USPS postage meter discounts.
If you send 1000 items or less per month, select Low Volume. Select Mid Volume if you send no more than 5000 items per month. If you send more than 5000 items per month, select High Volume. Pitney Bowes offers many postage meters and office shipping solutions to meet the needs of your small to medium sized business.
60-day free trial* plus $100 in free postage coupons**
Send everyday mail and packages without leaving your office with the mailstation2 postage meter. It's an easy-to-use digital mailing system designed for small businesses and home offices.
Online offer includes:
60-day free trial*
$100 in free postage coupons**
Free starter kit (one ink cartridge plus postage tape strips)
Free Envelope Message
Access to Postage Meter discounts
Offer good for new customers only.
Flexible enough to handle up to 35 pieces per minute. Try free for 60 days*
The DM125 gives you advanced digital technology in an affordable desktop postage meter, so you can send more mail faster and with less effort. Whether it's a mailing to 300 customers or an overnight parcel to your accountant, the DM125 is versatile enough to handle all of your sending.
Online offer includes:
60-Day FREE Trial*
$100 FREE postage coupons**
FREE starter kit (1 ink cartridge+ shipping labels)
FREE Envelope Messaging
Access to postage meter discounts
Offer good for new customers only.
Simplify office shipping through USPS®, FedEx® and UPS® from just one, online destination.
SendPro is a faster, more precise and cost effective way to ship. Our "all-in-one" software simplifies each phase of shipping. Now, you can weigh packages, print professional-looking labels and schedule pickups all from one place. Track every item online, and automatically send updates in real-time.

Already have SendPro? Sign in.
A semi automatic system that increases productivity of all your mail.
The DM225 Postage Meter offers a wide range of robust mailing and shipping capabilities all within a small, easy-to-use package.
Get mail out on time with accurate postage up to 60 pieces per minute.
The DM300™ is a compact, quietly efficient, semi-automatic system that processes mail at speeds of up to 65 pieces per minute.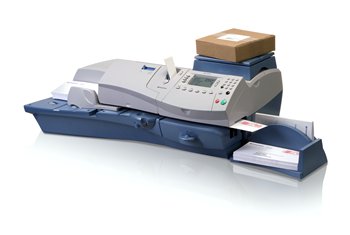 Process larger batches of mail at speeds of up to 120 pieces per minute.
Processing mail at speeds of up to 120 pieces per minute, the DM400™ combines streamlined performance, solid design and easy operation, making it the perfect choice for multi-user environments.
A mid-size mail system that weighs mail as it's processed.
Getting your mailpieces assembled and out the door shouldn't be a chore - it should be effortless. With its compact size and ability to process up to 120 letters per minute – the DM475 makes mailing easy! It's the perfect solution for the mid-size mailroom that requires higher speeds or has occasional large mailings.
A fast, versatile mailing and shipping system
Mail, ship, track and receive, integrate all your sending processes in one system. The SendPro P1000 can turn your envelopes into promotional mail pieces with its flexible printing feature. Designed to save you time and money, the P1000 is easy-to-use so everyone in your office can operate it.
Introducing mail. Simplified.
With one system, you can automate and simplify the processing of packages of all sizes with USPS®, FedEx® and UPS®. Plus, gain complete creative control over the advertising messages that appear on your envelopes.
Mail, ship and get the job done right.
Make sending more efficient with the SendPro P2000. Now, you have the ability to mail, ship, track and receive. Process different sized mail quickly with this mid-volume mailing system and free your staff from manual steps. It can print return addresses and high impact promotional graphics the day the mail goes out. Ship packages with USPS®, FedEx® and UPS® - all from one versatile system.
A superior mail solution for larger production needs
For high-output mail operations looking to grow their business, the SendPro P3000 is our most powerful solution. With the ability to mail, ship and receive, this versatile system can handle all your sending needs. Featuring a flexible printing option, the P3000 helps drive revenue by printing promotional graphics right on your envelope.
A high volume system that provides virtually non-stop printing.
The DM Infinity Series is the first USPS® approved high-speed digital metering solution for the production mail environment, metering mail up to 26,000 mp/hr.