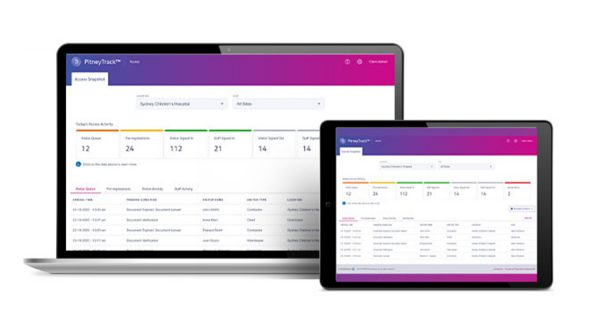 Real-time analytics and reporting of who is on-site and when
Multi-site location activity and access can be monitored and managed in real-time from a single platform, with real-time monitoring and control.
Contact us
Gain real-time visibility and meet the need to have sign-in reporting at your workplace
Managing the movement of people within your business and multiple site locations is a difficult challenge. Pitney Bowes Smart Access Management®  enables you to safely manage the flow of visitors and staff around your organisation in a simple, intuitive reporting dashboard.
Evacuation and Emergency Reports:
SAM gives real-time reporting capabilities in the case of an emergency or evacuation. This involves creating reports on the amount of guests present, where they are in the facility, and how to reach them. These reports help emergency response teams manage and account for all visitors.
Visitor History and Check-in/Check-out Reports:
SAM may keep a record of visitor interactions, such as check-in and check-out timings, visit duration, and frequency of visits. These reports can be useful for tracking visits, organising resources, and recognising repeat visitors or VIP guests.
Efficiency and Resource Utilisation Reporting:
Analytical visitor data, you can gain insights into the efficiency of your operations. Reports can help identify bottlenecks, peak visitor periods, and areas where resources may be underutilised. This information can assist in optimising staffing levels, resource allocation, and facility management.
Security and Compliance Reports:
Additionally, you can generate reports on security-related metrics. This includes tracking unauthorised access attempts, flagging visitors with restricted access, and producing audit trails for compliance purposes.
Visitor Data Analysis:
SAM can give detailed statistics and analytics regarding your visitors. To understand peaks in visiting periods and traffic at the site level, you can produce reports on visitor types to host level reporting. This data can help you understand your visitor profile and make informed business decisions.
Holistic Dashboard Reporting:
SAM provides a comprehensive dashboard view of all visitor kinds in a single straightforward interface. A live dashboard view makes it simple to see who is on site at one or more locations.
That's not all:
All reporting functionality is available in our Companion App, which is also accessible with administrator level credentials.
Explore our other visitor sign-in system features
We offer an array of Smart Access Management features beyond track and trace reporting. Explore our suite of features today to see how we can help you protect your premises.