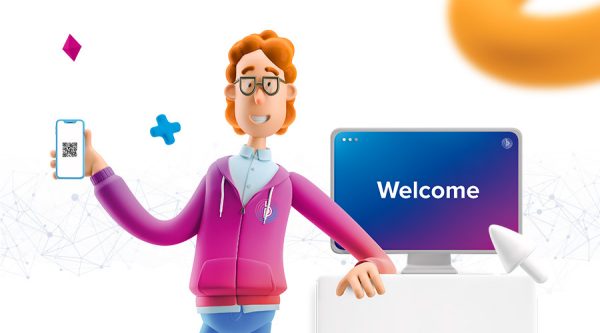 Pre-registration
Pre-registration provides your visitors with a personalised, stress-free sign-in experience, streamlining the check-in process and enhancing efficiency at your office front desk.
Contact us
Pre-registered visitors can easily check-in at the kiosk by scanning their unique pre-printed QR code or if they are a frequent visitor via facial recognition.

Hassle free sign-in
Pre-registered visitors means there are no lengthy time-consuming queues at your office front desk.
Streamline your process
No need for your receptionists to track down colleagues or look for contacts.

Digital check-in
Your office can go entirely paperless when checking in multiple visitors.
Greater awareness
Your receptionist will have visibility of visitor details and who is expected on-site and when.
Visitor pre-registration made easy
Pre-registering visitors is an important part of a comprehensive visitor management system as it gives your frequent visitors a contactless check-in process that is automatically populated on your kiosk home screen. Your front desk can also pre-register visitors ahead of time within the centralised online portal allowing you to identify busy period and prepare appropriately for an important upcoming visit.
A lasting first impression
Provide a VIP sign-in experience that takes your upcoming visitors through the registration process from the comfort of their own home.
Speedy sign-in
Upon receiving their unique QR code, pre-registered visitors enjoy a swift sign-in process as all their information is pre-populated, minimising effort and ensuring a seamless experience at your facility.
Accelerated sign-in
If your visitors don't use the visitor pre-registration feature they can still benefit from speedy registration with SAM
Regular visitors to your organisation can be approved for facial recognition within the portal, allowing them to simply sign in and out with a quick facial scan by one of our kiosks.
Improve productivity by providing visitors a simple-to-use kiosk experience that takes them through the registration process step-by-step.
Your health and safety information, together with the accessibility standards, are shown in clear, multiple language format on a wide screen.
Visitors who accept your terms and conditions will receive a personalised printed label that can also be scanned to sign out as they leave your premises.
Explore our other visitor sign-in system features
We offer an array of Smart Access Management features beyond pre-registration. Explore our suite of features today to see how we can help you protect your premises.