Print labels without a label maker
You don't need a special label maker to print your own address and shipping labels. A standard printer and printer paper are all that's required. Don't own a printer? There are workarounds for that, too.
It's true, you can print labels without a label maker. A label maker (often referred to as a thermal label printer) is an amazing, time-saving technology with a great return on investment if you print volumes of labels. Best of all: no ink cartridges to buy and replace. But you don't need a special label maker to print labels. A standard printer and paper are all that's required.
 
If you're a small business owner you can even print your own carrier-compatible shipping labels. Many merchants who list their products on multiple online marketplaces save money and time by purchasing discounted shipping labels online and printing them on a standard home inkjet or laser.
 
Turn an ordinary printer into a label making machine
 
There are no hard and fast rules for using your printer as a label maker, but there are best practices. Here are answers to the most common questions up-and-coming online sellers ask about printing address and shipping labels.
 
Should I print labels on plain paper or label stickers?
 
You have two types of material available for printing address and shipping labels with a home printer: standard office paper and self-adhesive sticker sheets.  
 
Office paper: There are a couple of reasons to consider using a regular letter-sized (8.5" x 11") sheet of paper in your printer-turned label maker:

­   It's available everywhere and very inexpensive
­   There's no guesswork or special instructions involved
 
The biggest downside is the effort involved in cutting your label to size and adhering it to the package. Clear tape works fine, but for shipping labels, you'll want to ensure the tape doesn't interfere with any barcodes. A spray adhesive is a good alternative. It's simple to apply and adheres well.
 
Adhesive labels: Many eCommerce merchants prefer to use adhesive labels for address and shipping labels for two reasons:

They look more professional
They save time: just print, peel, and stick
 
As expected, specialty printing materials are always more expensive than ordinary paper. There's also a learning curve for loading the sheets into your printer correctly, so it's always a good idea to print a practice run.
 
Whichever material you use, you'll want to make sure that it's compatible with your printer.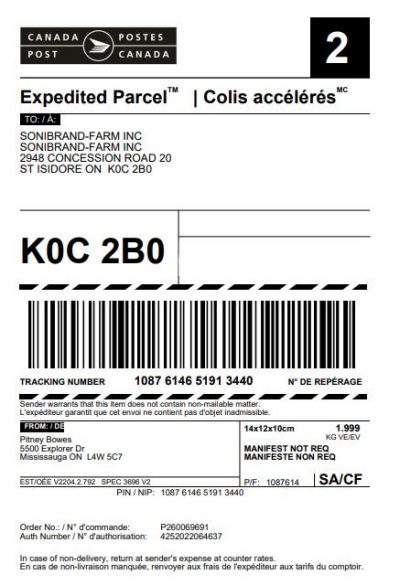 Should I print labels on a laser printer or an inkjet?
 
Most home office printers fall in one of two categories: inkjet or laser. Both will work as a label maker. And both have their advantages and disadvantages.
 
Inkjet printers: Because of their low start-up cost and small, light design, many home offices already have an inkjet printer. Inkjets are favoured for their ability to print in colour, making them great for printing marketing materials. Plus, they can be used to print on all sorts of media, including adhesive label stickers.
 
The primary complaint about inkjets is the cost of replenishing those ink cartridges. In addition, the ink is water-based, which means anything you print is susceptible to smearing if handled too soon or exposed to water. To avoid mishaps, let printed material dry before touching and look for water-resistant inkjet adhesive labels.
 
Laser printers: You'll pay more for a laser printer than an inkjet, but affordable home-office options are available. Laser printers are known for their ability to print sharp text and small fonts, making them ideal for address and shipping labels.
 
Although more expensive, laser toner cartridges last longer and waste less. If you use your laser printer to print adhesive labels, make sure those labels are laser compatible.
 
The most important thing to remember is that inkjet and laser printers use entirely different printing technologies. Paper isn't a concern, but it's important to only use adhesive labels designed for use in your printer. 
 
Where can I print labels if I don't have a printer?

Recommended reading