Smart Lockers: Safety, Security, Convenience, and More
Smart Lockers integrate advanced technology with storage hardware to simplify the package delivery and pick-up process.
Parcel volume exceeded 159 billion in 2021 and will reach approximately 256 billion by 2027. To put that in perspective, consider that 5,000 parcels ship globally every second. That's 300,000 packages a minute, 18 million per hour, and 432 million per day — and on track to increase by almost a billion in the next five years.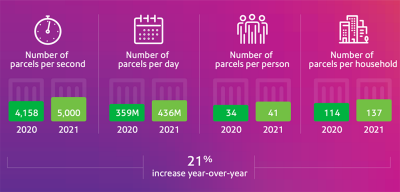 As parcel volumes continue to increase, mail room management grows more complex and demands smarter solutions. Smart Lockers are a high-tech solution for inbound mail and parcel delivery, but the benefits go far beyond mail room management, bringing value to the entire organization. Streamline parcel delivery, and resolve other modern challenges, with one smart solution.
Parcel delivery
Inbound parcel delivery is already a challenge and mailrooms everywhere are struggling to efficiently manage it.  With the enormous influx of packages being sent around the world, it is bound to affect your own mailroom. Simplify internal delivery operations with storage hardware integrated with advanced technology to secure incoming packages for smart and convenient recipient pickup. Benefits of a Smart Locker parcel delivery system include:
A centralized area for the safe, accurate, and efficient delivery of your packages
Automatic notifications to let recipients know when they have a package ready for pickup
Advanced security features for smart access management
24/7 contactless access and convenient self-service pickup options to prevent overcrowding and exposure to illnes

Bringing the recipient to the package allows mail room employees to streamline processes, ensure timely and accurate delivery, and eliminate multiple delivery attempts. Time and energy resources can be devoted elsewhere, even as efficiency improves.
Asset management
Smart Lockers are also effective for internal asset distribution and repair or exchange. When company assets need to move from one department to another — or from to and from a remote employee to your on-site IT team, for example — Smart Lockers are a secure and efficient method of transfer.
High-value assets remain in company possession and are trackable between both departments and individual employees. In the IT example, every stakeholder receives an automatic notification when an asset is ready for pickup and each item can be tracked with a confirmed delivery report. As with inbound packages, Smart Lockers make asset transfer simple, secure, and convenient, with streamlined delivery, reduced risk, cost and time savings, and protection for company technology — or any other valuable company asset. With the Smart Locker parcel delivery system, these assets can be tracked and securely delivered or exchanged.
Day use
But Smart Lockers aren't just for deliveries. Hybrid work models mean more employees without permanent, on-site workspaces, and Smart Lockers provide safe and secure storage for hybrid employees' personal belongings when they are working in the office. They can also be used to store work equipment during breaks or between shifts. Digital barcodes and other unique codes act as secure keys, eliminating physical keys, the need to memorize combinations, and other manual processes, while enabling contactless self-service interaction.
Smart Locker analytics
"Smart" technology is defined by automation, connectivity, and data. Smart Lockers include features for secure access management, automatic notifications, and tracking. Data analytics and reporting functions help your business optimize Smart Locker use, workflow, and create additional efficiencies in the mail room and beyond.
Smart Lockers can be a multipurpose, high-tech upgrade to a traditional storage solution. And while they serve the same storage purpose as their low-tech counterparts, advanced technology features streamline essential business operations, enable far greater package and asset management, and provide critical data for further optimization — all with one simple, smart solution.