Shipping & Mailing Maintenance Services Terms
MAILING AND SHIPPING SOFTWARE AND DATA PRODUCTS
SOFTWARE MAINTENANCE, SUPPORT, AND DATA SUBSCRIPTION SERVICES
UNITED STATES AND CANADA
Pitney Bowes ("PB") offers a world class level of technical support to our clients, providing assistance in the resolution of technical issues with PB software products, ensuring that our clients have access to the most up to date versions available of their licensed software, and updates to Data subscriptions (the "Products").  Two (2) levels of Software Maintenance Services ("SMA" or "Maintenance Services") are available to clients, based on the client's needs and elected at time of purchase.  All Maintenance Services are provided in accordance with the license agreement and applicable ordering document (the "Order") between you and PB related to the applicable Product.  Maintenance Services do not include professional services, custom development, new feature additions, hardware support, hardware parts or consumable supplies, equipment support, system back-ups, training or other services, which, if purchased by you, will be set forth elsewhere in your license agreement or in a separate agreement with PB.
Last Modified November 28, 2016
PB will provide you with the following Maintenance Services, based on the elected Tier.
SMA TIER 1 (STANDARD) MAINTENANCE SERVICES.
As part of SMA Tier 1 Maintenance Services, PB will provide you with the following:
1.            SELF HELP.           24/7 access to web self-help and user and product support articles.
2.            TECHNICAL SUPPORT.    PB provides all technical support over the phone and via the Internet ("Remote Support") unless otherwise specified.  To receive Remote Support you will be requested to provide access to your system or computer, and it is within your discretion to determine the level of access granted to PB to receive Remote Support, which you grant at your own risk.  When logging an issue it is required that you provide information in sufficient detail for PB to reproduce the problem.  PB can also assist you in the diagnosis of your IT environmental or infrastructure issues for an additional fee.
                a.            Telephone Support.  PB Product Support is available from 7 am to 7 pm Central Time, Monday through Friday, excluding PB observed US holidays ("Normal Operating Hours").  You may contact PB Product Support toll-free by phone during Normal Operating Hours.  Contact numbers are located at www.pitneybowes.com.
b.            Electronic Requests.  You may submit a request to PB Product Support electronically by going to www.pitneybowes.com  and submitting a ticket 24 hours a day, 7 days a week.  Requests received outside Normal Operating Hours are processed the next business day.
3.            FIXES.  Corrections or changes to the Product to correct errors or otherwise make the Product materially conform to the applicable Product documentation (commonly referred to as "fixes" or "patches").
4.            PRODUCT UPDATES.  PB will provide you with customer-installable updates, some that may be required to support industry compliance or continued use of the Products, as they become commercially available ("Updates"). Updates may include fixes or minor changes to the Product or additional carrier functionality or routine revisions to comply with carrier requirements.  Updates may include changes to the Product documentation to reflect changes included in the applicable Update.  You must be fully current with the installation of all Updates to be eligible to receive Maintenance Services.  New features or functionality for the Product and non-routine or non-generally applicable revisions ("Upgrades") may become available from time to time, for an additional fee. PB reserves the right not to add functionality or carrier services, even though they may be available from the carrier.
5.            DATA UPDATES.  If your Product includes data that is licensed separately as a subscription ("Data"), PB will distribute to you each Update to the Data as they are made available to PB by its third party vendors, or with the frequency set forth in your license agreement or Order.  If you require additional distribution of the Data or a Data Update, an additional service charge may apply.
6.            RATE CHANGES.  If your Product requires carrier rate information supplied by PB, client-installable rate change replacements will be provided to you based on the carrier coverage selected in the Order.  Rate change replacements include postal or carrier rate increases and decreases, zip code or zone changes and changes in service provided by carriers (e.g. required new report formats or geographical expansions) and, if elected on the Order, a single UPS custom rate change per calendar year.  Rate changes do not include other custom rate changes, new classes of services offered by carriers, and new rates needed to establish a new home zip code because of a change in location.
7.            DELIVERY; IMPLEMENTATION.  All Updates, Upgrades, fixes, Data Updates and rate changes will be delivered electronically unless physical media options are provided at PB's discretion.  All Updates, etc. are your responsibility to install and implement unless otherwise agreed to in writing by PB, which will incur fees at PB's then current rates.
8.            ON-SITE SUPPORT.  On-site support is not offered under SMA TIER 1 maintenance service.   If you request on-site support, you will incur fees at PB's then-current rates at the time of the request.
SMA TIER 2 MAINTENANCE SERVICES (Available in US only).
Includes all the services provided in SMA Tier 1, plus if Remote Support is unsuccessful at resolving the reported issue, on-site service and support will be provided at your location for no additional charge.  If PB determines that support must be provided on-site, such support will be provided Monday through Friday, from 8 am to 5pm in your local time zone, excluding PB observed holidays.  Average response time is within one (1) business day of PB determining that on-site support is required.  Request for on-site support outside of these hours or without providing PB with access and opportunity to solve issues remotely may result in additional fees.  
STANDBY SUPPLEMENT OPTION (Available in US Only).
Under your SMA Tier 1 and SMA Tier 2 options, you may elect to purchase supplemental Standby Support.  This option will make emergency Remote Support, (and not general user queries) available to you outside of Normal Operating Hours.  You access this support by contacting the PB Product Support toll free number.  This Standby option is charged at an annual or monthly rate as set forth in your Order, with additional usage fees associated with each incident of Standby Support accessed at then-current rates.
PREMIER SUPPORT ADD-ON SUPPLEMENT OPTION (Available in US Only).
Under your SMA Tier 1 and SMA Tier 2 options, you may elect to purchase supplemental PREMIER SUPPORT.  This option is charged at an annual or monthly rate as set forth in your Order and will make the following Premier Support service benefits available to you:
·         Upon initial sign up for Premier Support, your assigned Account Manager will contact you at the phone number you provide with your Order, confirm future preferred method of contact, and discuss the following benefits.
·         You will be given a premier 4-digit PIN number to access the team of Premier Support Agents and Case Managers. This gives you direct access to Level  2 Support Desk Agents and Case Managers for product support issues.
·         When you use the premier PIN code, your call will be queued in front of all non-Premier calls and routed to the Level 2 Support Desk Agents.  As a result your call will be answered ahead of any other non-Premier callers.
·         Your product support case will be managed by a single point of contact all the way through the resolution of your case.  If Pitney Bowes determines a dispatch of a technician to your site must be created, your assigned Case Manager will coordinate the field technician visit with our dispatch center so that it is handled in an expedited manner and follow up to ensure successful resolution.
·         You are able to request alternate forms of remote access sessions for product support initiated by you.  Upon your request, we will make reasonable attempt to employ the remote access technology that you choose for product support.
·         Should any parts be required, we will make reasonable attempt to expedite the part(s) to your location for next day installation and repair.
·         Your assigned Account Manager will conduct a support assessment two (2) times per calendar year which would include consultative analysis to ensure you are optimizing the value of this level of support.
SMA and Add On Features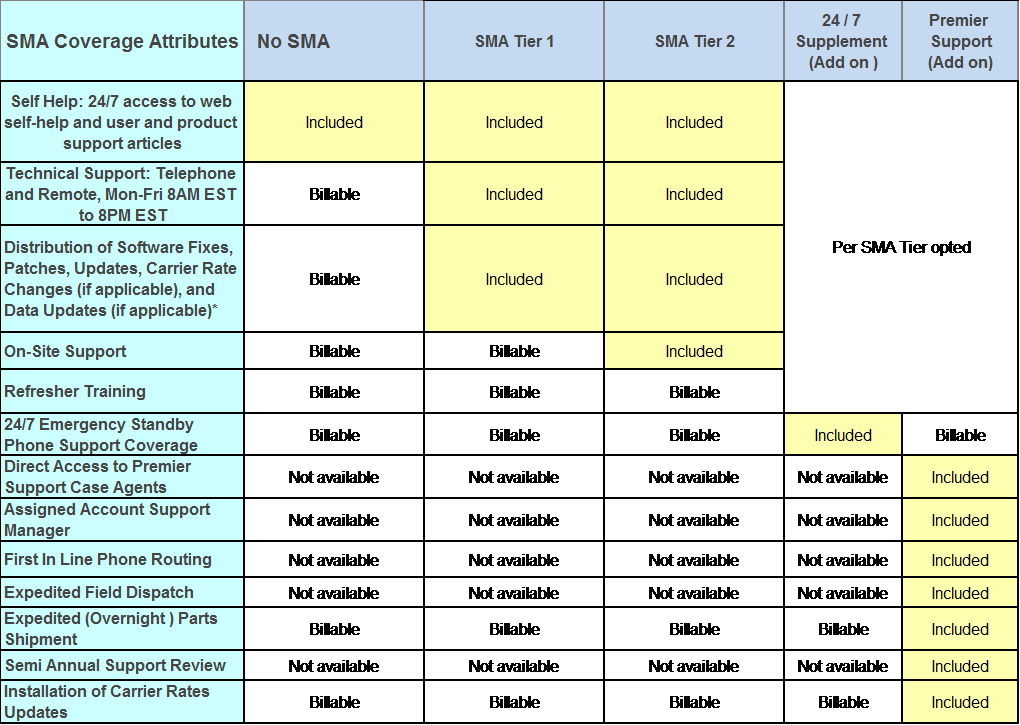 SERVICE LEVELS.
PB will use commercially reasonable efforts to respond to issues you report.  Initial determination and classification of reported issues will be made by PB, who will evaluate the reported issue and assign it an appropriate severity level.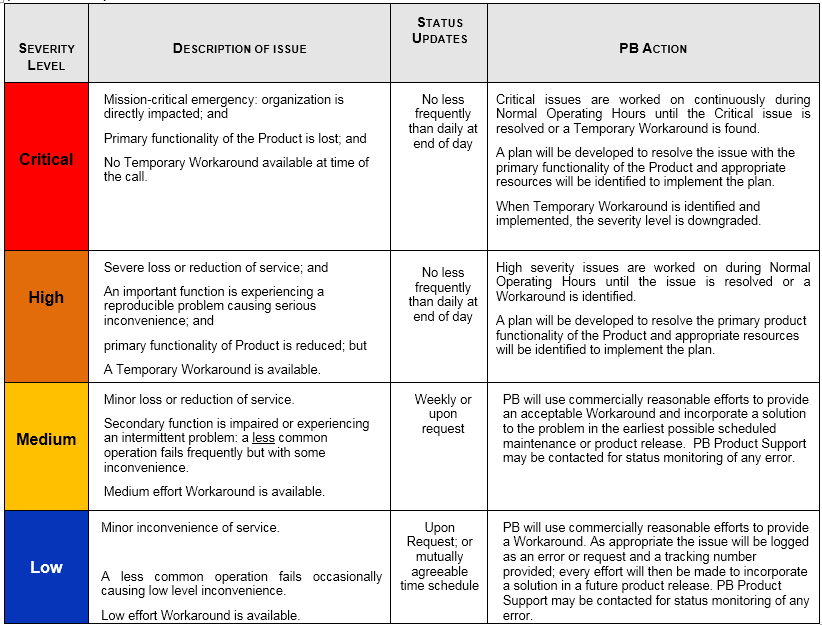 A "Temporary Workaround" is a Workaround that provides a temporary solution to the reported issue, but is not suitable for permanent use.
A "Workaround" is any solution to a reported issue that does not involve changing the source code of the Product, including using alternate process/approach/method to successfully accomplish the task while by-passing the problem, or installation changes including upgrading to a newer version of the Product incorporating a fix or upgrading the operating system, version, or service pack.
ELIGIBILITY.        You are entitled to receive Maintenance Services for your Product under the following conditions:
                1.            Your license agreement and maintenance term are both paid up and current;
                2.            You have identified to PB appropriate technical support contacts within your organization (if your organization has 50 or more users, please see Multiple User Policy, below);
                3.            You have implemented the most current update or patch available for your Product;
                4.            You have performed routine and preventative maintenance on your systems, including disaster recovery backups, operating system updates, implementing anti-virus protection, and SQL patches and updates;
                5.            Your Product has not been modified (if such modification was performed by PB at your request, additional fees may apply for Maintenance Services on modified Product); and
                6.            Your use of the Product is in accordance with your license agreement and the documentation and in the manner reasonably intended by the Product.  Maintenance Services will not be provided to installations of the Product in unsupported environments.
TERM; TERMINATION.   Maintenance Services are billed and provided in 12 month periods, which begin on the effective date of your license agreement and will automatically renew for each subsequent 12 month period unless you provide written notice of your intent to terminate Maintenance Services before 60 days prior to the end of the current term.  You will receive an invoice within 45 days of commencement for each renewal term reflecting the then-current rates for Maintenance Services, which will be payable in accordance with your license agreement.  If your license agreement includes a leasing arrangement, the term of Maintenance Services will be the term of your lease, and your obligation to pay for Maintenance Services will be set forth in the lease agreement.  Maintenance Services are non-terminable during the term unless otherwise permitted in the license agreement (i.e. for PB's uncured material breach), or in the case of the discontinuance of or material change to the Maintenance Services by PB, which in such case will be terminable within 30 days of your receipt of notice from PB detailing the change.  If PB discontinues or materially changes Maintenance Services for your Product and you elect to terminate Maintenance Services, your sole remedy will be a pro-rata refund of pre-paid but unused Maintenance Service fees (or a reduction of lease payments in the amount allocated to such Maintenance Services for the balance of the lease term).
MULTIPLE USER INSTALLATIONS (For 50+ users at any individual location).
If your Product has 50 or more users at any location within your organization, Maintenance Services are provided under the following policy:
1.                    You must identify a limited number of your staff to become trained by PB on the Product you license in order for such staff to be able to provide limited technical support to other users within your organization ("Authorized Personnel").
2.                   After staff training is complete, all users within your organization should log all initial requests for technical support with the Authorized Personnel in a manner to be determined and established by you.  Authorized Personnel will be responsible for responding to all internal requests for technical support, resolving all "how to" and other questions or problems, and escalating internally within your organization for further support and determination of the nature of the problem, and ensuring that the problem is with the Product, and is not able to be addressed internally within your organization.  For such problems that are unable to be addressed without PB assistance, a limited number of Authorized Personnel will be mutually agreed to as responsible for escalating requests for assistance to PB, who will then provide technical support assistance to the Authorized Personnel for issue resolution with the Product.  Any issue escalated to PB for technical support must be related to the Product (and not to the organization's operating environment or other hardware or software) and must be documented in sufficient detail in order to reproduce the problem.
3.                   If your organization does not have Authorized Personnel available, PB may be able to provide additional technical support assistance for an additional fee (please consult your account representative for more information).