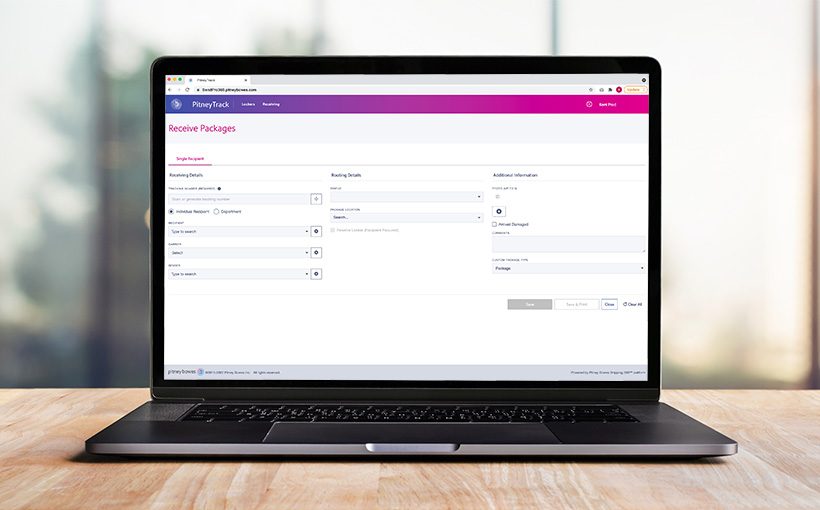 PitneyTrack™ Inbound
Streamline the receiving of incoming shipments while eliminating manual processes with PitneyTrack Inbound.
Our cloud-based receiving solution improves inbound package delivery with real-time tracking and chain-of-custody reporting, creating a smarter way to receive and track packages.

Request More Information
Automatic tracking and logging of incoming packages into secure databases.
Capture package details automatically with simple package barcode scanning.
Seamless integration with ParcelPoint™ Smart Lockers for streamlined package distribution.
FAQs
1. What is PitneyTrack Inbound?
PitneyTrack Inbound is an inbound package tracking solution that provides real-time tracking status and recipient details of inbound packages as they move through an organization. It establishes the chain of custody, so you'll know what came in, who it was for, and when it was delivered to the final recipient.
2. Who is PitneyTrack Inbound ideal for?
It's ideal for organizations with centralized shipping and mailing operations that need visibility and comprehensive tracking of incoming packages and mail through delivery to the end recipient.
3. What are the benefits of mail center automation?
Mail centre automation increases efficiency and productivity which leads to a more positive experience for package and mail recipients. With significant increases in package and mail volumes, mail center automation:
Eliminates manual data entry with simple barcode scans
Reduces the likelihood of human error
Creates an accurate chain of custody, which reduces lost packages
Allows mail centre employees to focus on other tasks
4. What information is captured with an inbound scan?
When an inbound package barcode is scanned, PitneyTrack Inbound automatically captures all relevant package information including, carrier, tracking number, and date received. You also have the option to add additional information including sender and recipient names, as well as add in comments or take a photo of the package.
5. How does inbound package tracking work?
PitneyTrack® Inbound is a tracking software that records a chain of custody for all your inbound packages – from arrival to confirmed pickup. With barcode scanning, automatic notifications, and delivery documentation, PitneyTrack Inbound captures all the information needed for complete transparency, greater control, and full chain-of-custody reporting so you will always know what came in, who it was for, and when it was delivered to the final recipient.
For organizations that want to offer convenient 24/7 delivery, PitneyTrack Inbound seamlessly integrates with ParcelPointTM Smart Lockers. Together, they provide full, end-to-end visibility for each package, matched with the confidence they'll be delivered safely and securely.
Explore other solutions for your business
PitneyShip® Pro Shipping Software
Designed to save you time and money by simplifying all your shipping and mailing from packages to large envelopes and letters.

It's the quick and easy way to ship from your office, home or on-the-go.
Learn more
Smart Parcel Lockers
Securely deliver valuable packages, assets and more. This easy-to-use intelligent package management solution enables convenient, contactless pick-up experiences.
Learn more