How to create a new online account profile
UPDATED: May 13 2016
Creating an online account profile gives you a wide variety of account management tools and resources; customized to help you do business with Pitney Bowes. Follow these steps to register:
Select Sign In located in the top right corner of the website
On the sign in screen, select the link: Sign up now
The page requires the following:

Email address
Account Number: 10-digits at the top of your invoice; 16-digits for PitneyWorks®; 8-digits for Postage by Phone®
Select Continue

Confirm your company information. Select one option from the four criteria in the menu:

Serial number (located on a silver sticker on your meter)
Invoice number
Invoice amount
Web registration number

Provide one piece of information to confirm identity, then select Submit
Finish creating your profile by providing:

First Name & Last Name
A strong, memorable password
TIP: your password must be 8-20 characters long, and contain at least one uppercase letter, one number or one special character.
Select a security question from the menu
Provide an answer to the security question
Lastly, select Submit
Verify your new account
Once you submit your information, a message displags to check your email to complete the registration process. An email is sent within minutes.
Check your email and select the link to verify your account.
Note: If you do not receive an email verification, check your Junk mail folder.
You are directed to the sign in screen and successfully completed the registration process
Tour the enhanced Pitney Bowes account experience
When you first sign in, a short tour of the enhanced features is available to view. This tour of your dashboard is not shown again after the initial sign in. Note: If you select the "X" or the button, "Go to Dashboard", the tour will close and is not displayed again.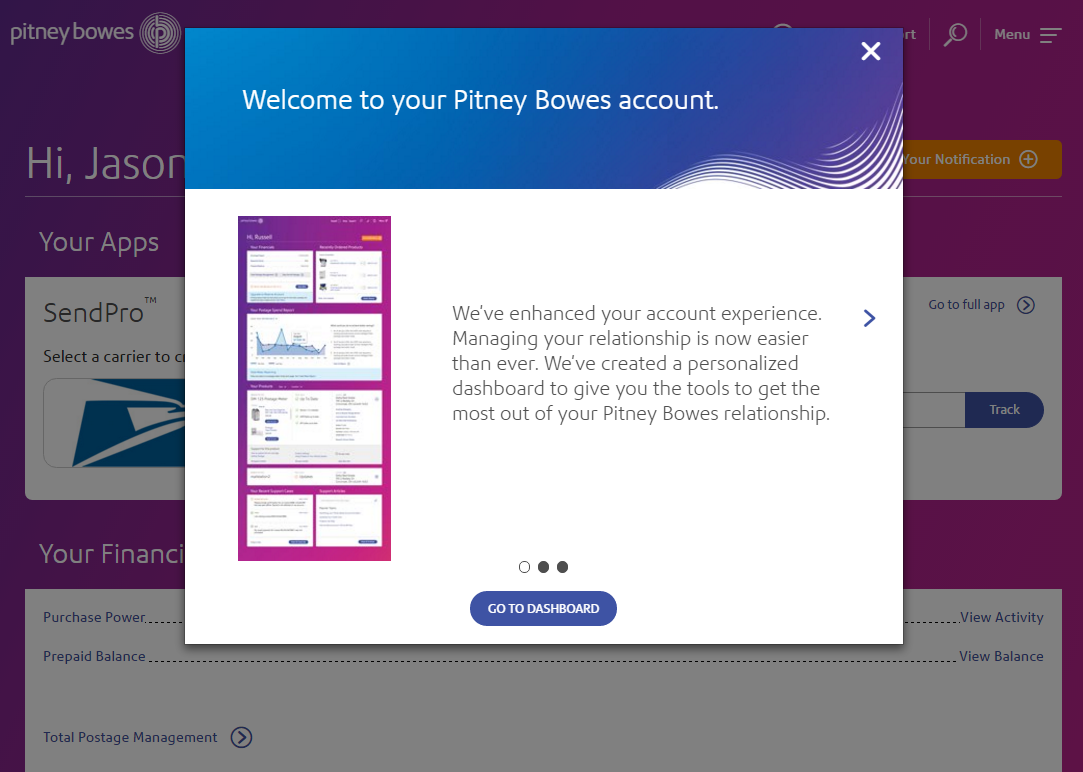 We need a little more information from you.
After the authenticated tour of your dashboard, if your account has both (a) Shipping & Mailing products and (b) Software products, the following screen will be displayed when you first sign in. This is to configure your preference of products to customize your dashboard. This can be set at any time by changing the check box.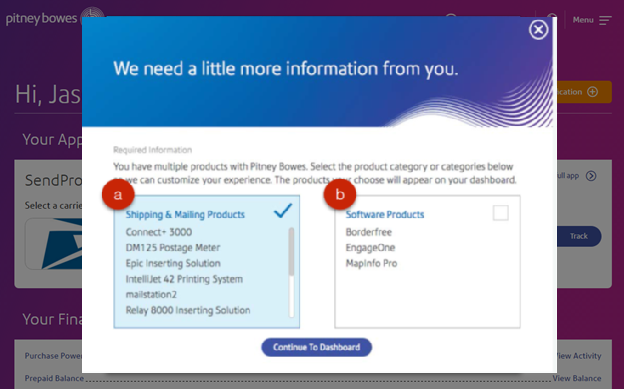 Features and access
Once you are signed into your account, you stay signed in during your visit. This gives you authenticated access to all areas of the site.
Add all of your payment accounts to easily manage billing and statements. Your dashboard is customized based on your specific products and services, so adding ALL accounts is key.
Manage postage accounts; check for software updates; place a supplies order; check the status of an open support case, or Create a Case for Technical Support issues or Client Service inquiries