How to Create a Case online
UPDATED: 15 April 2016
The feature to create a case allows you to easily make your own support requests online. Submit questions related to your account or billing, or make a service request for technical support.
Create your account online and access the Create a Case tool anytime to submit questions or request assistance. Once you submit your case, a Pitney Bowes client representative will be assigned to further assist. Follow these steps:
Select the Sign In link in the upper right of the website
On the main screen, in the section My Support Cases, select the link: Create a Support Case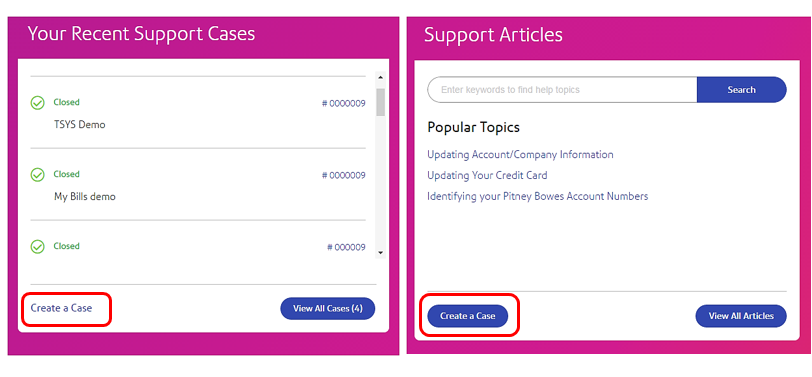 The next screen prompts you to select the type of issue.
Client Service
Technical Support
Select the radio button for the appropriate option, then select Next.

Fill out the New Case screen with the required information.
TIP: To change the information for this specific case, select the link at the top of the page: change account. From the list of accounts, select the appropriate radio button for the account associated to the current issue. Then select the button, Select Account.
The 'Required' information in the Description section is indicated with a red line in front of the field. Provide the following:


How can we help? : select the issue from the drop-down menu
This relates to... : select an option from the drop-down menu
Subject: type a subject line for your Case
Description: enter as much information as possible for this inquiry



When finished, select Submit. Your Case has been entered into the system and you instantly receive a Case number.
TIP: You can sign in online to check the status of your open cases.