Not a postage meter user?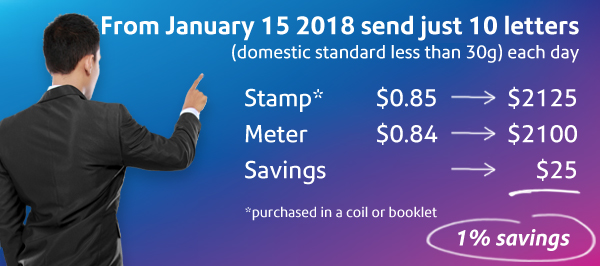 A Pitney Bowes meter is a valuable investment!
On top of the benefits you will receive like convenience, saving time, projecting a professional image, simple accounting and more; there is a financial benefit compared to using stamps.
Here are the key headlines
Meter users can save up to 16%
Customers using a postage meter to mail their standard letters to destinations within Canada will pay $0.84 per letter - a 16% discount over single stamp purchases - or 1% lower than volume stamp purchases. Discounts also apply to letters mailed to USA and international addresses.
Mailing systems not only save you time and money as you prepare mail, they also make it easier for the Canada Post to process and deliver your mail. Metered mail projects a professional image and offers simplified postal accounting; and now for the first time there is a financial benefit compared to using stamps.
With a Pitney Bowes postage meter, there are no piece minimums, no preparation requirements, and there is no need to report pieces on a postage statement. Simply apply postage, drop your letters in the mail, and watch the savings add up.

Save even more with a built-in scale. Our mailstation 2™ mailing system is ideal for every-day mail. You can weigh each piece, apply the correct postage, and avoid over-stamping.
Print full-colour graphics on envelopes.
Use our high-volume SendPro® P-series mailing and shipping systems to boost productivity, engage customers and grow your business.
Create customized envelopes. Every Pitney Bowes postage meter can also print a customized mail ad or return address beside the postage indicia, saving you the cost of a pre-printed envelope.
Simplify the shipping decisions you make and reduce the steps you take.
Learn more about SendPro®. An easier way to manage your CPC shipping from one, online destination.

Get the most from your postage meter
If you're already a Pitney Bowes customer, you don't have to make any changes-you can take advantage of these discounts automatically-no matter whether you are mailing within Canada or internationally. Just download the new rates prior to January 15, 2018 and your meter will do the rest.
For details, including instructions on how to download the new rates, please visit our "Update meter rates" page for instructions. If you're not a Pitney Bowes customer and want to take advantage of these savings, see our wide range of postage meters today.