Which Postage Meter is Best for Your Small Business?
Today's new digital mailing systems integrate technology and automate tasks for a more streamlined workplace.
Many of today's office tasks and processes are so intertwined we often don't realize the impact one thing can have on another. Office organization and efficiency are persistent concerns for businesses who manage communication across large client bases, like accounting, law and doctor's offices.
With businesses of this size, office managers and administrative staff often wear lots of different hats. Each client's personal data, relationship communications and contact information are constantly changing and being updated, and there's all the regular day-to-day administrative stuff that needs looking after just to keep the office running smoothly.
For businesses without a dedicated mailing and shipping department, it's a lot to manage and organize. Many office managers and business owners overlook the potential impact that upgrading their out-of-date postage meter to a fully integrated, digital mailing system can have across many aspects of office operations.
Modern Innovations for Today's Businesses
Do client mailings and out-going office communication feel like manual labor? Keeping track of U.S. Postal Service updates and requirements, hunting for the best rates, and managing an ever-changing address book all by hand is a full-time job. If you leased a postage meter 10, or even just a few years ago, you probably don't even realize what you're missing.
The latest generation of mailing and shipping stations come with digitally integrated tools and cloud-based services to help automate processes. Web-enabled software to find the best postal rates and auto address verification, are just some of the innovations and cost saving ideas for the workplace, lightening the load for office workers accustomed to organizing and managing what has traditionally been a time-consuming, high-touch sending operation.
Not Your Grandfather's (or Father's) Postage Meter
Grandpa's not the only one ready for retirement. A fully integrated digital mailing system is the go-to sending solution for modern small and mid-sized businesses. With today's approach to compact hardware powered by cloud-based software and services, managers and staff can handle everything from the office, or even without ever leaving their desk.
Built on digital platforms and powered by cloud-based solutions, today's digital mailing systems provide access to a powerful set of tools, designed to simplify sending and save even more time and organizational headaches:
One System Manages Everything
Some mailing and shipping systems may have been perfect for sending letters and flats, but is it just as effective for sending packages? Package recipients have great expectations – quick fulfillment and delivery, end-to-end tracking, ongoing notifications until the delivery arrives. Modern mail stations can handle anything businesses need to send, more efficiently and with deeper savings.
Almost Anyone Can Stay Organized and On Top of Mailing and Shipping
The right sending system can empower anyone in charge of sending. These all-in-one solutions with familiar digital interfaces are easy to use and manage. With a small footprint, these new mail stations often fit on a desk without adding clutter or monopolizing precious office space.  
Automate Previously Manual Processes
Product updates are no longer a process — receive them automatically as they become available, ensuring the latest features are always available and built in. Always pay the right amount of postage, secure the best rates and stay on top of the latest sending requirements — like having a direct link to the USPS.
Online Address Book and Instant Verification
Save time, frustration and money by minimizing undeliverable mail with included online address verification tools. Digitally connected mail stations automatically confirm the addresses entered are correct and alert senders to any inconsistencies and necessary client address changes.
More Control Over Mailing
When the sending load becomes too great, some businesses will turn to outsourcing as a solution. However, in doing so, it is easier to lose sight of the process. One reason to keep more direct control over mailing is for security purposes. In industries like medical and law, it's better to limit the number of hands touching a mail piece. With the latest advances, more and more businesses are choosing to keep (and also regain) control of their essential communications.
Compare the SendPro Mailstation to Other Popular Meters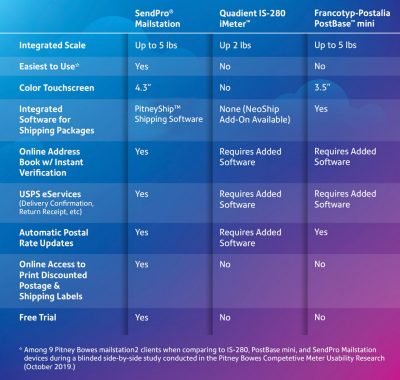 Holiday Inn, San Antonio Upgrades to SendPro® Mailstation
The Holiday Inn, San Antonio NW SeaWorld was struggling with a complex mailing operation dependent on out-dated equipment and daily trips to the post office. Identifying that organizing and managing outgoing communications was more difficult than it needed to be, Accounting Manager Lance Cornelius made the switch to the new Pitney Bowes SendPro® Mailstation — a digitally-connected sending device with integrated software and services to simplify the whole operation.
According to Mr. Cornelius, "We needed a solution that could help simplify mailing, and that's exactly what SendPro Mailstation helps us do." Plus, the included integration with the PitneyShipTM, "Saves us more money, gives us shipment tracking, and validates addresses. Now we don't have to go to the post office or other carrier locations. We highly recommend SendPro Mailstation—it's sleek, compact, and easy to use."
Upgrading their mailing station brought outgoing communication up-to-date, and also improved overall office operations in ways the office hadn't considered before. The Holiday Inn's mailing process and the accounting team felt more organized and productive than ever before.
A Smarter Choice for Mailing and Business
It's clear that today's new digital mailing systems integrate technology and automate tasks that can change the way offices approach mailing and shipping. The SendPro Mailstation goes beyond sending to contribute to a more streamlined, organized and productive workplace.
When tasks that used to take more effort and attention, are suddenly automated and capable of looking after themselves, staff have more time and energy to devote to the larger tasks that directly affect the business and its customers. It's easier to stay organized when you have a helping hand (or system) you trust and can count on.