What can we help you with?
Account & Meter Support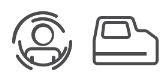 ---
Submit support requests
(Sign in required)

Call: 844-256-6444
Mon - Fri, 8am - 8pm ET
Our automated voice message system is live 24-hours a day. You can hear account balance information and recent account activity. You can also listen to easy instructions for finding answers to your questions on our Support site.
Domestic & Global Shipping

---
To request further information on any of our eCommerce products or services, contact the Global eCommerce Sales Team.