How can you reduce small business shipping costs?
It's a lifestyle where inventors, artists, craftspeople and artisans can find an audience for their products.
As a small business owner running an online store, you try to reduce the amount of time you spend on shipping orders. Between the packaging, choosing a shipping company and making sure you've got the right postage rate, the entire process can feel a little overwhelming.
But rushing packages out the door isn't your style either. You want to ensure that your order fulfillment process is next-level and that customers get their orders on time. It's good for your bottom line, your customer experience, and your sanity.
That's when Hannah discovered the PitneyShipTM shipping software that would help her simplify her sending process.
How the Giggling Pig reduced shipping costs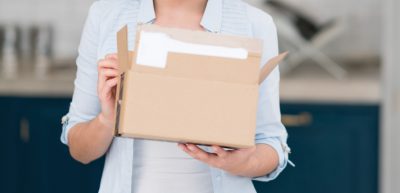 Meet Hannah Perry. Hannah is the owner and founder of the Giggling Pig, a Connecticut-based art studio with a focus on art lessons for kids. With 2 retail locations, Hannah also saw potential for an online store.
Hannah created a design for a special 'Art Box,' an individual paint set that allows customers to paint their very own Giggling Pig projects at home.
"I've been looking to grow my business since the day I started it," she said. "We had one location initially, and now we have two retail stores and a bustling ecommerce website."
That's when Hannah discovered PitneyShip, an online shipping software that would help her simplify her sending process.
"The opportunity to have access to the tools to help me do the shipping I need to do, something that [was] new to me and my business, could not [have] come at a better time," declared Hannah.
Ecommerce shipping for small online businesses can be a tricky balancing act.
Put everything on autopilot, and you end up overspending on shipping for the convenience of simplicity and knowing this gets your packages where they need to go. (Sometimes flat rate shipping isn't always the answer).
Try to choose the best shipping services by yourself for every parcel, as well as the right packaging materials, and you end up with hours of work and an excel sheet just to remember which order was shipped with which carrier.
That's where a shipping software like PitneyShip can come in handy. With a little automation, you can get the best of both worlds.
A shipping software designed for small businesses

When PitneyShip was developed, a key objective Pitney Bowes set out to accomplish was to help small businesses like The Giggling Pig grow by giving them access to the tools that would lead to smarter shipping practices.
Aside from small online merchants and retailers, the software is also ideal for law offices, medical practices, accounting firms and other professional services.
With smaller profit margins and a need to reinvest into their operations, small ecommerce businesses like the Giggling Pig need to streamline their shipping process and find every opportunity to save money where they can.
With a shipping software like PitneyShip, small businesses owners can:
Print professional shipping labels for USPS®, FedEx® and UPS® right from home.
Schedule pickups from their home or office.
Get access to USPS® preferred shipping rates and save on every package they mail out.
Send mail and packages now and pay later with flexible payment options.
Compare shipping rates across carriers in one suite and choose the best shipping option each time.
Weigh parcels to get an accurate shipping price.
Track deliveries across multiple carriers in a single suite until they reach their destination.
Hannah says "it's been really valuable to me because it's saved me so much time."
Time saved by avoiding the line at the post office.
Time saved by quickly comparing shipping rates across carriers in one suite.
And time saved by getting the right shipping rate the first time by weighing parcels in advance.