Five Shipping Trends To Watch in 2023
What's new in shipping for 2023?
It's difficult to predict every new challenge that might impact business shipping and mailing management, but with 2023 well underway, understanding and incorporating anticipated trends positions your company to weather whatever may come. A few important topics to keep top of mind include sustainability, efficiency, automation, transparency, and a multicarrier strategy.
But don't forget that prior-year statistics are an extremely valuable tool in establishing your currentstrategy. Our 2022 Parcel Shipping Index provides critical YoY insight into U.S. shipping volumes, parcel volumes, carrier revenue, and much more. A few interesting data points:
162 average parcels shipped per household
2% decrease in overall parcel volume vs. 2021
674 parcels generated every second (58 million per day)
$198bn in carrier revenue (up 6.5% from 2021)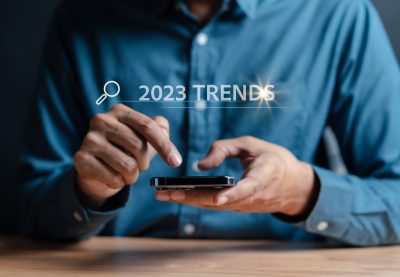 Sustainable shipping and delivery is primarily brand driven, but as larger companies and bigger names shift to environmentally sound shipping practices, customers and other stakeholders are taking notice, responding positively, and adjusting their expectations.
Sustainable shipping has two main areas of focus: packaging and transportation. Many brands are shifting from plastic to paper packing materials for more consistent recycling opportunity, as well as incorporating previously recycled material into the same. Electric vehicles continue to grow in popularity for last-mile delivery, as EVs cut down on shipping-related carbon emissions and maximize the efficiency and range of delivery vans.
Efficiency
Efficiency is an enduring priority for business shipping and mailing operations. One surprising source of delivery delays is the mail room itself. Digital mail centers are an increasingly mainstream solution for inbound parcel and mail management — eliminating human error and increasing workflow and efficiency. Add smart lockers for recipient parcel pickup, and packages can be distributed and delivered with reduced risk of loss or misplacement.
Automation is everywhere in the modern business world, and while it can't be used for every shipping task, automation can do wonders for cost management, route mapping, and end-to-end shipment visibility. Smart shipping management platforms integrate automated solutions to improve accuracy and efficiency, lower costs, reduce risk, and gather data for in-depth analysis and user-friendly reporting.
Transparency
A streamlined shipping and mailing operation collects a lot of data. Sharing your company's shipping and mailing data with recipients and other stakeholders ensures accurate and timely delivery and encourages efficient cost management. Data transparency lets both shipper and recipient track parcels from origin to destination in real time. Shipping data is critical information to all concerned, and keeping it visible and easily accessible communicates essential data and your company's commitment to shipping efficiency and transparency.
A multicarrier shipping strategy
Multicarrier shipping strategies have been a rising trend since the onset of carrier seasonal surcharges in 2020. By diversifying carriers, your business can ensure the most efficient and effective combination of shipping cost and delivery window for every parcel. With a smart shipping management platform, a multicarrier strategy is easily adaptable to the needs of both shipper and recipient, and it adds cost transparency to the data you share with your stakeholders.
Predictive analytics aside, no one ever truly knows what challenges are in store. But preparing your company's shipping operation for every eventuality is the smart move, and proper preparation begins with a smart shipping management platform.